The good thing about using a spool rather than a small reel is you can hold the spool with one hand (using thumb and middle finger through the spool) and with your index finger hold the SMB inflator against the str
ing in the spool. This leaves your other hand free to pop off the drysuit inflator hose and push it into the inflation spiggot on top of the spool. Once filled, you just lift your index finger off and up it goes with the spool rotating in your hand.
Pictures. Amazingly this isn't underwater, so things tend to dangle down a lot more than in the sea
Remove the double ender and clip it out of the way on your chest D-ring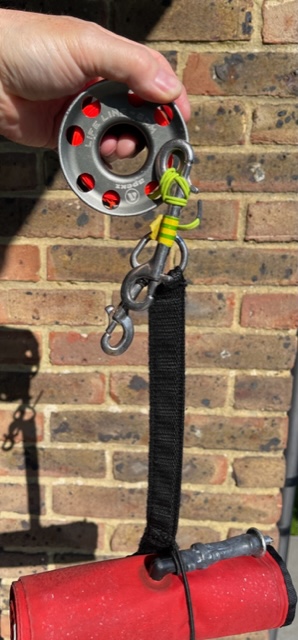 Roll up the spare line and tidy things up:


Finally, roll up the slack onto the spool.
Hold the spool between thumb and middle finger. Put your index finger over the top and hold down the inflator spigot. This is now held strongly in your hand and won't get free, i.e. you can hold it like this for as long as you like. You can flick the SMB out of the way in the water.
To launch, use your drysuit inflator hose. Or your bailout. Or make sure you add a spare hose to your single-regulator rig (the easy place for this is to tape it to your SPG (pressure gauge) so it's easy to get to and tidy).
Use your other hand to GENTLY push the inflation nipple/spigot into the BCD/Schrader valve.
When ready to launch (you have looked above you, around you, nodded at your team-mate/buddy... Then flick the SMB out and press hard as it inflates. Do that for as long as you can so it's going to be properly inflated on the surface. Nobody likes a flaccid SMB.
When you've squirted in enough gas, just lift your index finger and the whole SMB will fly off to the surface and the spool will unwind between your thumb and finger.
Once it's hit the surface, make sure the slack's taken up AND RECONNECT your drysuit inflator, or don't forget it!
Signal to your teammate/buddy your target depth for your first stop and off you go... Deep breath to start then wind all the way, periodically dumping from your drysuit and BCD/wing.
DON'T DROP THE BLOODY SPOOL. OK.
When at a stop, knit the spool up as per the other pics.
Personally, when at a stop, I like to leave the spool bouncing up and down in front of me on its own. Gives you a reference depth and less hassle with the waves pulling the spool out of your hand. Leaning on it slightly negatively buoyant really isn't cool. If there's a strongish breeze, the spool can move away from you moderately quickly. Good exercise to chase it.