ScubaBoard Supporter
ScubaBoard Supporter
Messages

53
Reaction score

19
Location
# of dives

I just don't log dives
Another BHB critter... this time ID help.
As I was sorting through the photos from last week and doing ID this one drew me up short: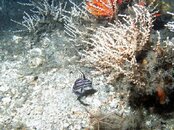 Is this little guy a High Hat or a spotted drum? Looks like a High Hat, but his tail is turned so I can't see what would be his spotty area if he was a spotted drum. :headscratch:I watched him for a while, but danged if I can remember what the tail area looked like. You experienced trolls probably know this guy well and can find him at will.