ScubaBoard Supporter
ScubaBoard Supporter
Messages

53
Reaction score

19
Location
# of dives

I just don't log dives
Here is another beautiful BHB critter - and a first time live for me anywhere. I just about lost my reg I was laughing so hard. I hope he thought I was just as funny looking. It was hard to hold the camera still. I took four pix to get this one reasonably good one.
The work of the creator never ceases to amaze me!
Jack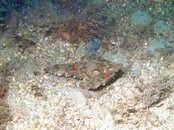 You are quite welcome! Glad we got to meet and dive! Fun stuff!