ScubaBoard Supporter
ScubaBoard Supporter
Messages

9,559
Reaction score

7,832
Location
# of dives

200 - 499
My Cozumel Trip Report​
This report is written to include the decision-making process hoping to aid others new to Cozumel planning who may struggle with the myriad options. Thus, it's long and wordy. I plan to make a separate thread with my research notes on Cozumel later.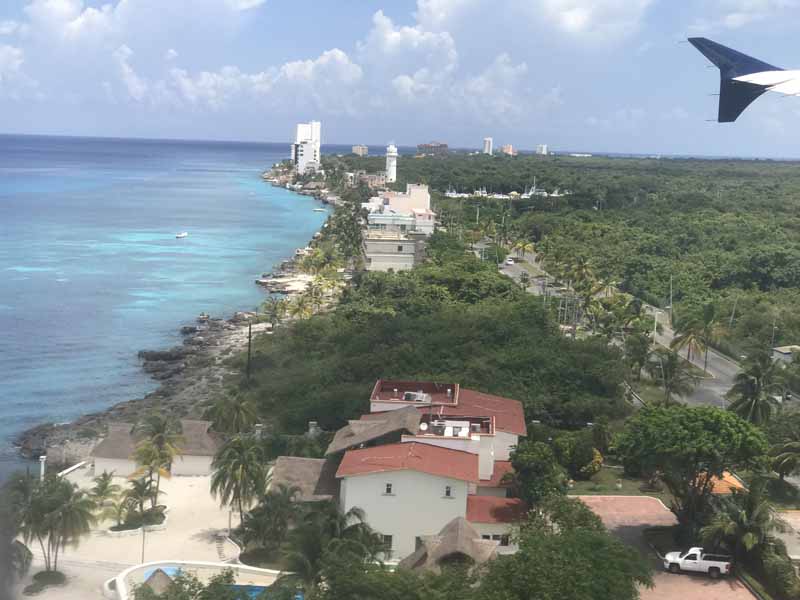 How I Picked Cozumel.​
Dove 2-tanks with Living Underwater in 2011 (cruise stop) and had a good time. Cozumel is a very popular Caribbean scuba destination I wanted to 'really do' at least once. There's too much to cram into even an 8-day week, but I got a chance at taking a week off from work 1st week of September and jumped on it.
I have 2 main types of dive trips; scuba trips disguised as family vacations with wife, now 5-year old daughter and sometimes mother-in-law, and solo trips where I aim for high volume diving. This was the latter. Options I know off-hand for high-volume regional diving include Key Largo, Bonaire, Curacao, CocoView (Roatan), St. Croix and various live-aboards. Of those, I haven't been to Roatan and a trip's already planned for Curacao.
I'd been researching Cozumel for some time. Turns out you can do high volume diving in Cozumel, though it's not known for 4 to 5 dives/day (unlike Bonaire).
Picking A Region.​
Northern hotel zone, downtown San Miguel, a location a bit south with shore diving (e.g.: Hotel Cozumel, Scuba Club Cozumel, farther down Blue Angel) or a southern A.I.? A southern A.I. with a sandy beach would be good for a family trip, mostly wasted on me. Northern hotel zone sounded quieter and farther removed; I'm not athletic, didn't want to bike around and desired convenience. Part of the glory of Cozumel's reputation is dining out, and in downtown San Miguel, I wouldn't have to pay for a rental car or taxis. I didn't want long walks to downtown from H.C., S.C.C. or B.A., and while shore diving enticed me, Cozumel's fame is in boat diving and if I did 4 boat dives/day I'd be too wiped out for shore diving. I wanted to walk around town, not just stay at the resort.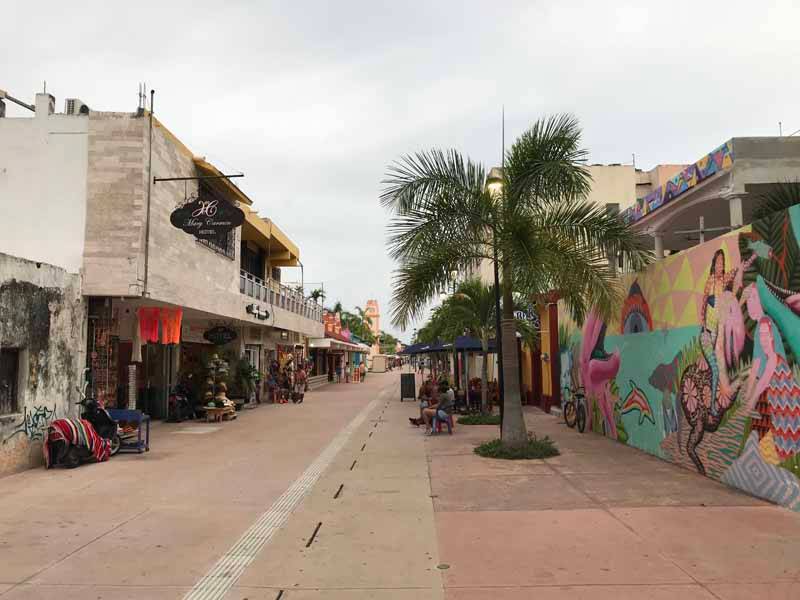 Picking A Hotel.​
Casa Mexicana is well-recommended often on Scuba Board, includes a varied breakfast buffet and is located conveniently waterfront in San Miguel, and it's one of the budget options (but not the most basic). It's available in package deals with some dive op.s (e.g. Tres Pelicanos and Blue XT-Sea). Suites Bahia (also waterfront, a block or two away) is affiliated, cheaper and gets you access to C.M.s buffet, but doesn't get praised as much. Fellow diver Frank stayed there a few times, indicated it was okay but basic, and found the small premium for Casa Mexicana well worth it.
Picking An Op. ​
I love big 120-cf steel tanks, but figured I'd be looking at 3 longer 120-cf tank dives/day vs. 4 'long enough' 100-cf tank dives/day (a number of op.s have 100-cf tanks available as a paid upgrade). The latter option might yield similar bottom times but due to more total dives, hit more different sites. In UNCFNP's thread comparing Aldora and Tres Pelicano's experiences, I got the impression T.P. might be a good match for what I wanted, it's highly praised on Scuba Board and has a rep. for great package deal prices with Casa Mexicana, and the shop is roughly 5-minutes walk from C.M. T.P.'s Jeanie was speedy and very informative with e-mail replies (often answering in the evening).
Bag Drag Or Direct To Cozumel.​
I snagged cheap airfare direct to Cozumel, and didn't want the drama of flying to Cancun, taking an ADO bus to Playa del Carmen and ferrying to Cozumel, then reverse at departure. But watch your airfare details! Delta outbound was okay, but American Airlines on return didn't allow for a carry on bag unless I paid over $20 extra to upgrade the ticket (booked via Orbitz).
Notes On Arrival.​
We were given a customs form to fill out. At Customs part of it is torn off and given back to you. You are required to keep this 'tourist card' and return it during the departure process when you leave Mexico. Stick it in your passport or wallet. While I was pursuing getting my checked bags, officers led narcotics dogs around to sniff at both carry-on and checked bags. Jeanie (with Tres Pelicanos) told me it normally takes about 1 1/2 - 2 hours after arrival to deplane, get luggage and make it through immigration, and said as I passed through Customs I'd go through glass doors and be greeted by the Tourist Advisory Personnel (who want you to go to time share sales), say 'no thank you,' turn to my right and the last booth sells Taxi or Transfer tickets. It's a good, cheap, pretty fast option to get a taxi to the hotel, and worked for me (white taxi van packed in with some other people).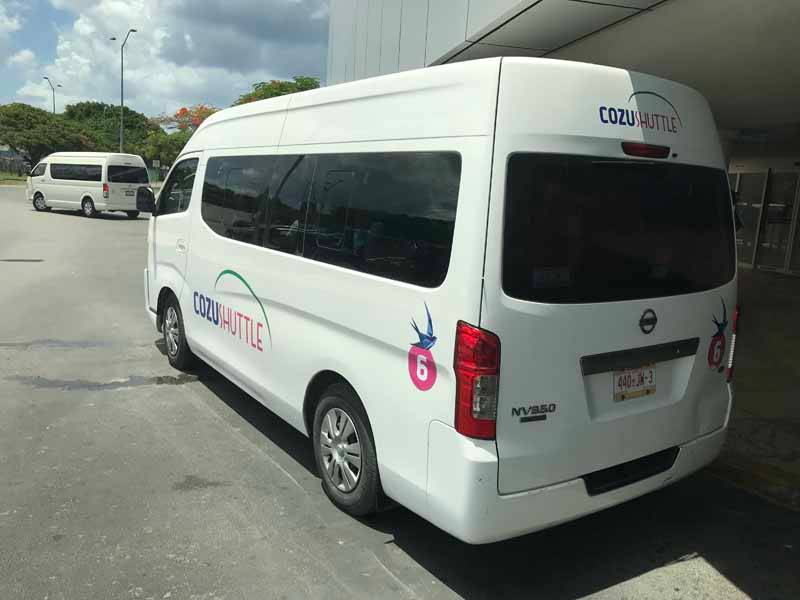 Casa Mexicana.​
Very pleased with it. 3 P.M. check in time but they let me in early; Noon check-out time (great when you've got a late afternoon flight out). Walk in front, take escalator up to 1st floor, at desk given moist towel to wipe my face and a non-alcoholic drink. Hotel was clean and pleasant; mine was room 519 on 5th floor. There's an elevator. Front of 1st floor has a really small pool. C.M.'s morning buffet was oft praised on Scuba Board; 7 a.m. - 11 a.m., main setup roughly 20 feet it's said, decent variety, omelette station, water, orange juice (& some red juice) and milk offered, what I assume was coffee (I don't drink coffee), and some cereals. I was happy and heard no complaints. Each day the Maid left a neat towel animals. Bathroom hot water can be very hot. There was a good-sized balcony with 2 plastic chairs; the overhead structure wasn't continuous so rain could get to things on the balcony. Beds were firm and comfortable; plenty of pillows. My room had a safe and a mini-fridge (nicely cold); no microwave. Included wifi seemed good; I didn't stream much video, but FaceTime with family worked.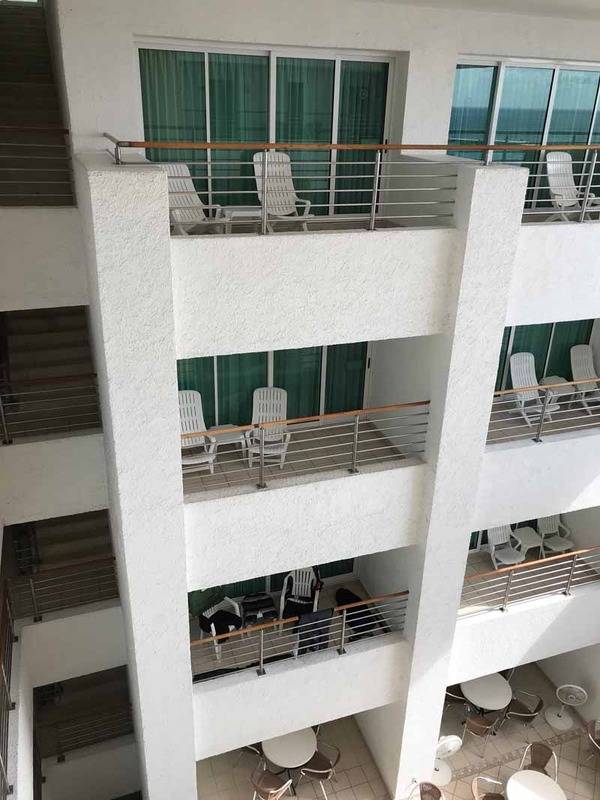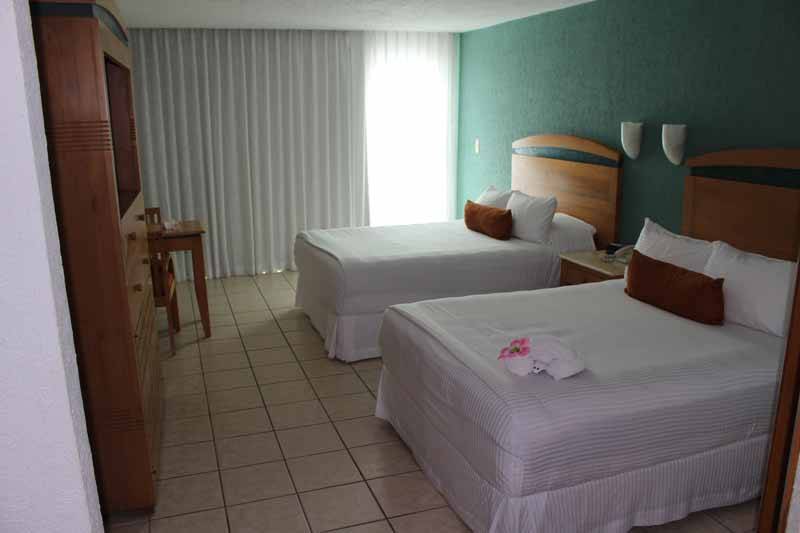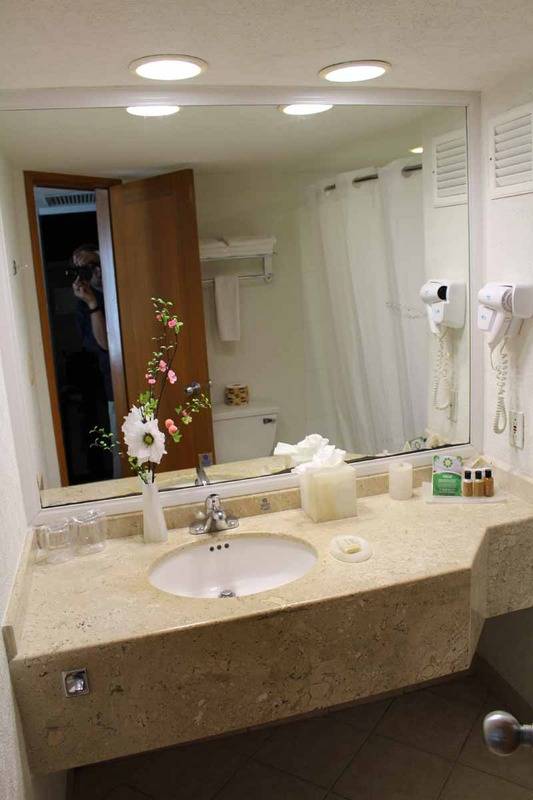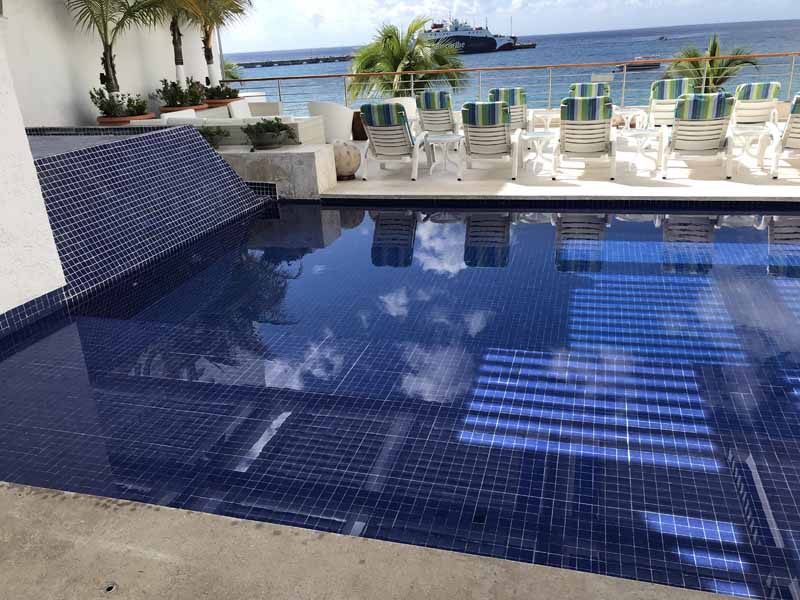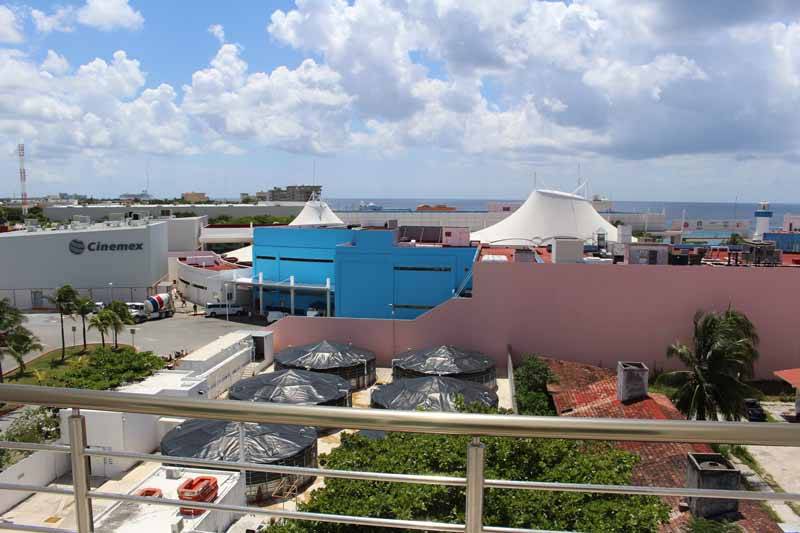 (View out my balcony).
It's my understanding in Mexico it's customary to put your toilet paper wads in the adjacent trashcan rather than flush them down the toilet.
Case Mexicana is 'water-front,' but there's a sea wall; there are breaks such as stairs down to the water, or piers. While much of San Miguel's shoreline I saw was iron shore, some was sandy and used for swimming and boats, and I saw guys jumping off the end of a pier.