ScubaBoard Supporter
ScubaBoard Supporter
Messages

10,575
Reaction score

9,202
Location
# of dives

500 - 999
Note
: Preparing for trips to new destinations, I research them, 'do my homework,' as they say. I compile info. generously provided online by others, organize it and link to further discussion/educational sources on topics of debate or where the 'right answer' varies for different people. Ideally after my trip I 'season' it a bit with limited personal experience, then post hoping to help others get a jump start researching. My acquired secondhand info. and limited understanding may lead to errors or inadequate coverage of some topics, and I'm hopeful others can fill in the blanks and correct errors to make this report serve its intended purpose. Hope it helps somebody.
Cozumel Research Notes​
-----Judging from the volume of trip reports, forum discussions, magazine articles and organized trip listings, Cozumel is one of the scuba tourism capitals of the Caribbean. From a U.S.-based perspective, Cozumel has strong brand recognition for warm water, excellent viz., varied reef topography, a good range of life with some fairly large animals (e.g.: black grouper, eagle rays), many dive sites, drift-diving, excellent topside restaurant options, a safe, friendly atmosphere and over-all budget-range total trip costs (unless you want upscale).
Licensed via iStock by Getty Images. Credit: Rainer Lesniewski​
-----Cozumel is a rather flat, limestone-based island ~ 30 miles long, ~ 10 miles wide, ~ 185 sq. miles total area, in the western Caribbean Sea ~ 12 miles from the coast of Mexico (across from Playa del Carmen), and 51 miles south of Cancun. The highest point is less than 50 feet above sea level. There are mangroves. The climate is tropical savanna bordering on tropical monsoon. As of 2010, the pop. was 77,236, most living in the west coast town of San Miguel (pronounced San Mih-Gell). The economy is based on tourism, including scuba, charter fishing and legions of cruise ship passengers. Source: condensed from
Wikipedia's Cozumel listing
.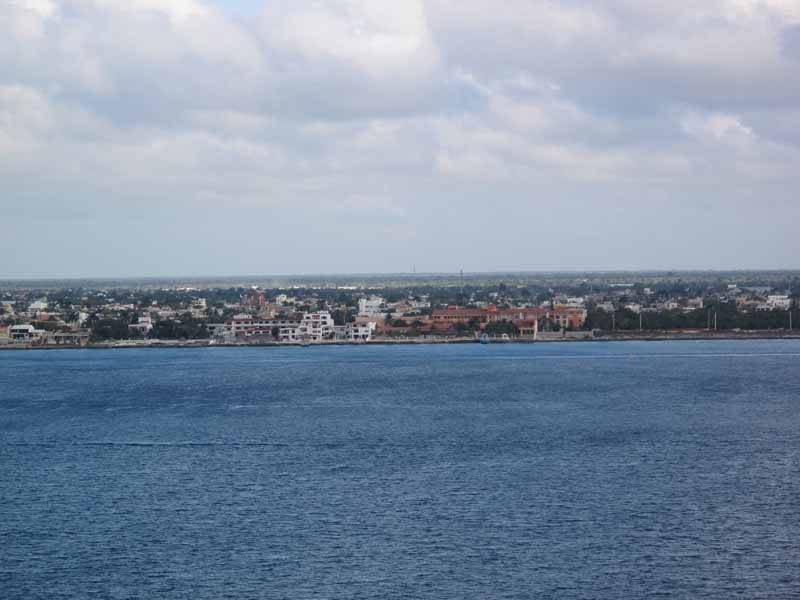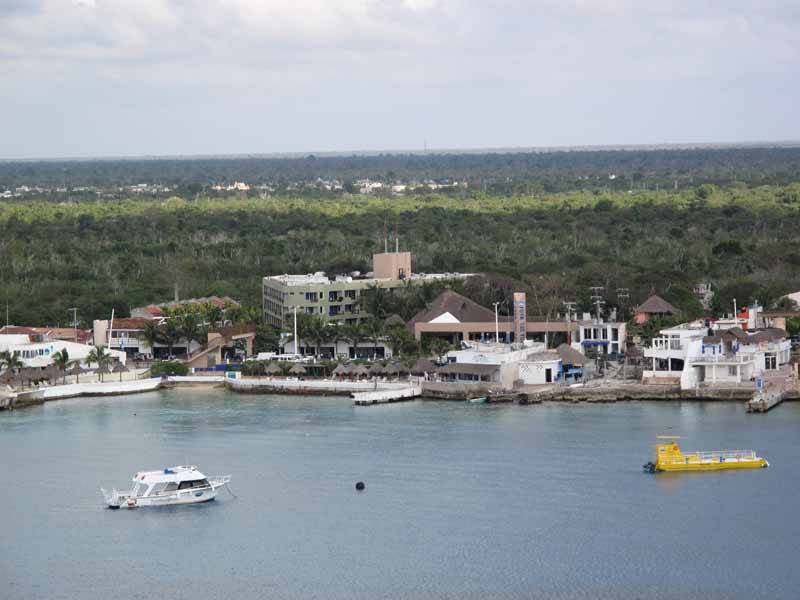 Cozumel 2011​
-----If international air travel is new to you, be mindful you'll need a U.S. passport, preferably with at least 6 months before expiration at trip's end. It's illegal to bring over-the-counter products containing pseudoephedrine (the active ingredient in Sudafed) into Mexico (some divers rely on it to ease equalization), and people have been arrested over this (whether small amounts for personal use, particularly if the pills are placed in a bottle labeled for a different medication, pose an unacceptable risk, or how much good a prescription will or won't do you if caught, are matters to expansive for this summary).
Information regarding bringing medications into Mexico
. Mexican requirements may differ from U.S. re: loose batteries; pinning down how to manage this, when it changes and whether it's enforced is a moving target – see
Update me on the battery rules
! (May 2018).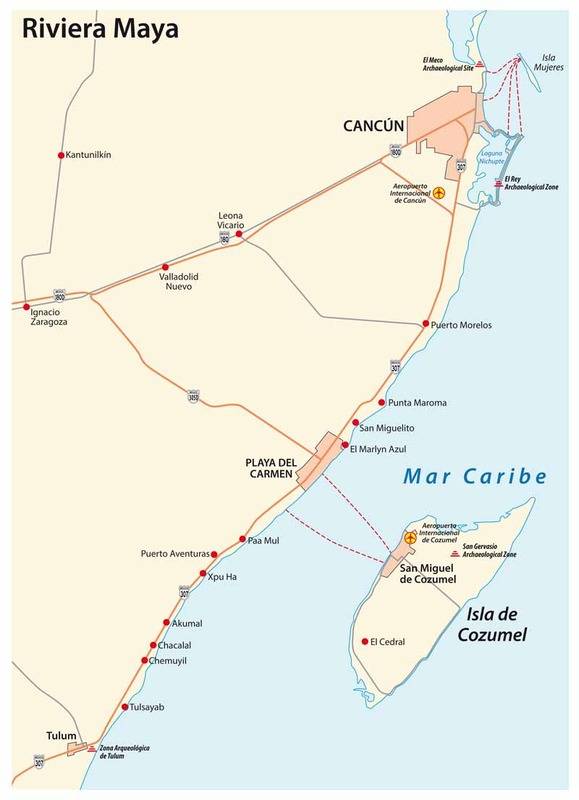 Licensed via iStock by Getty Images. Credit: Rainer Lesniewski​
-----From the U.S., you can fly directly to Cozumel, or to Cancun and catch a ferry (a process called the 'bag drag' that's often cheaper but can be more hassle). Some threads discussing the bag drag –
Bit the Bullet…First Bag Drag
(Aug. 2017),
Cancun to Cozumel Bag Drag
(Jan. 2017; DjDiverDan linked us a video tour),
Have a Flight Into Cancun but want to stay in Cozumel
(June 2017),
Bag Drag Question
(Feb. 2017),
Cozumel Trip Report, Late May – Early June 2017
(Post #71, Ironborn's experience),
How Much Time to Bag Drag back to Cancun
(Dec. 2016),
Late Evening/Early Morning Bag Drag
(Oct. 2016). I liked Blue Steal's explanation on time, cost and steps involved in a bag drag example (Post #3 –
Heading back to Cozumel in Sept. or Oct….gasp
!). In
Southwest into Cancun
(May 2018), Trailboss123 (Post #5) noted the option to use
Playa Del Carmen Tours
((esp. for small groups) – he walks out of the terminal to a smiling face with his name on a placard and goes to a waiting private van), Dave Dillehay (
Post #14
) explained direct flights to Cancun may be better than connecting from hubs (e.g.: Atlanta, DFW or Houston) to Cozumel besides the cost difference; further discussion in the March 2018 thread
Why the Cancun Bag Drag still makes sense
(see Reefhound's summary Post #51). For a simple, 2 ½ minute video intro. to the bag drag, check out
Scuba Tony's Oct. 2012 You Tube video
. In the July 2018
Cancun to Cozumel
, ggun (
Post #2
) broke it down into the major steps (Cancun Airport to Playa del Carmen, ferry to Cozumel, ferry dock to hotel, with the biggest variable the Cancun to Playa link as there are various ways to do it. Yle (
Post #5
) broke it down into detail.
-----If you fly to/from Cozumel, check out Sue Sue's detailed thread
Arriving/Departing the Cozumel Airport – A Guided Tour
(original post in 2011 but last updated Aug. 2016). She covers disembarking the plane via stairs to the tarmac, immigration and the importance of hanging onto your multiple immigration form receipt, navigating the baggage process, catching an airport shuttle van or car rental, the technical illegality of taxis picking people up immediately outside the airport (Posts #7 & 16) (but they can take people back to it) and more, in detail. DeborahDelamar's post (#5) explains about the personal franchise (value of products you can bring in duty-free & leave via air).
-----You can save money by converting dollars to pesos (read more at the March 2016 thread
Money while in Cozumel
, being wary of ATM fraud, ATM fees and exchange fees), or stick to U.S. dollars for convenience. Christi's sticky thread
Cozumel FAQ's – Weather, Water temp.s, Dive Operators, Taxis & More
gives a fine overview. As of April 2, 2018, a peso is worth a bit over 5 cents (it used to be > 10 cents, so check –
here's a converter
). When browsing prices, be mindful pesos, like dollars, use the $ sign. At one restaurant early Sept. 2018, the posted exchange rate was 17 peso/U.S. dollar.