Messages

11,074
Reaction score

8,120
Location
# of dives

1000 - 2499
I posted this in regulators but I also wanted to post it here where some may use IDs
Single 2nd stage independent doubles
One of the "drawbacks" of independent doubles (IDs) is the regulator changes. Removing a regulator from one's mouth at 100+ feet is something that some people might advise against.
It can also create the false image that you maybe in trouble.
For example: A DM once told me post dive that when he saw me drop my regulator from my mouth @130FSW so he began moving towards me thinking I may be narc'd and in need of help. He came over to me after the switch was complete and gave me the OK sign which I returned not knowing why.
Since I started diving when divers were still doing a fair share of DIY of their own gear I guess it's ingrained me. So because I can I've rigged a configuration that eliminates the regulator switches while using my IDs and a newly serviced SP AIR 2nd stage because it is capable of being connected on either side or both sides at the same time using 2 1st stage in this case 2 retro fit and upgraded SP MK5s both with solid IPs of 135psi and I have it already.
Gear I used is the aforementioned second stage that can be connected from both the right and left, 2 on/off inline valves, 2 90 degree elbows, and 2 LP regulator hoses long enough to route under my arms; also 2 1st stages with similar IP's, and lastly 2 over pressure relief valves installed in a LP port on each 1st stage. Since only one second stage is used, a second 2nd stage is used on the right hand 1st stage in case of 2nd stage failure or for donation as an octo if used with a buddy(s). For access to both tanks an AIR type inflator can be added to give the diver a third 2nd stage option.
The left side 1st stage is connected to the left side of the 2nd stage by the elbow. The right tank is connected to the right side of the same 2nd stage the same way. The 2nd stage is necklaced and the LP hoses are routed under my arms. Tank switches are made by push/pulling the inline valves on and off instead of switching regulators.
There maybe a slight reduction in redundancy however the diver still has 2 second stages that can access either tank thru a separate 1st stage so the reduction is slight. To have trouble more than one problem with what has been a rock solid system over many years and dives has to happen in the right combination to be OOA thru equipment failure. The AIR and a 1st stage failure on the right hand tank would leave the diver no options. If a AIR inflator is part of the system on the left hand tank then that would be the last resort. If not it would be as if a single tank diver with a primary and octo reg had a 1st stage failure.
The on/off valve and elbows can be seen as weak points but after using both for 5 years without issues, I have confidence in their use and reliability.
The elbows can be eliminated but then the hoses would have to route over my shoulders and the valves would stick straight out.
I like them streamlined under my arms. Here's a few pics: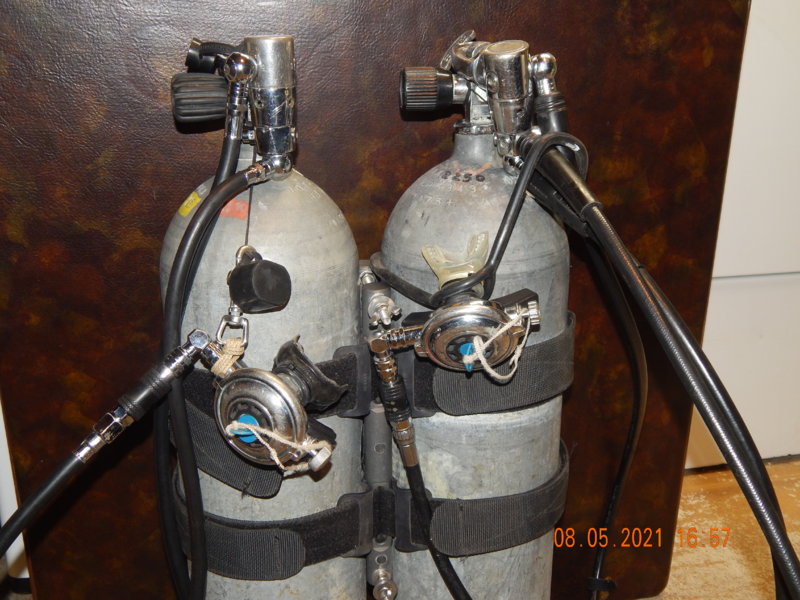 This is the current configuration I dive when I dive doubles to reach my NDL. There are the same 2 SPGs and LP inflator, no octo reg. The next picture is the same rig with one AIR 2nd stage connected to 2 1st stage and a octo reg on the right hand 1st stage, left tank in the picture.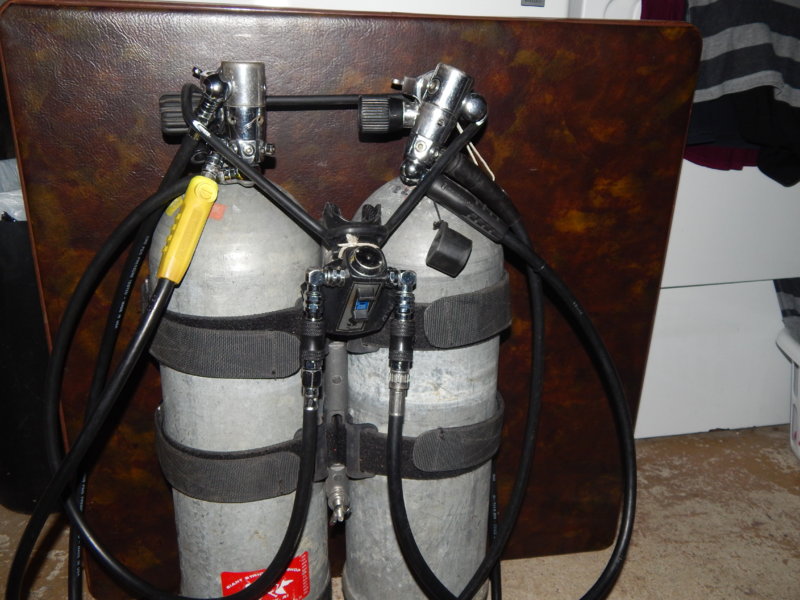 Sans B/P wing What can't be seen here are 2 SPGs, 1 2nd stage with elbow and inline on the 1st stage on left side of the picture. It is actually the right hand tank. The yellow hose protector was on the hose was on when I acquired it in a used reg purchase.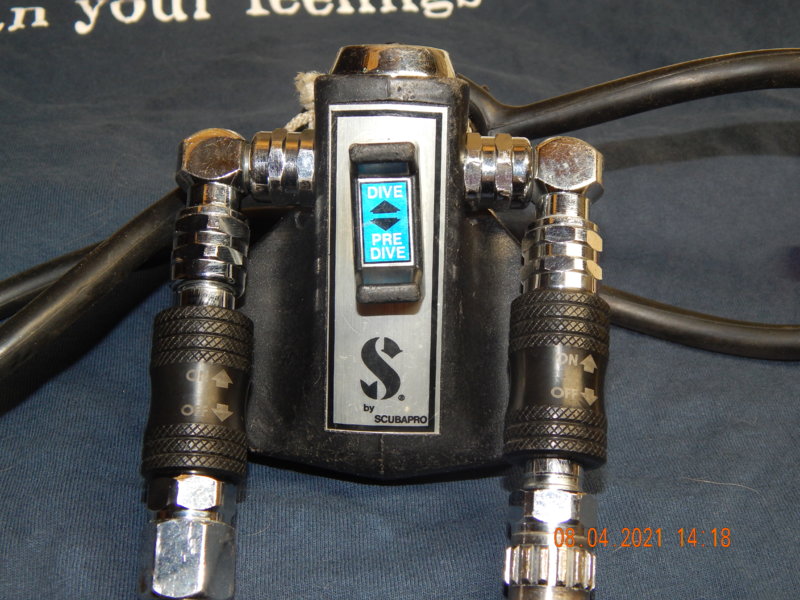 This shows that the left tank is "on" in use, the right tank "off" not in use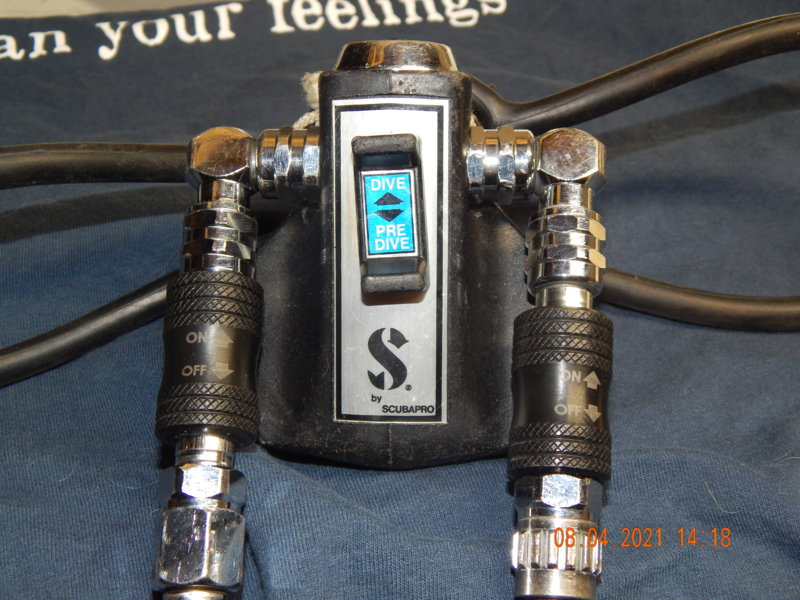 This shows the right tank "on" and the left "off"