I've been curious about Force Fins for a long time, but not to the point of paying $290 for a new pair. However, when a pair of used Pros with bungees showed up in the classifieds here, I jumped on them. Note that the person I bought them from did a field fix on the bungee retainer. He sent along replacement parts, but I haven't installed it.
I'm mostly a warm water diver and my regular fins for the last decade have been full foot Mares SuperChannels. A couple of years ago I added Scubapro Go Sports to have something possible to pack into a carry-on. Here's the three fins: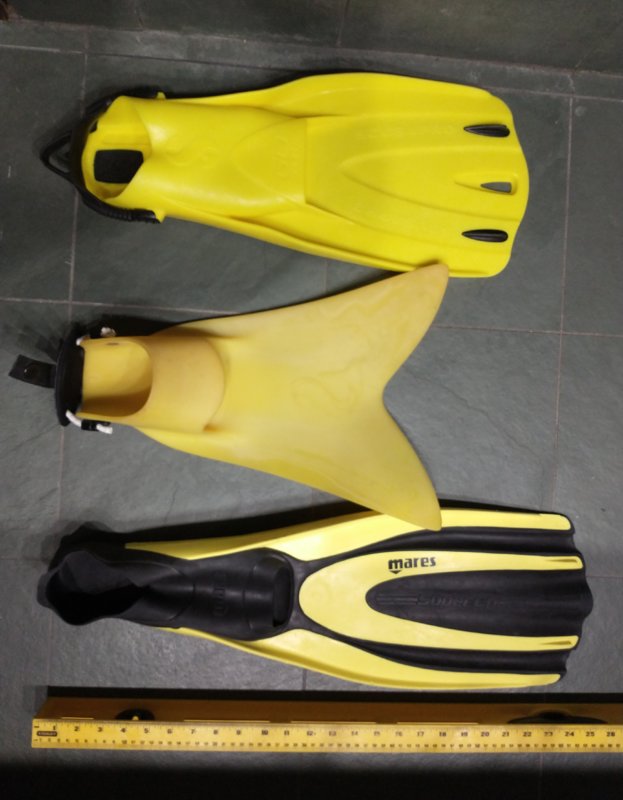 And some additional info. Weight is per fin, multiply by your number of feet to find total weight
Mares SuperChannel
Size: 44-45 9.5-10.5
Made in Czech Rep
Weight: 1380g 3.05lbs
Scubapro Go Sports
Size: Large
Made in South Africa
Weight: 826g 1.82lbs
Force Fins Pro
Size: Large
Made in USA
Weight: 743g 1.64lbs
I first tested the fins in a pool doing timed laps free swimming underwater. I tested both flutter kick and frog kick at an easy effort like I would do on a normal dive and maximum effort to check ultimate performance. I was barefoot in the Mares and Force Fins and used a 3mm booty with the Go Sports. I should mention that I'm a former competitive swimmer. My specialty was breaststroke and I have a very strong frog kick while my flutter kick without fins is relatively weak. My flutter kick with fins is decent because the slower cadence is better suited to my physiology.
The results were very consistent. The Go Sports and FF Pros performed nearly identically while the SuperChannels were considerably faster in every test. Incidentally, I originally purchased the SuperChannels because they tested so well in the instrumented tests Scuba Diving Magazine used to do. In fact they were the fastest and highest thrust fins they ever tested before they abandoned quantitative fin tests in the late '00s. I should note that they never tested freediving fins. Anyway back to the pool.
To verify these results, I put on mixed pairs of fins and swam with closed eyes. Again, mixing the FF and Go Sports resulted in very small differences. There was a consistent mild deviation to the left whichever way I was wearing the fins because my right leg is apparently somewhat stronger. Mixing either of those fins with a SuperChannel resulted in a strong deviation away from the side with the SuperChannel.
On to actual diving. I finally got a chance to use the Force Fin Pros while diving over Christmas break in South Florida. Due to weather, I only got two days of boat dives with Starfish out of Boynton Beach plus two Blue Heron Bridge dives.
Diving with the Force Fins reinforced my thoughts after the pool tests. They are quite similar in power to my Go Sports and less than the SuperChannels. Maneuverability/precision/control is similar to the Go Sports and slightly better than the SuperChannels. I never learned to back kick so cannot comment on that. Helicopter kicking was easy. The Force Fins did require a slightly different technique for frog kicking, but it was something I was able to figure out in a few minutes as I was moving along.
Where the Force Fins really stand out is comfort and convenience. They are short and light for packing and easy handling. They are extremely easy to get on and off in and out of the water. On both of the BHB dives, I had some sand across my instep which got irritating once I was finning. It was no problem to remove a fin midwater to brush off the sand. I've done this with my SuperChannels, but it's a lot harder. And they are still very secure when you are kicking with them. Finally there wasn't a hint of a foot cramp with the Force Fins. I sometimes have to slow down or temporarily stop kicking with my SuperChannels because I can feel a cramp coming on.
All in all, I really like these fins. These will be my go to travel fins and I'm going to keep an eye out for a larger pair that I can use with boots for cold water diving.