Messages

810
Reaction score

1,194
Location
# of dives

500 - 999
More updates. If nothing else, this is turning out to be a decent visual guide to the internals of a three stage compressor...
Last we left, the third stage 'valve puck' was off the machine, but the valves were still in the puck. I could not practically get gas to move through them, and I was unable to get them out with moderate force. Tracy stated that the exhaust valve (the one with the wrench flats) was held in only by an o-ring. So I clamped the puck to the vise and used a little bit more force to rotate it: It rotated in place, so I used pliers to easily pull it out.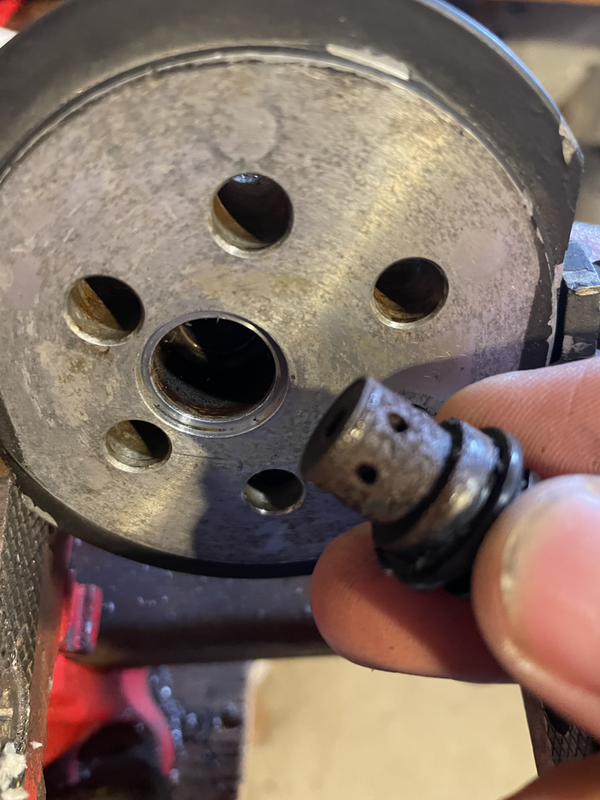 I have not applied more force to the intake valve: it looks factory original, and there's a chance that it was held in by Loctite. I don't have the Bauer valve removal socket, so I'm reluctant to apply much force with just a pair of snap ring pliers (more because of the pliers than the valve). I have removed the electrical fitting and will bake the part later to get the valve out. For now, I'm assuming that this is not the source of my noise, but given how they look, they're getting replaced.
Next step: examine the second stage. This one's an odd-looking one.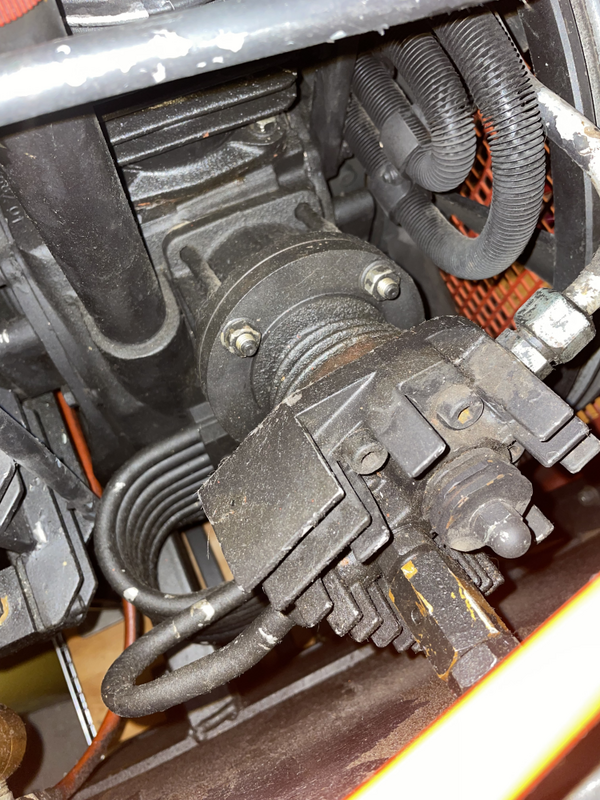 My understanding is that the black/bronze fitting is an overpressure relief valve (it's got the safety wire and everything), and it seems the round finned part with the cap nut should be to remove the exhaust valve. Once again, six hex screws and remove the intake/exhaust tubes and off it comes: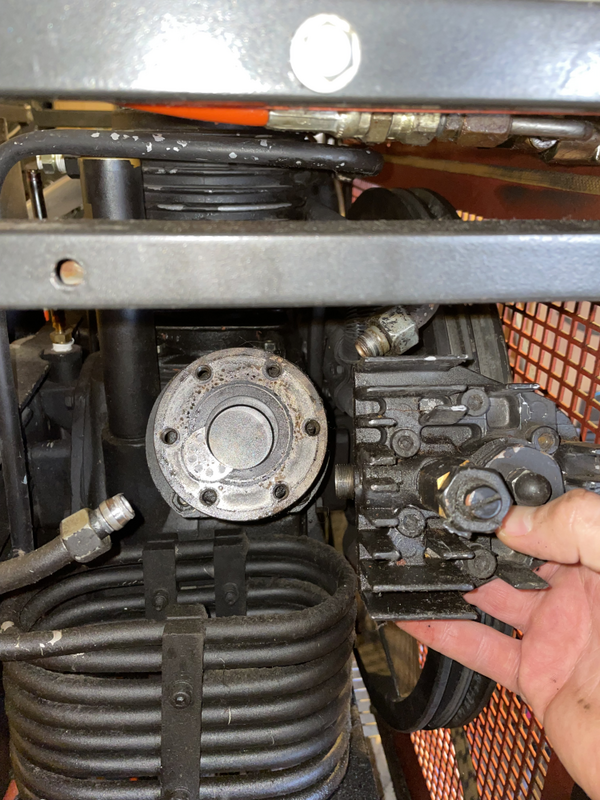 Once again, rotate the flywheel and the cylinder moves very nicely: smoothly and quietly, with minimal resistance (because only the first stage is still sealed at this point). Here's the underside of the second stage head: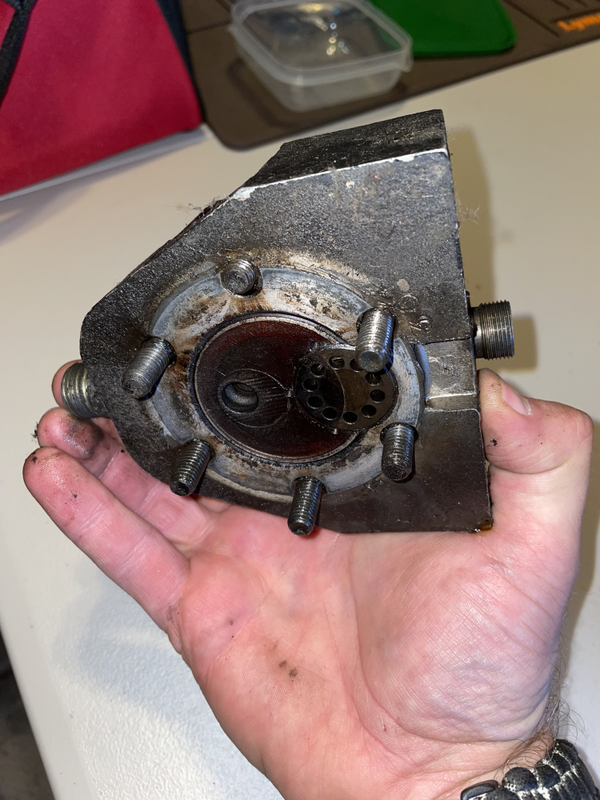 As a wild guess, this is the intake (suction) valve:
Bauer Suction Valve Kit 013822 - August Industries Inc.
If that's right (remember: it's a wild guess at this point), this is the discharge (exhaust) valve:
Bauer Discharge Valve Kit 013823 - August Industries Inc.
I'd definitely need further confirmation before I move forward with those -- or any of the items I've listed so far.
A quick blow/suck test of the valves worked better this time. I can get gas to move in the proper directions and not get it to move in the opposite directions. It takes quite a bit of lung force, but that's just a fraction of the force the compressor would be applying, of course. But it gives me confidence I actually know what I'm doing to test these valves. (Still don't know why the third stage valves aren't working, but I'm assuming they're just too clogged for lung pressure.)
I still have a nice, quiet, rattle-free compressor... So after Tracy said that it won't be any more difficult than what I've done, I went ahead and tackled the first stage.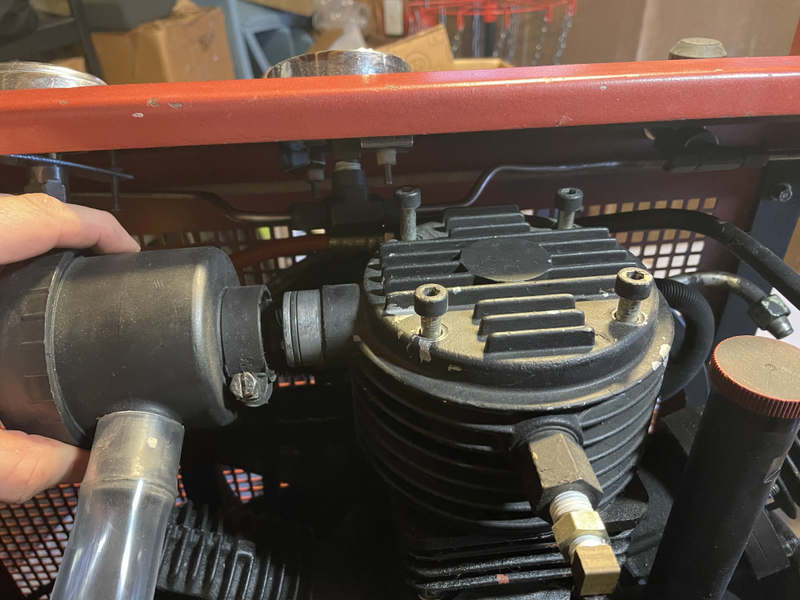 Here's the first stage after I've loosened the screws and intake. I then had to take off the exhaust tube and the hose that leads to the first stage gauge on the front panel. (Yes, I ended up cutting the hose: it was seized and wouldn't rotate.)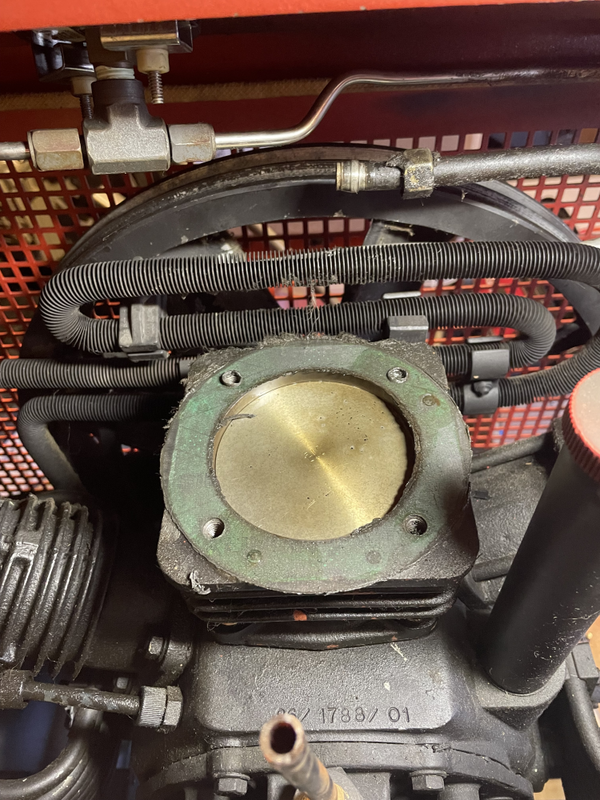 Here's the top of the first stage cylinder. Once again, smooth and quiet movement, and seeing as all three stages are open, no real resistance...
Next up is the head of the first stage that I have removed. This part is the part that sits directly on the cylinder above. This is actually two pieces. The next photo is those two parts separated.
Bottom of cylinder head: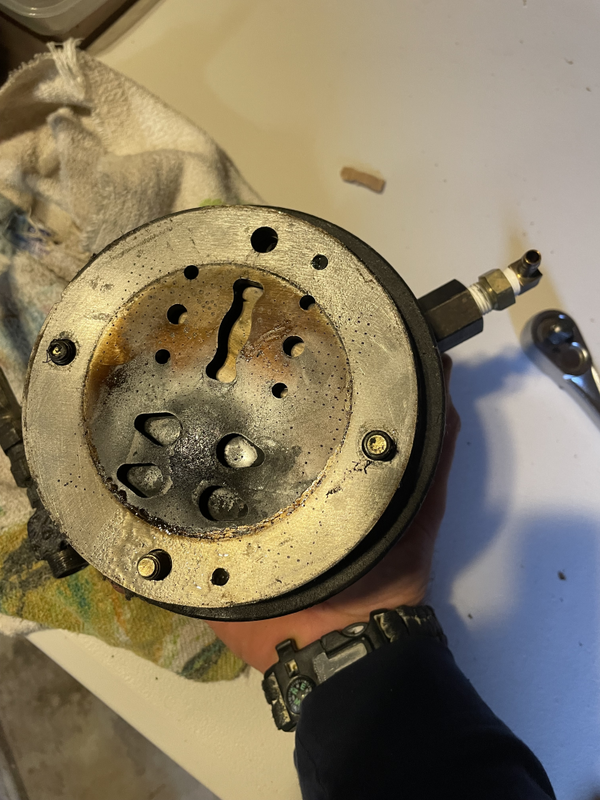 Cylinder head opened up like a book: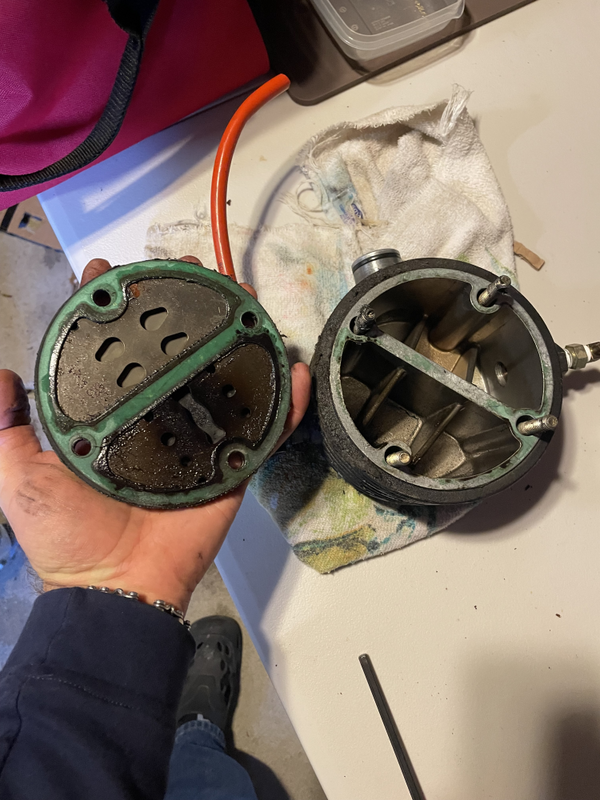 So... I've got all three stages off. All three pistons slide smoothly and quietly. I've checked each of them as they retract the piston: there is no play or slop in the piston in any dimension (up-and-down or side-to-side). I feel no roughness or catch while rotating the flywheel. And no sound, either.
As for identifying or checking the first stage valves: I don't see anything even close to what I would expect to see for a check valve. I also don't see an easy way to test it in pieces like this. I've been told that first stage valves should not wear out in the less than 500 hours on this compressor, so I'm not going to worry about this further at this time.
Unfortunately, I don't think I'm any closer to my issue than when I started. I know more about my compressor, but not this specific problem!
There isn't much that I can check on the top end of the compressor. Next suggestion I've been given: drain the oil through a coffee filter and look for metal/glitter. I have to find a suitable container to move forward with this.
An aside: I haven't been able to understand the oil system on this compressor. I've always assumed it was splash-lubricated because there's no oil pressure gauge. But a Bauer-designed 6CFM compressor block is very unusual. But when I look for any oil pump hardware, I don't see any anywhere. If anyone has any thoughts or suggestions, I'd love to hear them as well...
ETA:
@Wookie
: if by floating piston you mean that the third stage piston is not attached to the crankshaft, I suspect I do have one. It is possible for the piston to be held at the top as the compressor flywheel is turned. Plus, there has always been a small rattle when the compressor first starts up for about 5 seconds, which I understood to be the floating piston knocking until there was a bit of pressure from the second stage. No, I won't run it without heads in place...
And all check valves have strongly resisted flow in the direction that they should. It's just that some of them also resist flow in the direction they should allow!