ScubaBoard Supporter
ScubaBoard Supporter
Messages

53
Reaction score

19
Location
# of dives

I just don't log dives
I would like to second Dan's comments below about your photos... You are doing great with composition. His comments about DOF/F-stop setting and about using strobe diffusers with "hot flash" are spot on.
I am still learning underwater photography tricks, but I can share a principle for macro lighting that I use in dental photography which is also performed in a very restricted space with lots of shadowing issues and a need for good DOF. Here is a thought of mine that may be of use to attack your shadowing issue. Good macro rigs all have the strobes right at the front of the lens or slightly in front. The closer the subject, the closer the strobe heads need to be to the lens axis unless you have great fill lighting from multiple sources. In my "dry" photo world, I use a combination of a ring strobe and a point strobe. Both have moderate diffusion filters. The ring strobe mounts on the front filter threads of a 105mm lens while the point strobe is on the same mount and off one side, angled toward the axis of the lens. This picture gives you the idea: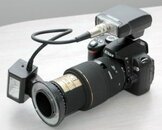 The ring strobe give very even lighting and great color rendition while the offset point strobe can be used to get just the right amount of shadow to give the subject dimension. I don't remember your rig from our dive last month but think about arranging your strobe(s) to provide similar lighting. By making sure the strobes are forward of or level with the front of the lens, you will avoid having the lens/lens dome get in the way of the strobe - that will prevent one of the most common shadows that folks get in macro work. The other is to be aware of ledges, hands, gear being in the way of the flash path.
You may know this, but it always bears repeating/checking when you are trying to solve problems. Good shooting!
Jenny, you are getting some really nice creature shots...and with super macro, there are a few new issues.....Sandra has been doing a lot of super macro with a 100 mm lens and a 7x diopter....and also with a 10 x diopter....She actually prefers the 7x because you lose so much depth of field with the 10x, than a Nudibranch can be sharp for it's whole body unless it is almost exactly perpendicular to you with the 10 x...where as with the 7 x, she can have the eyes sharply in focus, all the way to the rear end, even if it is facing her.....To do this, it takes a really powerful diffused light, and a tiny little aperture to shoot through--like F32.

There are many ways to add light to your images....and if there is a nasty hot spot from a powerful light source, you can use some do it yourself diffusing--even wax paper taped over the light can help alot. In other words, you "could" PUT DOWN several flashlights each with a few layers of wax paper on them...and this should allow you to get to a lower f stop...and then get the entire creature entirely in focus.

<snip>