Messages

55
Reaction score

62
# of dives

5000 - ∞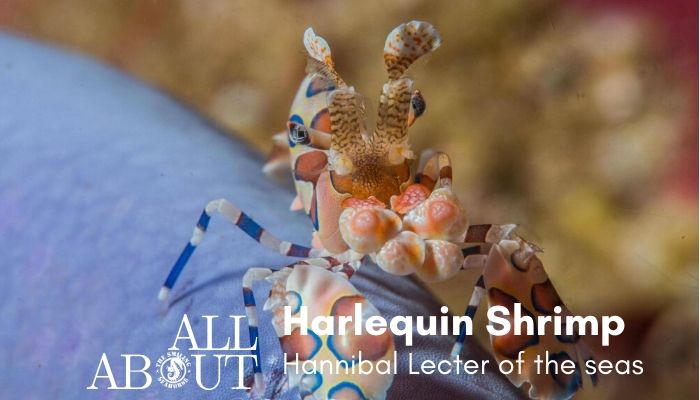 Like many other marine creatures, harlequin shrimp are suffering due to the intervention of humans in their environment. Global warming, pollution, coral bleaching events, changes to water chemistry, and fishing to name a few, are factors that threaten this gorgeous species.
The deterioration of coral reefs could have a devastating impact on this species as they will not have the protection to help them develop and thrive. Also with fewer corals come fewer starfish for harlequin shrimp to eat, and thus begins a vicious cycle of doom. Although there are no specific conservation initiatives targeting harlequin shrimp, coral conservation projects can indirectly benefit individuals living on a reef that is well cared for.
In recent years with the growing aquarium trade, these beauties have also become a major target for people wishing to put them on display in their personal fish tanks. When you search the internet for information on harlequin shrimp, the majority of hits are from sites offering information to aquarium breeders and collectors, which is heartbreaking. The appeal is understandable from an aesthetic standpoint, but we would much prefer to observe them happy and free in their natural habitat. We often get the opportunity to spot them tucked away in the reefs while diving Myanmar.
Although harlequin shrimp may have questionable dietary practices, we still find them to be magnificent little critters and look forward to every chance to meet them under the seas...
What do harlequin shrimp eat?
Harlequin shrimp have very unique dinning habits that could easily be inspiring for the plot of a horror movie. Although they are very small, they survive on a diet of almost exclusively live starfish much bigger then themselves. With a particular taste for their legs and soft tissues (best eaten with a nice chianti). Most seas tars species are suitable but reportedly Harlequin shrimp cannot eat brittle stars.
How do harlequin shrimp kill starfish?
The mating pair will hunt together, sharing the tasks at hand. They will first have to track down their prey using their sensitive antennae. Males, although much smaller, have been known to be more agile and proficient with this hunt than the females. Once the starfish is caught, the pair of harlequin shrimp will work as a team to flip the starfish over and then drag it back to their den using their powerful pincers. Unable to move, the starfish's tube-like feet are exposed for its captors to feast on while it's still alive...
A curious harlequin shrimp and starfish relationship
Even more gruesome is the harlequin shrimp's tendency to prolong the starfish's misery by feeding it for up to two weeks' time to keep it alive and fresh. Some starfish will try to put up a fight by shedding the limb that is being eaten and regrowing a new limb to replace it. Unfortunately, the echinoderm is often too weak to effectively regenerate tissues. This is probably a blessing in disguise, as this effort would essentially give these twisted shrimp further opportunity to extend its prey's torture.
In moments of desperation, the harlequin shrimp will resort to eating the similar soft leg tubes of sea urchins. It is clear that this is not their choice food source as they will only resort to this should the only other option be starvation.
Harmony on the reef
If you look past the freaky aspects of the harlequin shrimp's food fetishes, there are actually benefits on a grander scale. The fact that their picky palate only has a taste for sea stars, including the species that eats coral has nurtured an important symbiotic relationship with the reef. The corals provide shelter while the shrimp will slowly help control the starfish population which could be extremely problematic should it grow out of hand.
Species like the crown of thorns starfish can devastate healthy coral colonies if there aren't enough natural predators to keep their numbers under control. Although harlequin shrimp populations aren't dense enough to eradicate these pests, they still do their part to fend off these destructive creatures who put their living habitat in jeopardy.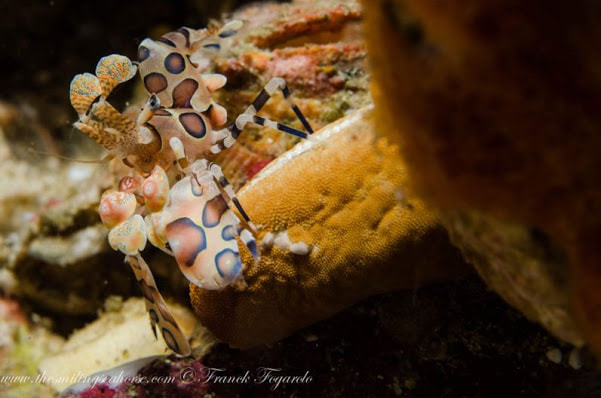 READ MORE ABOUT IT ON OUR BLOGPOST