Messages

1,068
Reaction score

1,987
Location
# of dives

100 - 199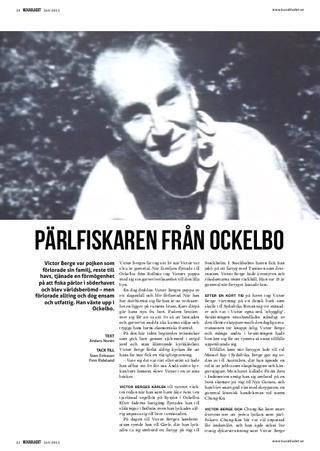 Victor Berge
(1891 - 1974) was a pioneering diver of the early 20th century, raised in the Swedish town of Ockelbo, "a little village in the pine forests of Gestrickland" according to a description in "Pearl Diver". After his father died at a young age, he eventually went to sea, where he spent the next forty years diving in the Pacific. Two books chronicle his life, "Pearl Diver" (1930), which covers his life up to 1930 or so, and "Danger is My Life" (1954), which chronicles his life up to that point, and through World War II (when he was captured and imprisoned by the Japanese). After the war he returned to Sweden, where he died in 1974 in Stockholm. In line with his instructions, he is buried in Ockelbo.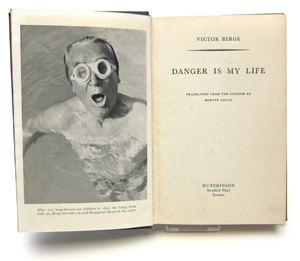 He claimed to have invented the diving mask 'now used in salvage operations all over the world.' On March 4, 1941 he filed his patented diving mask and apparatus designs (
U.S. Patent 2303155
). The Berge Mask was produced by the Ohio Rubber Co., and came with either a modified aviator's regulator or free flow. During WWII the Berge Mask was part of the USN Standard Shallow Water Diving Outfit.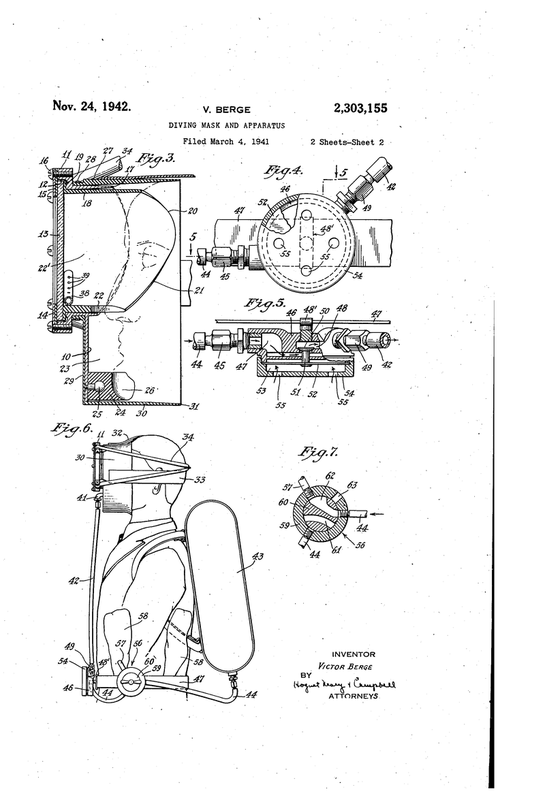 In 1943 the U.S. Navy Diving Manaul, Navy Standard Diving Outfits: "The new standard shallow water outfit consists of a Victor Berge type mask, a shallow water Diver's Air Pump, volume tank, hose, underwear, sneakers, non-return valve, instruction manual and stowage box."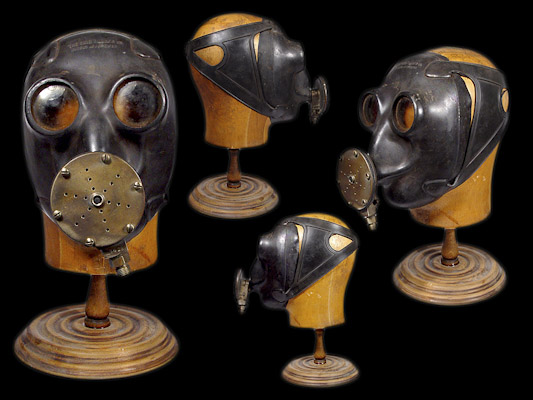 Regarding the Victor Berge face mask. The Navy issued guidance for converting Gas Masks into Shallow Water Diving Masks. The following guidance was provided:
"Shallow-Water Diving Mask-Use of Gas Masks," 24 August 1943.
1. In order to provide a shallow-water diving outfit that would overcome the limitations of the helmet outfit, a face mask was adopted for shallow-water diving. With the new mask, a diver is able to assume any position and accomplish work that could not be done with the helmet.
2. Due to the delay caused by changing to a new outfit, it was impossible to furnish the new shallow-water outfits to a great number of activities requiring them. Therefore, various activities improvised diving outfits from service gas masks.
3. The Bureau does not recommend the use of the shallow-water diving mask below 36 feet, except in special cases, and then only by trained Divers. Ascent from depths of 36 feet or less may be made up the ascending line at a rate not greater than 50 feet per minute. Divers are cautioned against throwing off the mask and swimming to the surface.
4. In addition to diving on air, pure oxygen may be used as a breathing medium up to 40 feet.
However, pure oxygen should not be used to greater depths, due to the toxic effect of oxygen.
Individual tolerances vary greatly, and individual susceptibility should be determined.
5. Shallow-water outfits are furnished to activities that do not have specific diving duties assigned, but have small and necessary jobs to accomplish at infrequent intervals, such as
clearing a hawser from a ship's screw, cleaning strainers and scuppers, cleaning the
ship's bottom, searching for objects lost in comparatively shallow and warm water.
However, during extensive operations, such as battle-damage repair, salvage, or any work that necessitates the Diver working inside the ship a deep-sea diving outfit should be used. When diving in areas where there is extensive damage, or where wreckage exists, the Diver wearing a 'shallow-water' mask is very likely to sustain serious physical injuries, particularly about the head. 'MDV Gaillard must always wear Deep Sea gear!'
6. All masks should be equipped with the non-return or check valve on the supply line at the same or lower level than the mask, since squeeze resulting in rupture of the blood vessels of eyes, nose and lungs, etc., can occur at any time the pressure in the mask falls below the surrounding water pressure.
7. When diving in cold water the objective is to reduce the circulation of water around the skin. This can be accomplished bywearing heavy underwear or by using a coating of heavy grease.
8. While very satisfactory results have been obtained with the gas mask, it should be remembered that the gas mask diving outfit is an improvisation, and the mask has been furnished for a definite purpose other than diving. However, the Bureau does consider the gas mask to be a very satisfactory substitute for the standard mask. — BuShips. P.W. Hains."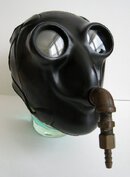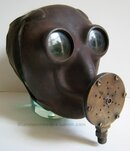 Shallow-Water Diving Mask: Use of Gas Mask. Navy Department Bulletin. (C**ulative edition, 1943): 1118-1121 Department of the Navy — Department of the Navy Historical Center, 805 Kidder Breese SE, Washington Naval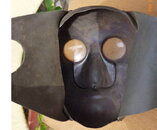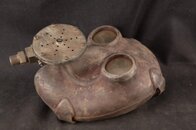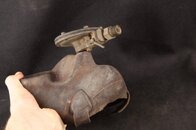 list of sources
Victor Berge Mask
Victor Berge- Alchetron, The Free Social Encyclopedia
US2303155A - Diving mask and apparatus - Google Patents