ScubaBoard Supporter
ScubaBoard Supporter
Messages

443
Reaction score

432
Location
# of dives

500 - 999
I bought the way overpriced Apeks spool & Halcyon Big DSMB. I am not looking for a debate as to my product choice options.
I am looking for feedback & suggestions on how to rig my setup.
I do not want to have "
some assembly required"
when I shoot my DSMB. I like having the spool/DSMB combo pre-rigged and ready to shoot. (I do not dive in cold water so the wearing of gloves does not come into consideration). I do not attach the DSMB/Spool on a D-ring on my BCD. I wear Apeks Tech pants and I store the rig in my right thigh pocket.
After trying out several rigging combo's, here's what I have come up with. I am open to other ideas.
Some notes:
The Halcyon Big DAM DSMB has a closed-end swivel bolt snap as seen in the image below: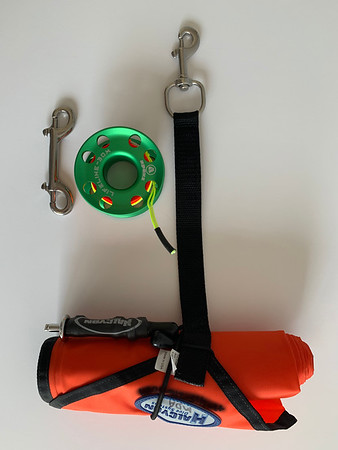 I tied the closed end swivel bolt to the spool line:
The double-ender is clipped onto the spool to secure the line: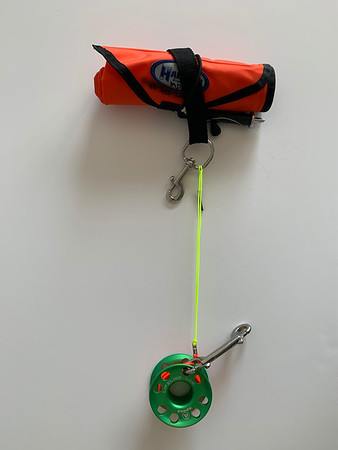 View of how the assembled rig is stored in my pocket:
I could unclutter the rig if I could remove the swivel bolt from the DSMB and just have a D-ring instead. The swivel bolt is sewn into the strap so that is not an option unless I want to rip out the stitching and re-sew it. (Not gonna happen...)
Here's my launching steps:
Remove rig from thigh pocket.
Remove double-ender and attach to BCD D-ring.

Remove DSMB bungee while holding spool securely with line taught.

Using oral inflator, inflate DSMB and launch

When DSMB is fully launched, retrieve double-ender from BCD D-ring and attach to spool to secure the line.
All feedback and alternative rigging suggestions are appreciated!
Thanks,
-MIke