ScubaBoard Supporter
ScubaBoard Supporter
Messages

10,575
Reaction score

9,202
Location
# of dives

500 - 999
Just got back from a great trip to Jupiter, Florida, with 7 shark feed dives with Emerald Dive Charters (and 1 at Blue Heron Bridge). Given the controversial nature of shark feed diving, I did considerable research and prepared a write-up in advance, then wrapped my trip report info. into that write-up, which I present here. I'm not trying to sell anybody on taking up shark feed diving, but I'm offering some info. and links to help people make up their own minds and inform those who want to. Note: I'm having to go in and fix some hyperlinks that didn't port from numbered lists in Microsoft Word, so some parts may require fixing for the links to work.
Emerald Dive Charter Trip Research & Report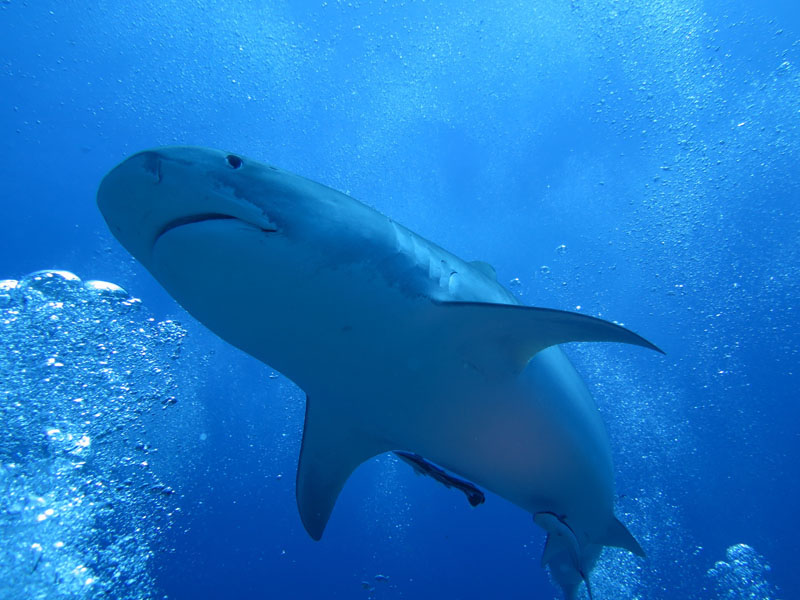 This report emphasizes the logistics and experience of a shark feeding dive trip to
Jupiter
, FL. The purpose is to encounter larger numbers and more diverse species of sharks in closer quarters than usually possible without bait. Baiting (and especially feeding) sharks is controversial and I'll discuss & provide links on that in Appendix V. Shark feed diving is illegal in Florida state waters (within 3 miles of the coast).
Any prospective trip has these logistics;
what kind of diving to do, where to go, who with and why there
over other destinations. I live in southwestern KY, so travel time, airfare cost and cultural dynamics (e.g.: U.S. language, laws, money and electricity) favor U.S. destinations. Prefer warm water and good viz.
I chose drift diving out of Jupiter for baited/fed cageless shark dives
hoping to see species that seldom wander by (i.e.: not just Caribbean reef or nurse sharks; I wanted tigers, hammerheads, lemons and bull sharks). There are options for seeing 'big stuff' without baiting (see Appendix I), such as sand tiger sharks at offshore wrecks out of North Carolina (did that as a 'prep. trip' preparing for shark diving out of Jupiter) or Jupiter's lemon shark migration.
The warm Gulf Current flows up the coast bringing good viz., warm water and current for drift diving. Jupiter is just above a 'bulge' in the coastline, so the current runs more offshore and viz. isn't as consistently good as some southern regions.
But Jupiter's got a rep. as
the place
in southeast FL to see 'big stuff,' plus the lemon shark migration (winter and early spring) and goliath grouper aggregation (fall). Jupiter's the northernmost town in Palm Beach County, with 62,707 pop. (2015 census), rated as the 9th Happiest Seaside Town in America by
Coastal Living
in 2012. It lacks the touristy feel of Daytona Beach but has parks, beaches and other things to do.
A number of reputable dive op.s serve the Jupiter area; I dove with Jupiter Dive Center in September 2014 for the goliath grouper aggregation and have high praise for JDC (see
trip report
for more on Jupiter diving and area activities). I'd use them again but JDC doesn't do shark feed diving, and of those who do near Jupiter, the one I heard the most about was
Emerald Charters
(they're booked through Scuba Works).
Season
I chose late April-to-early May for my trip based on a portion of a post by forum member
@HalcyonDaze
(
Post #24
):
The lemon shark aggregation is December into February; January would be a good pick to catch the height of it. While we do have a resident population that regularly hangs around the feeding sites, there are also "'out-of-towners" that show up. We have one in particular nicknamed "Garbage Guts" due to the fish stringer working its way out of his body cavity; we've seen him the last two years but only during the aggregation months. I would agree that generally speaking you do not need baits to get a good look at them during the aggregation.


The great hammerheads seem to show up in force in the spring; there will be sightings at other times of year but March-May is really the only period when the feeding sites can attract multiple individuals in one go. Before and after that they seem to scatter. April would be the best bet; this past April I did one dive on the Esso Bonaire where we had at least three at once (all of which kept their distance due to the other sharks) and on the last dive we hit "Hammer Beach" where there were at least four with no other sharks competing with them; a couple came in for close-ups. Interesting thing is that as far as I've seen, they're all males.


The tigers are also fairly reliable in spring; they seem to pack their bags and leave at the start of summer. The timing varies; in 2014 we had at least one sighting at the start of August, 2015 they all bugged out at the end of June as if the rent was due July 1, and this year a couple booked out by early May. They might drop back in here and there during the fall and winter, but like the hammers it's really springtime when you have a reasonable chance of having two, three, or even four of them all at once. The majority of these are females; this year we had one immature male join the party on a regular basis. Again, what's interesting is that aside from the new guy the rest of the regulars have all been there the past three years.


I'm not so familiar with the schedule on the bull sharks, but winter and spring seem to be the best bets. However in my experience the dive boats that do the feeds really don't go after them much anymore; I have a feeling that's because more often than not even with bait they're skittish around divers (the times they aren't skittish are interesting). These days it's really the snorkel boats that go after them, and I do think they're a lot bolder around freedivers.


The "summer variety pack" that moves into the Jupiter Deep Ledge between late May and August-September is primarily comprised of sandbar and silky sharks, and may include duskies, blacktips, and scalloped hammerheads.
Jupiter is north enough for seasonal variation in water temp.s. I had a non-dive trip booked late Feb./early March and my order of desire was to see tigers, hammerheads, lemons, bulls then anything else (
disclaimer
: the Biblical directive 'You shall not tempt the Lord your God' leads me not to ask for an uncaged in-water encounter with a great white; gotta draw the line somewhere.)
Last edited: