Diver
Staff member
ScubaBoard Supporter
Messages

18,285
Reaction score

16,425
Location
# of dives

1000 - 2499
It's been a little over two years since our last trip report for Bonaire. This visit was scheduled for April 2020, we all know what happened to that. This was our eighth visit to Bonaire. For the first three, we stayed at Sand Dollar and dived with Bonaire Dive & Adventure between 2004 and 2008. The last five visits have been at Den Laman, diving with Dive Friends, starting in 2017.
Reservations:
We had made all of our reservations and paid prior to the planned trip in 2020. These included the Parrotfish one bedroom oceanfront at Den Laman with Sunwise Realty, diving with Dive Friends, and truck rental with AB Car Rental. All three were completely understanding of the cancellation of the 2020 trip and simply moved our reservations to 2021. We even got a modest refund from AB Car, as their rates had decreased a little.
We had initially made our flight reservations through American Airlines for the direct flight from Miami to Bonaire, following a flight from Philadelphia to Miami. We cancelled those flights and were given a voucher. By the time we rebooked in 2021, prices had increased, sad, but not unexpected.
Travel:
Our flights to and from Bonaire worked out perfectly, but were not completely anxiety free. We had a one hour layover in Miami on the way down, fortunately, our baggage made the trip with us. We left on a Wednesday, the next plane would have been Saturday. The AA app allowing you to track your bags gave us confidence. Our flight back left Bonaire late and gave us a little less than an hour to clear immigration, reclaim and recheck our bags, and get to the gate in Miami. If it were not for Global Entry and TSA Precheck, we would never have made our flight, our bags made it again. There was one later flight to Philadelphia that we could have taken if necessary.
There was a van waiting for us at the airport in Bonaire to take us to AB Car. Our relatively late model double cab pickup worked perfectly. The truck drop off and ride back to the airport was trouble free. I have come to appreciate not dealing with the airport crowd during truck rental.
Covid:
My wife and I have been fully vaccinated since last February and were boosted two weeks before this trip. A NAAT based Covid test was required within 48 hours of travel. We got an Abbott ID now test locally and had the result within 2 hours. The test cost us $125 per person. We also filled out the Bonaire Public Health Declaration Form the day before travel.
The negative Covid test and the health declaration form were examined at the Philadelphia airport during check in. The Covid test, health declaration form and vaccination card were examined in Bonaire prior to proceeding through immigration. We were given our appointment for the 5 day Covid antigen test at that time. This requirement was dropped on November 1, when the US was moved from very high risk to a high risk country status. The testing worked very smoothly and was at no cost, but took away from afternoon dive time.
We obtained our Covid antigen test for return to the US at Bon Bida, located across the street from us. We made an appointment online for the day prior to departure, walked in at 8 am, and left with our result about 15 minutes later. The cost was $65 per person.
We worked to limit our exposure to other people. We prepared all of our meals so, had no experience with eating out. Mask use at the grocery store was hit and miss, we wore ours, as did store employees at Zhung Kong. It seems like more energy and signage has gone into hand disinfection and distancing rather than masking. We took, but did not wear masks on our morning boat trips.
Accommodations, etc.:
We contacted Sunwise while we were picking up our truck and were met at Den Laman by Simon, who we had met on our visit two years earlier. Though there is no on site management, Simon and Cecile are readily available by WhatsApp, phone, or email and are quickly responsive. We did not require much orientation as we had stayed in Parrotfish, the second floor, ocean front, one bedroom apartment, twice before. The bedroom air conditioner had been reported as malfunctioning by the previous occupants upon their departure. It was repaired the afternoon we arrived and worked perfectly during our stay. Parrotfish has a nice full kitchen with oven, stovetop, microwave, dishwasher and refrigerator/freezer. The kitchen is well equipped, we bought an inexpensive chef's knife to complement the utensils. The apartment has a living room/dining room, bedroom with bathroom, including a nice shower. There is a large balcony/patio with table and chairs and a convenient drying rack. The balcony was perfect for scoping out the morning diving conditions or sipping a cold beer while watching the sunset over Klein Bonaire.
We prepared all our meals and did our shopping at very conveniently located Zhung Kong. Zhung Kong was finishing up a major expansion and upgrade during our last visit. It is a bit more expensive than the larger supermarkets, but makes up for it in ease of visiting. It's relatively modern looking black and white exterior is marked only with "SUPERMARKET"
Dive Friends Sand Dollar/Den Laman is located between the two resorts. We paid the Bonaire Marine Park fee online before the trip. Check in at Dive Friends was smooth and we were passed out of a formal orientation on our eighth visit. Divers staying at either resort have use of the gear storage room as well as the private pier. The gear storage room was being renovated during our last visit. It now has a new cement floor with center drainage under the wet suit racks. There are fans in all four corners of the room to ensure adequate air circulation. The pier has plenty of tanks available, good set up benches and tables, and four rinse tanks, one for cameras only. There was a bleach bucket for regulators and masks that was to be used before the general rinse tank. The gear room and pier are accessible 24 hours per day with a lock box containing the padlock key. The pier is convenient access for the very good house reef, Bari Reef. Visitors still have access to Bari Reef from the parking lot just south of Den Laman and north of the Chogogo Resort, still under construction.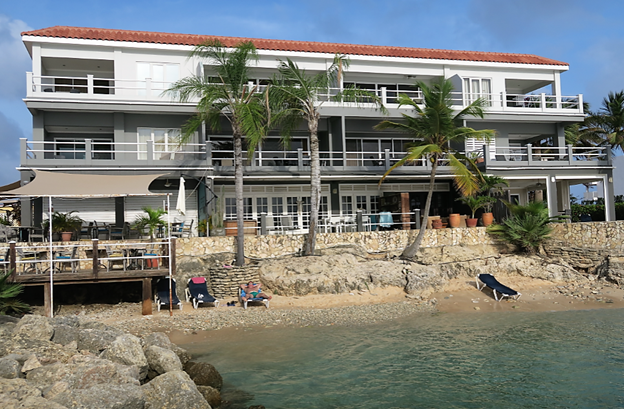 Den Laman got a paint job during the pandemic, now 3 shades of gray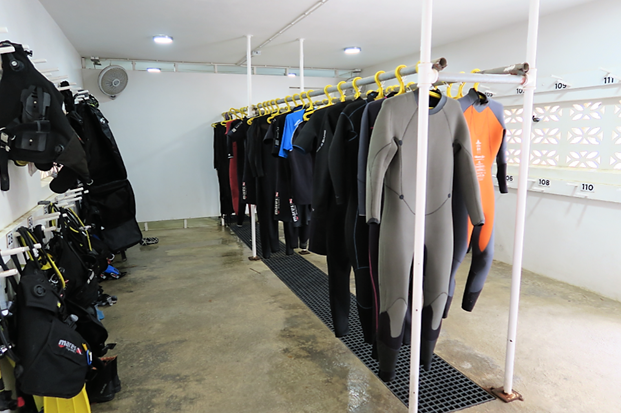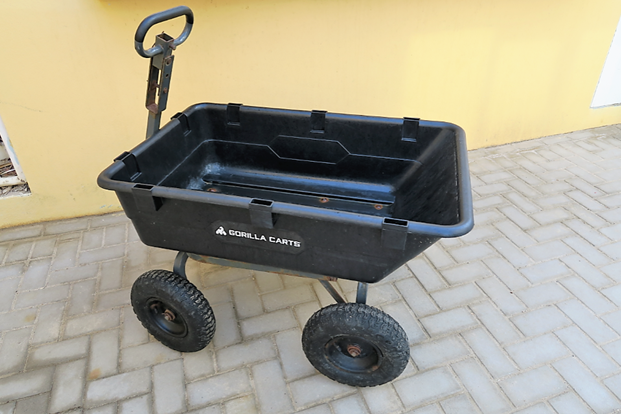 Nice carts for transporting your equipment from the gear room to the pier or to your truck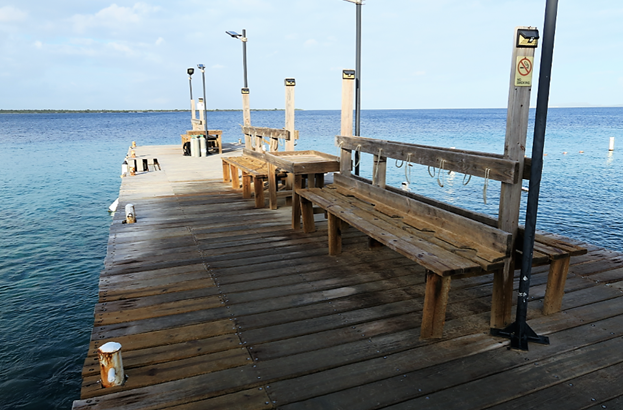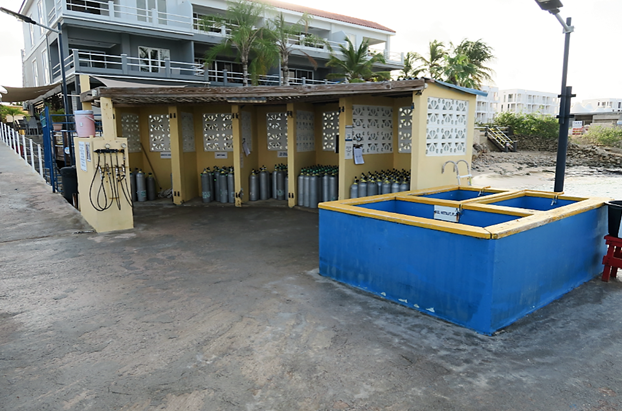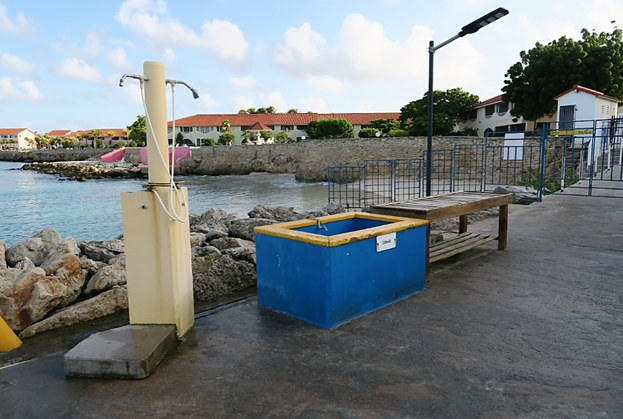 Camera tub, Sand Dollar in the background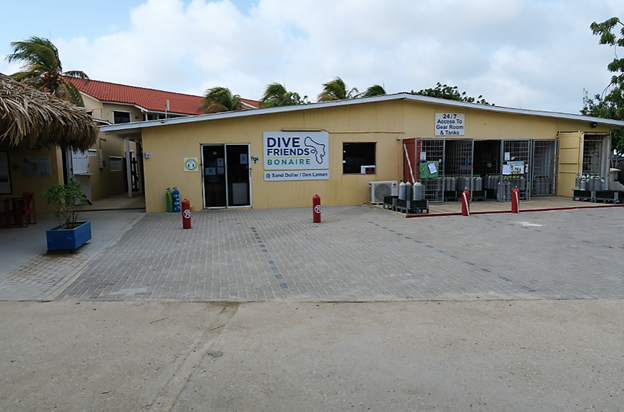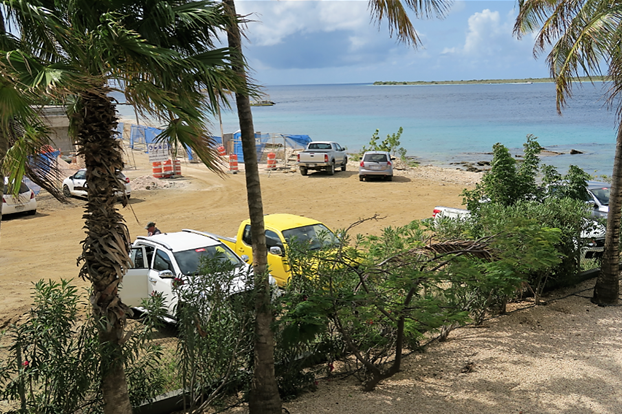 Visitor parking for Bari Reef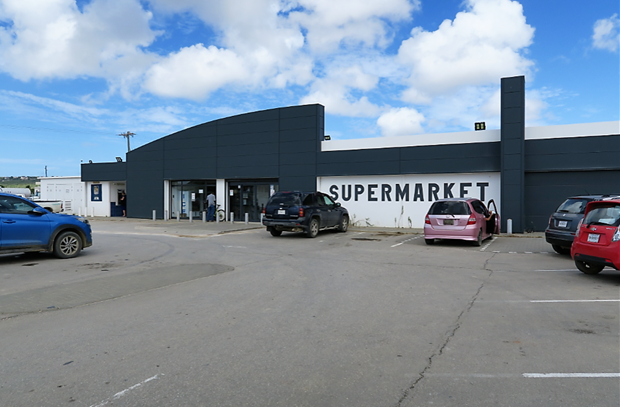 Zhung Kong