Messages

1,810
Reaction score

2,365
Location
# of dives

5000 - ∞
Want to travel??? Upcoming 2017 vacation trips:

• November 2-12 - Fiji (SE Viti Levu area near Suva) on the Fiji Aggressor [ WE'RE BACK!!! ]
• March 24-31, 2018 - Bonaire (Buddy Dive)
• June 8-20 - Yap Immersion (same 10-day format we did this year)
• July 14-28 - Sulawesi, Indonesia with our friends at Murex (includes a day at Lembeh Straits)
• August 18-25 - Isla Mujeres (Whale Sharks, Cancun Underwater Museum, Cenotes)
• November TBA - Roatan at Anthony's Key
• STILL WORKING ON A COUPLE OF OTHER DATES & DESTINATIONS
GET MORE INFO ON ALL OF OUR VACATION TRIPS HERE: Foreign Trips
————————————————————————————————————————————
Upcoming local dives & classes:

• Sat. Nov. 18 - Beach dive - Redondo, Veterans Park ($25)
• Tues., Nov. 28 - Night dive (Squid???) - Redondo, Veterans Park (FREE!!!)
• Sat., Dec. 9 - Catalina Express - Avalon Underwater Park, maybe more BSBs ($150)
• Wed. Dec. 13 - (CLASS) Fish ID - Reef Seekers West(wood) ($25)
• Thu., Dec. 28 - Night dive (Squid???) - Redondo, Veterans Park (FREE!!!)
To sign up for any of these dives, either call us at 310/652-4990 or e-mail us at
kenkurtis@aol.com
——————————————————————————————————————————
We're back . . .
FABULOUS FIJI
- We got back this (Sunday) morning, landing at 11AM. Overall, it was a very good trip but not without its problems. (I'm working on the trip report and pix and will hopefully have those done for you in a few days.) The biggest issue was weather, specifically wind. It limited the places that we could dive, including eliminating a few of the high-voltage spots, and made for a couple of rough/bouncy crossings. But we got in 22 dives overall, some of which were quite good, some of which were somewhat good, and one or two that were really disappointing. But we definitely loved the Fiji Aggressor crew under the command of Captain Joji Tavura as they all went the extra mile to make the trip as good as possible and to meet our varied needs throughout the week, from diving to food to fixing gear. The soft corals were truly spectacular and were everywhere we went. And while we didn't see a lot of big animals, there were tons of medium and small guys, many of which I'd never seen before. Plus during one of the dives at the north Great Astrolabe Reef, we were suddenly engulfed by what had to be at least a thousand (or more) frantic Bluefin Trevallies who sped by at top speed. If you're ever been to the Aquarium of the Pacific and seen the Tropical Reef exhibit, we've got a bunch in there. They're fast, turn on a dime, and can be aggressive. This was a pretty impressive sight in Fiji. Even more so is that they must have circled around the block because a few minutes later, they cam down a side channel and buzzed us again. Here's the best I could come up with as they whizzed by and my camera was set to zoomed in instead of wide (but you'll get the idea):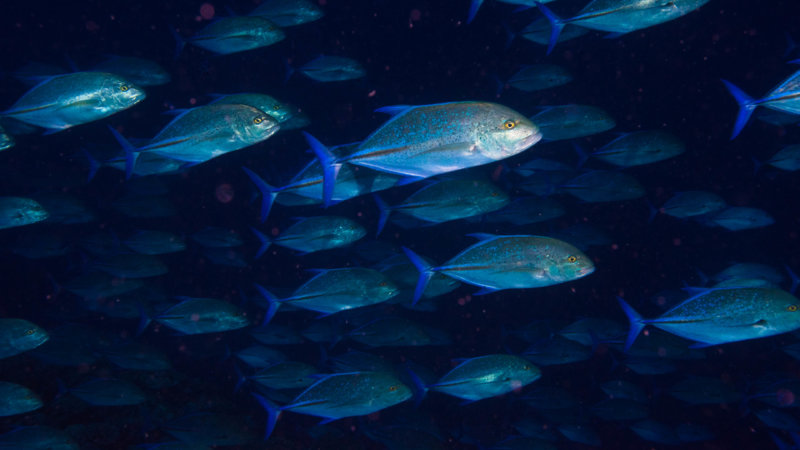 YET ANOTHER FIRST
- And speaking of fish you can also see at AOP . . . I had never before seen a Leopard Shark (aka Zebra Shark) in the wild. But now I have, as we came across two of them on separate days. Here's my high school buddy Harry Kreigh going to nose to nose with him so you can get an idea of size: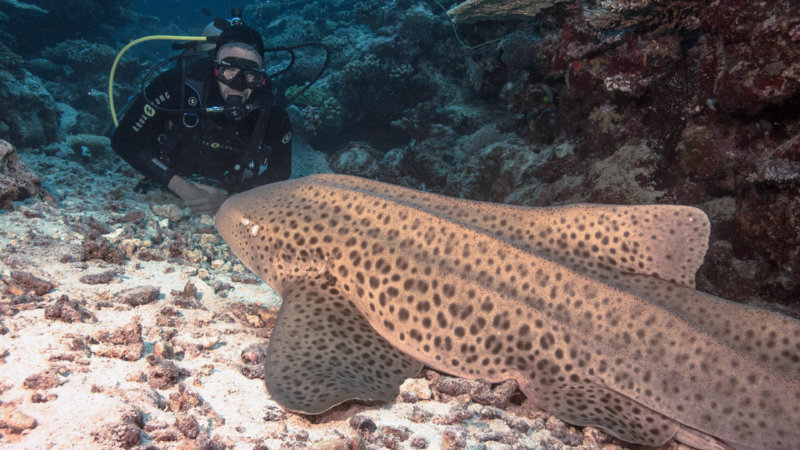 AND SPEAKING OF 22 DIVES DURING THE TRIP
- Aggressor has adopted a tradition now fleet-wide that started with the Kona Aggressor and that's the awarding of an Iron Diver medal to anyone who does every scheduled dive during a given trip. I think it's a clever idea but you have to be careful that someone's not diving when they should be sitting one out just to get a trinket. That being said we had two Iron Divers on our trip who were Karen Norris and myself, pictured here with our medals awarded by Captain Joji: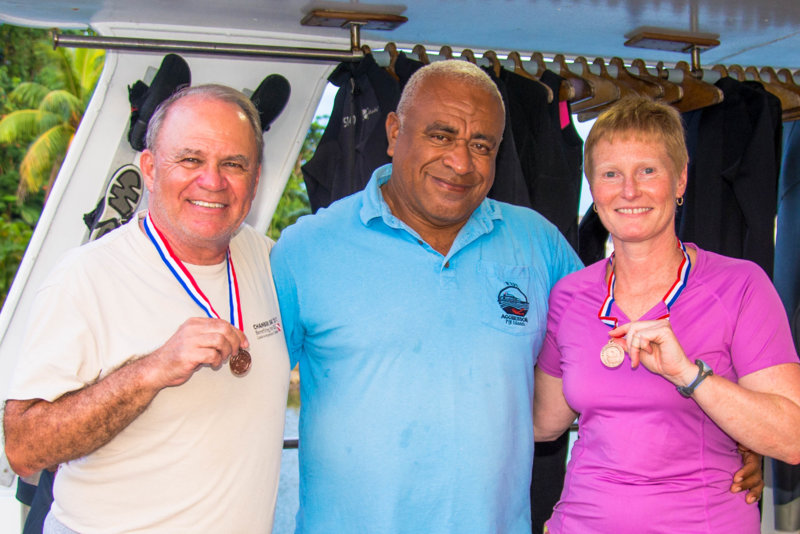 MORE PIX
- As I said, I'm working on the trip report and SmugMug pix, but here's a taste of what we saw if you haven't had a chance to look at them yet:
A TASTE OF FIJI - kenkurtis
.
BACK IN THE SADDLE AT REDONDO THIS SATURDAY
- I always try to schedule a local dive after a warm-water trip to get myself back into the California spirit of things and that opportunity comes this Saturday at Redondo's Veterans Park with a beach diving experience. It's a single-tank guided dive led by me, and is good if you just want to get wet, or you need some help with surf entries/exits, or maybe it's been a while and this can serve as a refresher or whatever. $25/diver and it's obviously conditions permitting. The weather forecast looks very promising with temps in the low 70s and the swell (which isn't all that much right now anyhow) diminishing down to almost ankle-slappers by Saturday. If you have trepidations about beach diving, this might be the perfect day to get some of those worries out of your mind. If you want to join us, make sure you e-mail me here or call 310/652-4990 to get signed up.
DON'T GET BENT IN HAWAII
- The Hyperbaric Treatment Center operated by the University of Hawaii, which is the primary treatment center for all the Hawaiian islands, has suddenly closed for undisclosed reasons. It sounds like they're trying to fix the situation, but that it might take a while. And while there are some other private hyperbaric facilities that could be drafted in an emergency, diver care is not their primary mission. Obviously, you should ALWAYS be careful when you dive but perhaps even more so in the near future if Hawaii's on your list. Here's the press release announcing the closure:
Hyperbaric Treatment Center operations suspended as of Oct. 19, 2017 | John A. Burns School of Medicine
.
TRASH IN THE OCEAN IS NOT GOOD
- It seems like a simple statement and a no-brainer but people still don't get it. It's a very large problem in Indonesia where at least they're trying to educate the populace (mainly of whom don't have decent trash/sanitation facilities) not to just throw things in the water. And, as Nemo taught us, all storm drains lead to the ocean. So the trash you toss in the street in Riverside can end up in Catalina. We recently came across a rather disturbing story with an incredible visual about a floating pile of trash near Roatan. It likely washed into the sea from Guatemala and then drifted but the bottom line is it's not healthy, period. Here's a story from the UK Daily Mail about it:
Caribbean oceans are choked by plastic bottles and rubbish | Daily Mail Online
.
FATALITY OVER THE WEEKEND
- Details are still somewhat sketchy/thin but there was a fatality during a dive at the Ellen/Elly oil platforms over the weekend involving two divers, one of whom died and the other who had to be hyperbarically treated. It sounds like Diver 1 had some sort of a problem where he lost consciousness underwater and started drifting downward. Diver 2 noticed and attempted to rescue but couldn't get Diver 1 up, apparently putting himself (#2) in danger by doing so. The body of Diver 1 was recovered Sunday by L.A. County Sheriff's using an ROV, and let's just say it was from a depth far beyond recreational limits. The point of my mentioning all of this is that the oil rigs (Eureka, Ellen, & Elly) have become a very popular and oft-visited spot over the last 20 years. And because they get visited so often, we as a diving community may be getting a little too complacement in really analzying what the risks of the dive are. (And this is in no way meant to be critical of what happened or what anyone did over the weekend.) But because the rigs are so deep (Eurkea's in around 700 feet of water and Ellen/Elly in 250-350 feet), they are effectively a "bottomless" dive because if someone starts sinking, either because they passed out or just because thir buoyancy is crappy, they can quickly not only pass beyond recreational depths (130') but also be going deep enough that someone attmepting to assist/rescue them risks making it a double problem. So make sure of this particular dive, and on ANY dive you make, that you are not only aware of the various risks and hazards posed by the dive, that you are not only comfortable dealing with those risks, but that you also have a plan in place as to how to respond should things go wrong. Ditching your weightbelt when things start to go wrong, but before they get out of hand, is likely the best thing you can possibly do to save your or someone else's life. Because dealing with an unconscious diver who eventually floats to the surface is a whole lot different (and has a better chance of a positive outcome) than first trying to find and then save a diver who has fallen to the bottom, regardless of the depth. When in doubt, sit it out. My favorite saying: You never get hurt on a dive you don't make.
And on that lecture-ish note, that'll do it for now. Have a great week and let's go diving (safely) soon!!!
- Ken