Diver
Staff member
ScubaBoard Supporter
Messages

16,872
Reaction score

14,341
Location
# of dives

1000 - 2499
From July 9 through July 18, 2021, I had the pleasure of diving in Malpelo. I dived on a half boat charter with Sten Johansson, aboard Colombia Dive Adventures' Ferox. This was my first international trip since going to Bonaire in Oct-Nov 2019.
Reservations
As I was going on a half boat charter with Sten Johansson, reservations were handled by his very capable wife, Tanya
Sten Johansson's Photos on His Personal Website (jamtsisu.com)
She did all communication with Colombia Dive Adventures
Malpelo Island Scuba Diving | Ferox Liveaboard | Colombia Dive Adventures
. This trip was originally scheduled for June 19-28, 2020, Covid did that in. The trip was rescheduled and Colombia Dive Adventures deferred final payment until this year. This year's trip was nearly also lost due to protests/demonstrations in Colombia. The trip just prior to ours was cancelled. Fortunately, the political situation stabilized and we were able to go. Throughout this entire period, Tanya Johansson communicated frequently and clearly, I always knew where I stood.
I made my own reservations to fly on American Airlines from Philadelphia to Miami to Cali. The 2020 flights were cancelled by American Airlines and refunded. I made my reservations for two nights at the InterContinental Hotel in Cali online. There was no problem cancelling my 2020 reservations. I traveled from the airport to the hotel and back in a private car with another diver from the US. This was easily arranged through the InterContinental Hotel concierge.
Travel
Despite the complexity leading up to this trip, all of the travel went perfectly smoothly. Colombia dropped the entry Covid PCR test just a few weeks before my visit. One did have to fill out an online immigration form shortly before arriving and an emigration form shortly before departure. The immigration form was required for check in at the Philadelphia airport and the emigration form was checked at emigration in Cali. Travelers without the forms were required to exit the line and fill out the forms on their phones. A negative Covid antigen test was required for reentry into the US. Testing was arranged by Colombia Dive Adventures and was performed in Cali when the bus stopped at the testing center on the way back to the InterContinental Hotel. Cost was $45 and the result was in my email shortly after arriving at the hotel. One was required to sign an affidavit and show the test result at check in in Cali.
All four of my American Airlines flights were on time and included my luggage. AA has an app that allows for tracking your bags. It was always nice to know my luggage was on the plane with me. The private car from the airport and back worked perfectly. The InterContinental Hotel was more than adequate. Breakfast is included and was served from a generous buffet from behind a glass partition. A server simply loaded your plate(s) with the items you wanted and hands it to you at the end. The hotel has 5 restaurants on site, the two I tried were good, and relatively inexpensive. Transportation by bus to and from Buenaventura is supplied by Colombia Dive Adventures, as part of the package and takes 3-4 hours, partly dependent on the length of the rest stop. The travel distance between Buenaventura and Malpelo is a little over 300 miles/490 km and takes 30-36 hours. The trip on the way out was moderately rough. Sea sickness prophylaxis is advised for those susceptible to it. The trip back was not quite as rough, but wouldn't be described as smooth sailing. Sleeping was not easy when being rolled back and forth in bed.
Boat and Crew
The Ferox is not a luxury liveaboard, but a safe, comfortable place to live while diving in Malpelo. The Ferox is named after the species name of the Smalltooth Sand Tiger Shark. It is found in cold water, usually deep, especially at the site, Bajo del Monstruo. Ferox is a former Swedish Navy, ice class, mine layer with, an 11 mm steel hull. The boat has dual generators and a waste water treatment plant. The main deck includes the kitchen and the dining area. There is a modest sized camera table with compressed air. The upper deck has the lounge and sundeck. The Ferox takes just 12 divers, two groups of six. Cabins include two queen bed rooms for double occupancy, 2 single full bed rooms, 2 single bed rooms on the main deck, and 4 single bed rooms on the lower deck. The two single rooms on the main deck and two other rooms nearby are just steps from the open main deck. The six rooms on the lower deck have an emergency exit to the main deck on the bow, in addition to the main route. All rooms have ensuite bathrooms including showers and separate air conditioner controls. I found the split level A/C to work very well. I took all my showers on the main deck at one of three showers with more than ample hot water. I had one of the main deck single rooms and found it very comfortable. I saw one of the lower deck single rooms, it was slightly larger than mine but extremely similar. The cabins are also all steel, limiting the amount of flammable material. All rooms have a hard wired smoke detector, a battery operated back up smoke detector, and emergency lighting.
All diving is done from the two rigid inflatable boats. These were the most rugged RIBs I have dived from. They were former fast rescue boats from the North Sea. Each has twin 60 HP Yamaha outboards, a sturdy dive ladder GPS, an automatic identification system (AIS) for tracking the diver personal locator beacons (PLBs), and VHF radio. Each diver is given a PLB and all are instructed in its use. Cylinders, BC, and fins stayed on the RIB. The cylinders were filled in place. The Ferox has a primary compressor and nitrox generator, a backup compressor, and a 14 cylinder cascade system. Tank fills were quick and reliable. I dived an AL80, my average 32% nitrox fills were 3084 psi (2990-3212 psi). They also had AL100 cylinders available, many dived them. The AL100s were filled to the same pressure as my 80s. The two RIBs go to different dive sites. Entries are back roll with a negative descent. Cameras, weights, cylinder and BC, and fins are passed up before boarding.
There were 11 crew members, including the two guides, Sten Johansson and the very experienced Jaime. The owner of Colombia Dive Adventures and the Ferox. Tony, was on board for our trip. He accompanies nearly all trips. He was in the merchant marine for many years, much of it supporting saturation divers. He was living in Colombia when he decided to start the business, identify the proper boat, etc. The rest is history. It was fascinating discussing the birth of Colombia Dive Adventures with him. We had a dedicated RIB driver for the week, Rudolfo, he was very good. The cook had an assistant, who also took care of our rooms. The crew was very hardworking and helped each other out in activities. This was the first trip for a very long time, it went incredibly smoothly, under the direction of Tony. The entire crew had meetings each afternoon to discuss how things were going.
We were fortunate to be accompanied by a young, enthusiastic Colombia National Park Service employee, Stephania. We transported her to Malpelo to start her month long posting, part of time on the Biodiversity Conservation Colombia boat, the Silky, and part of it on island at the ranger station. She had recently earned her master's degree from Universidad del Valle, where she studied the genetic diversity of two of Malpelo's endemic fish species, Rubinoff's triplefin and the Twinspot triplefin. She gave a fascinating presentation one night regarding Malpelo and the endemic marine and terrestrial life. She also dived with us on several occasions and was happy to supply additional information after the dive.
Each diving day stared early with fruit, breads and coffee. Full breakfast followed dive #1 and was served to order, eggs, pancakes…brought to the table. Lunch was served after dive #2, plated, brought to the table. Dinner was served after dive #3, also plated and brought to the table. I do not eat meat, chicken or fish made up the main course for all my meals. The food was generally good to very good, often Colombian cuisine. If you're looking for the gourmet food served on luxury liveaboards, you are in the wrong place Alcohol is said to be extra, it was free flowing and free on our trip, Colombian beer and Chilean wines.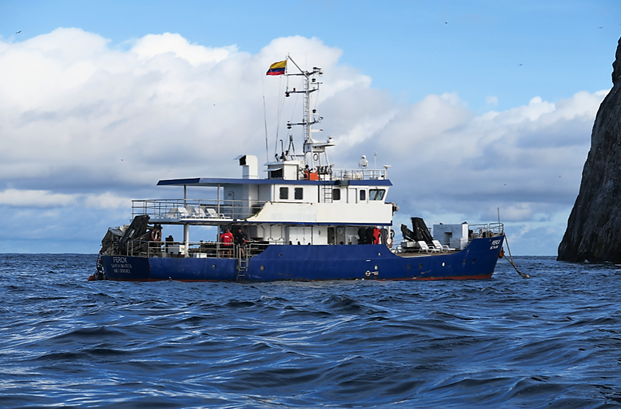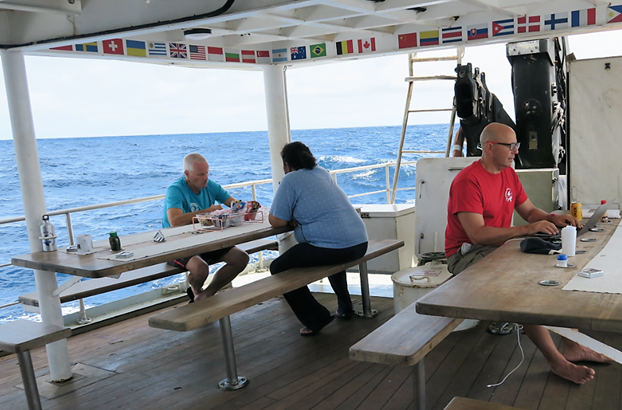 Dining area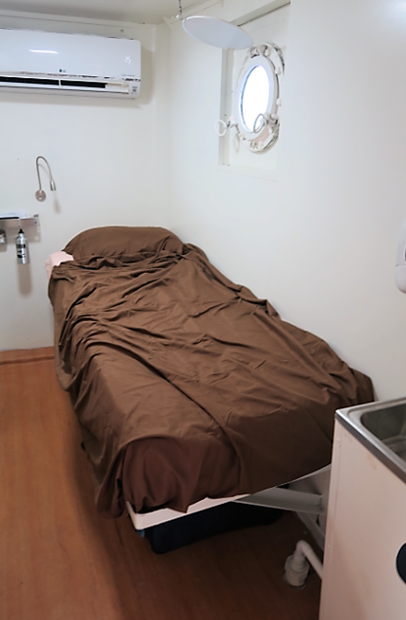 My cabin, bathroom with shower to the left
Compact galley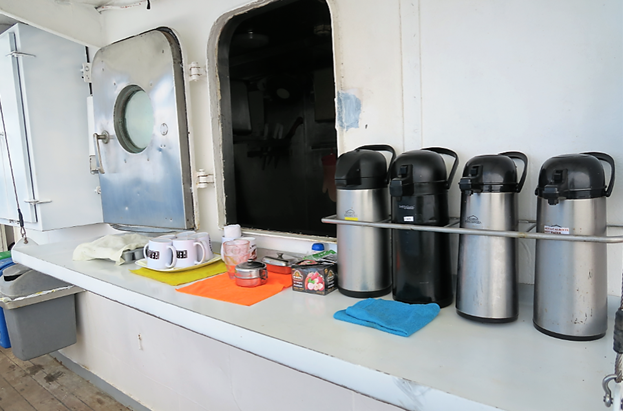 Serving station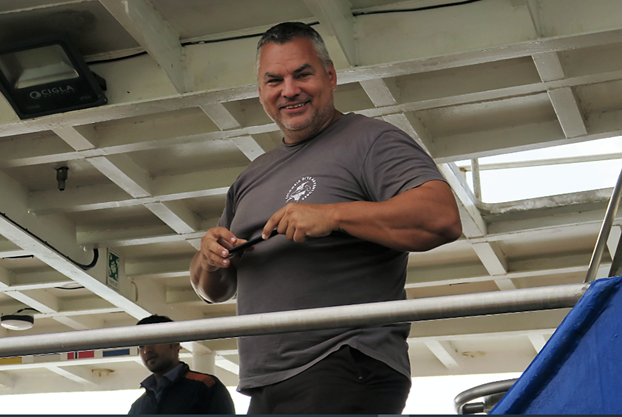 Tony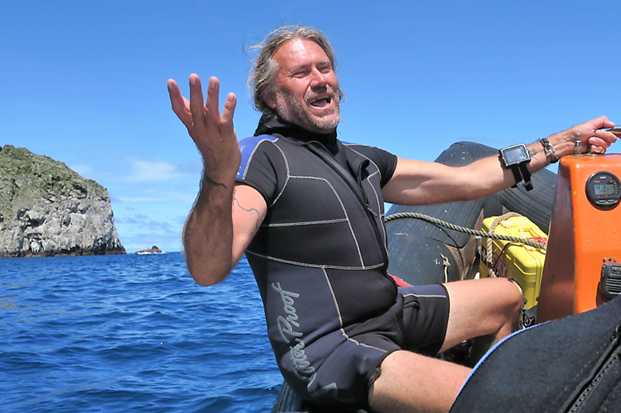 Sten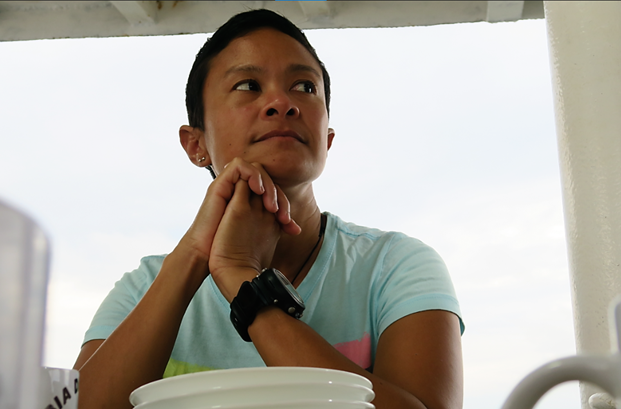 Tanya
Stefania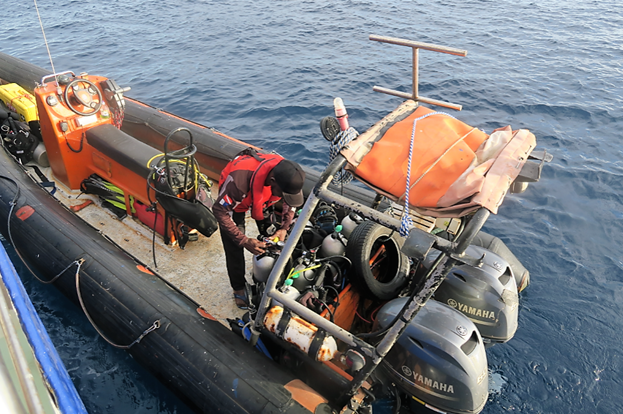 Rudolfo on our RIB