Contributor
Scuba Instructor
Messages

107
Reaction score

38
# of dives

I'm a Fish!
Wes Skiles had a dream -- one he shared with us back in 1986. That was, a recreational diver training agency run by cave diving instructors.
Today that dream is a reality, as these clips from our recent training video shoot at Weeki Wachee show. Find out more at DEMA or visit:
http://scubanase.com/news/video.html
Some NASE core philosophies shown in this video:


-- Any skill divers can only do while standing, sitting or kneeling on the bottom is useless.

-- Hovering is not something you do by imitating Buddha. It's what happens when your buoyancy is under cont
rol and you simply stop swimming.

-- Buoyancy control is not a "skill" students demonstrate only when told -- it's what they need to be doing 100 percent of the time.

-- "Fin pivots" DO NOT demonstrate buoyancy control. If your fins are touching the bottom, your buoyancy is not under control.

-- The best way for recreational divers to share air? Pass the primary...just as in cave and tech diving.

-- If you can swim 20 feet to waist-deep water and stand up, the last thing you need is a snorkel.
---------- Post Merged at 08:27 PM ----------
Previous Post was at 08:20 PM ----------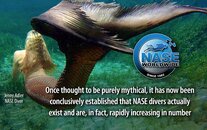 ​