Was RoatanMan
Scuba Instructor
Messages

10,270
Reaction score

3,158
# of dives

None - Not Certified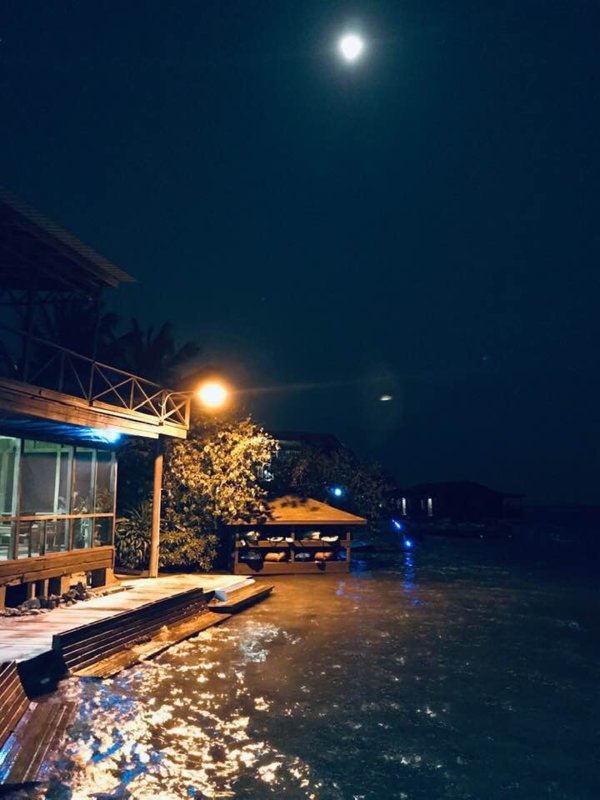 Last week at Coco View, 4/13-20, the two of us did 27 dives each, my wife did 21, her sister did 0. All had a great week.
The mid April, Full Moon week brought pleasant weather and conditions. With CCV located South side mid-island,
we only caught a one hour long whiff
of the month-long burning dump, but with prevailing Easterly winds, those who took day tours to West End throughout the week reported the air was full of burning plastic haze. Otherwise, we were unaffected.
One other Southbound aircraft through Denver was delayed by two days and their luggage never arrived. CCV's Dockside Dive Center gave them free dive gear. I used their rental gear because my bags were packed with LED Lightbulbs. Perfect dive gear. Our Houston air connection missed those mid-American storms and got us to RTB on time with our bags.
So- bring lots of LED lightbulbs, help the locals beat the crazy electricity prices!
No major changes at CCV noticeable to regulars, just a continuing tweaking of a great product.
I usually avoid things like lists of what we saw, but... We did have a two minute dalliance with a Manta which I put in the 7' range, my buddy said 8', a few others in the group said 12', but suffice to say, she was large, curious, and not at all shy. A lot of Spotted Eagle Rays, numerous Stingrays. A Blacktip Shark.
I have long said that this very localized area (the two miles E & W of CCV, unique on Roatan as well as the Caribbean) rewards the slow and observant diver with spectacular small stuff, and in this trip, it surely did that.
When most are walking out after a twice daily drop-off dive, we were underwater until in 12" of water...so much to see in the extreme shallows! In 3' there were predictably found Sailfin Blennies, Mantis Shrimp, and on one night dive, we found 40-50 Lobsters in less than 5'. We also had, in that same shallow zone, multiple interactions with Octopussies that when spread wide were in the 22" range. It is interesting to watch them hunt, which one demonstrated for a full 40 minutes- undeterred by our lights or clumsiness.
Five night dives on the Prince Albert wreck, in 40fsw, we saw a resident Basket Star measuring 24", t two huge groupers 36", a Parrot in the 3o" range, a Green Moray 4-5', plus little stuff like Skeleton Shrimp, Orange Ball Corellamorphs, and those little orange Blennies that inhabit Coral polyps at night. Spanish Lobsters, Slipper Lobsters, High Hats and Drums.
Lots of "cleaning stations" for the observant. Wire Coral Shrimp, bunches of schooling fish. Several Sharp Tail Eels.
Then, a Pygmy Squid...or was it a 1" sized juvenile?
I read all these posts on the nets that bemoan the lack of fish in Roatan. I kept hearing them over and over as we were swarmed by various schools of fish. I'm bad at names, but herds of those 6" dark blue marauders, Sennets, Silversides, Jacks, bunches of fish.
One of the comments I read about CCV that there is no way I get: a criticism of the twice daily drop-off dives on one of two reefs or the PA Wreck. I am never bored, but again- I do see more than the shape of the wall. There is so much to see!
I also read that the Southside has heavy winds. On three days, we did drop off dives (back to CCV) that were so dead-flat calm we did them in 10' depth atop the reef walls...spectacular!
Food was of a wide variety, fish, meat and bird to select from, just lots of yummy stuff, esp the deserts! They encourage the Lionfish license, but there's not much to kill, not a whole lot of them, but the evening appetizer was usually a few that had been fried or gazpachoized. I have a very diminished digestive system due to cancer surgery, but I requested no special food, I did fine. They put out two different special request menus for vegans and gluten free, (I'm guessing).
Confession: I did not get a Lionfish license but I smashed one with a rock under the platform in the walk-out shallows. A lobster seemed to have eaten it, or at least he grabbed it.
CCV is for nitrogen junkies. To put it in Dollars, what I got by paying $1475 was great food, a room on stilts over a live reef, and 27 dives. If I were to buy them, ten at a time, at a West End day dive op, that would be $900 worth...leaving $575 for a week's room and food. Airport transfers, never touched my bags, never loaded or carried my gear on the boats, that and more.
The night dive is NOT once a week, or IF they get the minimum number to fill a boat. It is the shore dive, and yes, we did it every night. They do an all day trip for $75 to
Pigeon Key
.This area has become all the rage lately. Of course, CCV does the regular included Mary's Place as well as a dive which I feel superior...Calvin's Crack (down East by Oak Ridge). The shore dive wreck is intact, upright, and in 45fsw.
44th trip will be in 2020, if I get another good CT scan.
I'm good.