Directional Toast
ScubaBoard Supporter
Messages

11,518
Reaction score

1,750
Location
# of dives

2500 - 4999
I recently got a Scubapro Sidemount rig. It was my "hard item" (reg, BC or computer) required for a Scubapro Product Knowledge buy, which I basically needed to get a killer price on the other items I actually wanted/needed. Although to be fair, I've been morbidly curious about the Scubapro Sidemount rig ever since I saw one a couple years ago at DEMA - where it was badly assembled by someone who apparently didn't have a clue.
Still, when you think "sidemount" you don't think Scubapro, and if you do, you tend to stop thinking it as soon as you see the "Form" harness Scubapro seems to like to put on X-Tek back plates.
Thus, I bought one because a) I got a killer deal, b) it let me get the same super low pricing on a dry suit and some other stuff I wanted, c) I was still morbidly curious about how well it worked - albeit with low expectations - and d) I really need another N FL, 85s plus a couple stages and deco bottle sidemount rig so that I don't have to keep reconfiguring one rig for both OC and CCR sidemount. So for the minimal money required, why not give it a shot?
The first impressions

Taking it out of the box wasn't all positive.
1) The X-Tek Form style harness construction adds about 3/16" of bulk that isn't really needed. To be fair it's a lot less than the padding on the Dive Rite, Nomad XT - but then again that padding is super easy to remove, while the padding on the Scubapro harness is basically built in.
2) It also had a rather ordinary set of bungees running from the back of the harness to bolt snaps that connect to the shoulder D-rings. Nothing wrong with that, but it's just not my cup of tea, as I'm a confirmed loop bungee diver, given that they pretty much universally allow the tanks to ride up a bit higher and behind your armpits, giving a cleaner profile.
3) I wasn't overly impressed with the shoulder mounted inflator arrangement, or the enormous knob on the rear dump (although to be fair that's a CE requirement).
4) The optional "cape" that covers the front of the air cell looks nice and it would streamline things a bit in open water, but it took about 3 seconds to realize how big a risk it would pose when trying to back out of some place you've ratcheted yourself in with obstructions on the ceiling that would immediately snag the beejeesus out of the back edge of that cover. Nice OW option maybe, but it has no place in a cave.
There were some good points however:
1) The air cell positioned low on the harness, and thus the diver, and it looked like it would trim great in the water.
2) The tail plate was well designed.
3) Most of what was wrong could be pretty easily fixed.
4) It is modular and you can put either a 25 or 45 pound wing on it - although with the padded harness it isn't going to be my first choice for a true sidemount harness with a pair of AL 80s, steel 72s or LP 45s. Still, while it won't replace my SMS 50 for Mexico trips with AL 80s, it offers some flexibility and some options for someone who wants a single system that can do multiple roles.
5) It comes with a removable weight strap that attaches under the wing and allows for weights to be threaded on 2" webbing along the spine of the harness. If I ever decide to dive really cold water again, that might come in handy.
6) It's a lot less bulky and a lot cleaner than a Dive Rite Nomad - but less flexible as it won't do back mounted doubles.
Fixing it
It was pretty amenable to a "Sorenson swap" switching the inflator and dump valves around so that the inflator routes straight up under the arm from the lower dump valve fitting, while the dump valve is operated by a ball located near the left shoulder D-ring.
Scubapro's arrangement was done pretty well in terms of avoiding the over the shoulder hose routing found on some sidemount wings, but there's still some benefit to swapping them, as the pull dump is now located near the inflator and it lets you access either one in the same general real estate, with no need to reach back to a tail mounted dump. Ideally, there'd be a lower dump valve on the right side as well.
The con with swapping the inflator and dump valve is that without a second rear dump valve, you can't dump very much in a head down position. However the location of the relocated dump seems to work fine in anything close to a level attitude (or obviously in a head up attitude) at least when diving heavy steel tanks where there's a fair amount of volume in the wing. If I were diving a pair of AL72s or AL80s with a 25 pound wing, I'd probably leave it in the stock condition. In any case the mod is reversible in just a couple minutes by clipping 3 zip ties, swapping the inflators and replacing the long string with a short one. A 5 minute job.
The fittings are the same and the dump valve was simple to re-string with a longer cord - and a smaller ball on the end. I cut a piece of 3/16" polyethylene tubing to route the string along the left shoulder strap, zip tying it at each end. The corrugated inflator hose is about 2" shorter than I'd prefer in the swapped position, but it's workable. However, I'll dig around upstairs and see if I can find a slightly longer inflator hose for it.
For the loop bungee mod, my initial thought was to take a piece of 2" webbing, put some grommets in it and bolt it to the back of the harness with sex nuts to support separate loop bungees on each side. However, I just routed a single continuous loop bungee through the existing holes and it seems to work fine - clean and easy to adjust. I then used 550 cord to run loops to and under the webbing at the D-rings to make it easy to pull the loops forward to snap over the valve knobs. The location of the holes in the harness work extremely well to route a loop bungee and the tanks ride extremely well along my midline.
The wing uses a perimeter bungee on each side running from anchor points on the top and bottom of the harness. The bungee cord provided was however way too light in my opinion so I used thicker bungee and also I routed it through the attachment plates for the shoulder straps to pull the wing down more on each side. It's a sorta Katana-ish approach and probably helps reduce the turtle shell effect of the inflated wing.
Scubapro includes a couple of offset rebreather style D-rings on the waist, but I removed them and used a low profile D-ring on each side instead. As offset D-rings go (already pretty small), they are actually even smaller, so I pulled another set of larger offset D-rings out of the gear bag and used them above the existing D-ring on the tail plate for reel attachment, etc.
Scuabpro used a tri-glide as a stop for the shoulder straps where they connect to the angled plates on the waist strap. This adds unnecessary thickness and bulk, so I just routed the strap through the plate and secured it back on itself using the tri-glide and then secured the running end of the strap with a 2" wide piece of inner tube. I'll trim it to length once I am sure about the final length.
In the water
The good news is that it did indeed trim very well. The loop bungee mod let the tanks ride nicely up behind the arm pits, and it actually felt very comfortable in the water. I still don't like the extra bulk of the padding in the harness, but it is very comfortable.
I was concerned about the potential for the 45 pound wing to "turtle shell" a bit, and it does. But to be fair, it does so less than my similarly sized 45 pound Manta Sidemount wing. It also has a lot less turtle shell effect than I expected.
It was also very stable in the water and it felt good in any position - rolling over on to my back , standing on my head, etc, and I was able to maintain level trim with either LP 85 swung forward.
The not so good is that this thing seriously needs a chest strap. Not so much when it's in the water, but when getting out as the tanks have a habit of pulling the straps off the shoulder when coming up a ladder.
In any event, it worked well enough today to warrant a couple more dives this weekend, and if it performs well with my Sidekick, it'll get an invite on the N FL trip at the end of April to see how well it does in various caves.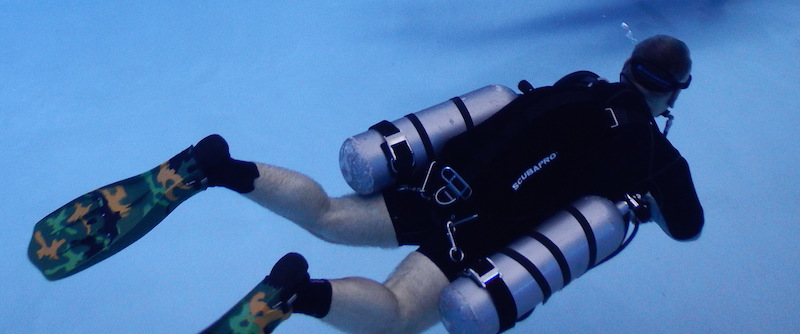 Now... practically speaking...
I still have reservations about that padded harness, and it remains to be seen to what extent it's an issue in tighter sidemount passage. But it is very comfortable and if someone was looking for a purely OW sidemount harness that trims well, is very comfortable and is stable in nearly all positions, he or she could do a lot worse.
On the other hand, the MSRP is a bit steep - a couple hundred more than the better known competition from Dive Rite and Hollis. It'll be a tough sell in the shop when the shop also sells Dive Rite as well as Manta Industries sediment systems that can be had for around $500 as opposed to $700.
And then there's that unnecessary padding that tends to keep it out of contention for serious tight passage sidemount diving. The irony is of course that a much more minimalist harness would be a lot less expensive, and much more acceptable for most sidemount divers. Perhaps Scubapro should consider a minimalist harness as an option for their modular wings.
Update on the chest strap
I threaded the original offset D-rings on the shoulder straps beneath the shoulder D-rings. Facing bent side in, they should work well, letting the strap ride out near the edge of the chest where is should be. If the bend is a bit much for the angle needed, I'll put them in a vice and reduce the bend a bit. I sewed 1" webbing to each of them and sewed a faster buckle on one and left the other one adjustable.
Given the harness construction, adding something to a shoulder strap isn't a major effort. That may prove handy if I need to add a weight to the left shoulder strap to offset the LP 85 on one side when I use it with my KISS Sidekick.
Last edited: