Seeking the Light
Scuba Instructor
Divemaster
Messages

10,347
Reaction score

6,328
Location
# of dives

500 - 999
Xtar was kind enough to send me this light to try out. I had my first chance to dive with it today, so I thought I would share my thoughts.
Specs

This light has the following specs and/or features, per the manufacture (i.e. I didn't measure or verify these myself):
2 x LED emitters - 1 Cree XHP70.2 P2, and 1 Cree XHP35-HI D4
37.8Wh proprietary battery pack
120 degree flood beam with up to 4200 lumen output
53 degree spot beam with up to 1600 lumen output (but read below, because that spec is completely misleading)
Combined beam for up to 5800 lumens output
2 "hidden" modes for Blink or SOS
74 min burn on High for Flood only
155 min burn on High for Spot only
45 burn on High for Turbo (Flood + Spot)
2 buttons - one cycles through the modes (Flood, Spot, Flood+Spot, Off), and one cycles through brightness levels in the current mode
Threaded hole on the bottom (opposite the buttons) that appears to be ready to accept a standard 1/4-20 camera tripod mount screw
OLED display that shows mode, brightness and estimated burn time remaining
Waterproof to 100m (330 feet)
Unboxing

It comes in a nice, plastic carry case.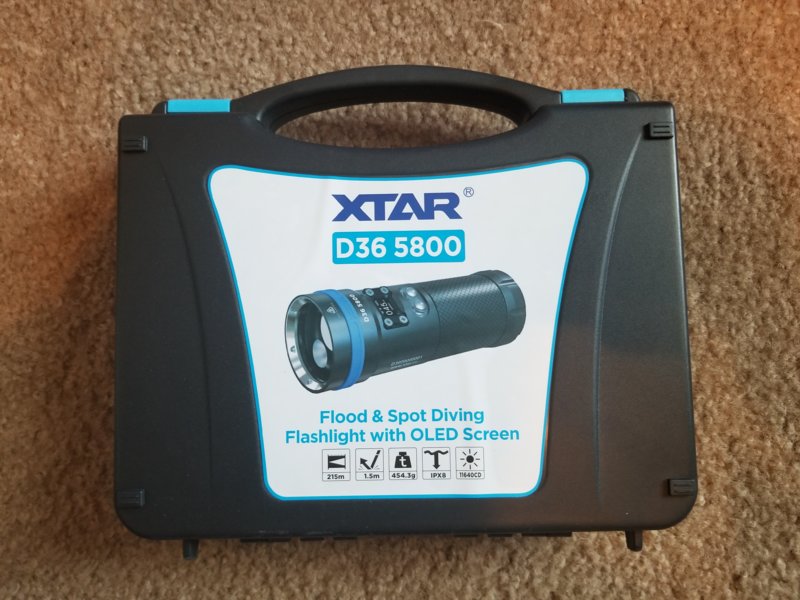 Inside are the light, the battery pack, the charger, a lanyard, 1 spare O-ring, and some basic instructions. My battery pack proved to be fully charged from the factory.
This light is a handful. Some pics with objects for size reference.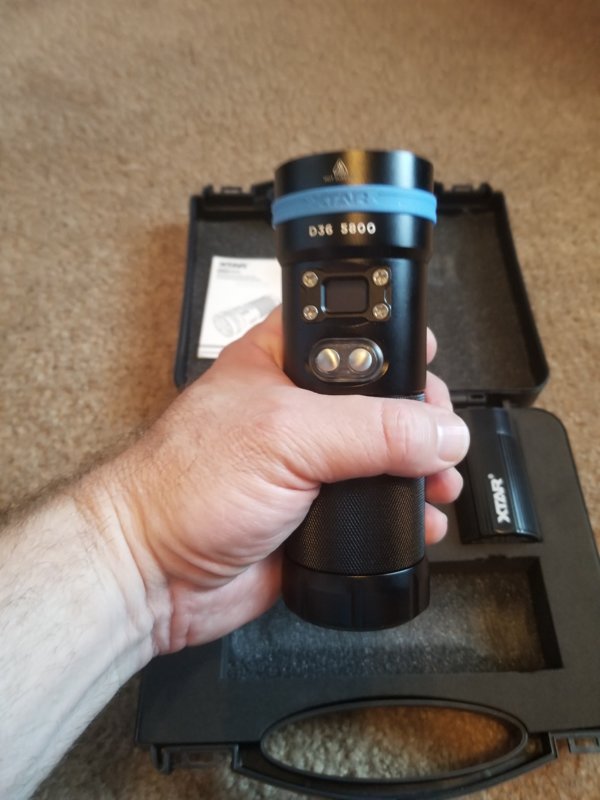 Next to a Shearwater Teric: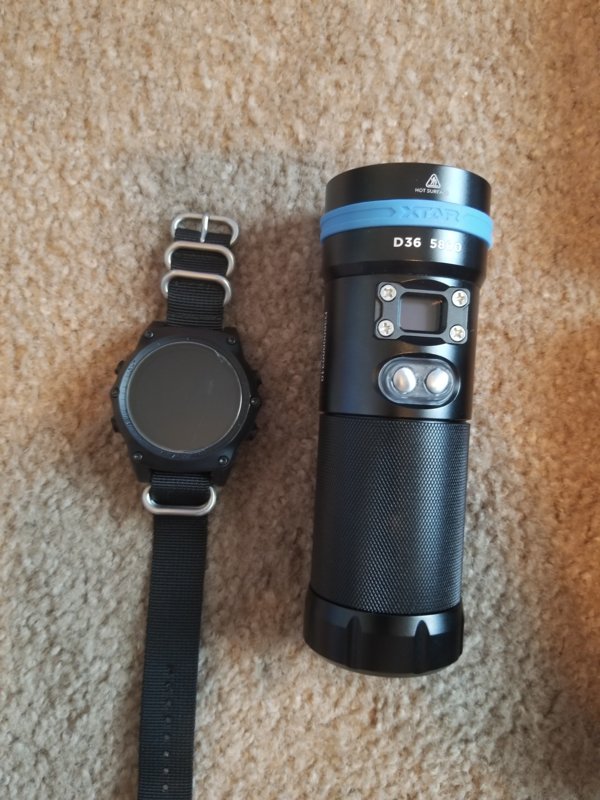 The battery pack, showing the specs and where to connect the charger.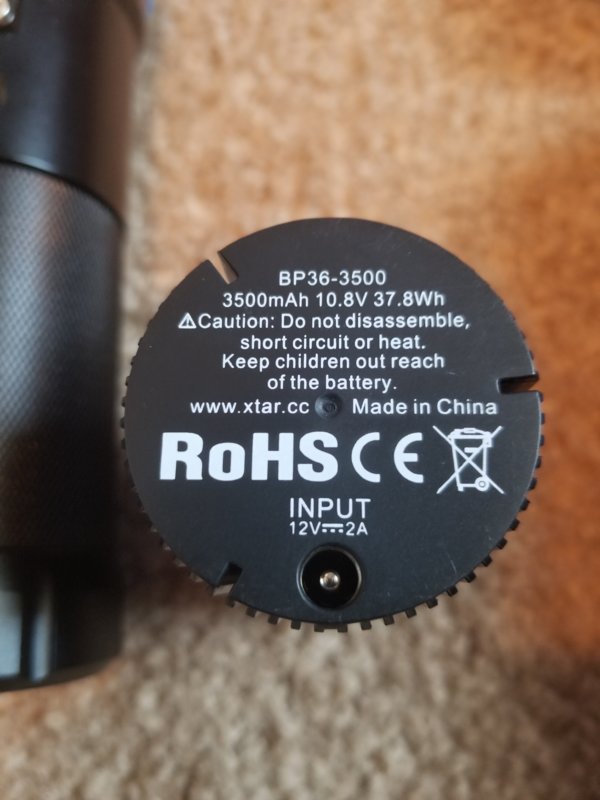 This butt end of the light unscrews so that you can insert the battery pack. The battery pack has 3 recessed areas that contain the power connections. There were no instructions on a particular orientation to insert the battery pack, so I just stuck it in, then turned it and pressed lightly until it dropped into place. The power connections look evenly spaced, so either it's smart enough that it doesn't matter, OR it will only fit all the way in in the correct orientation.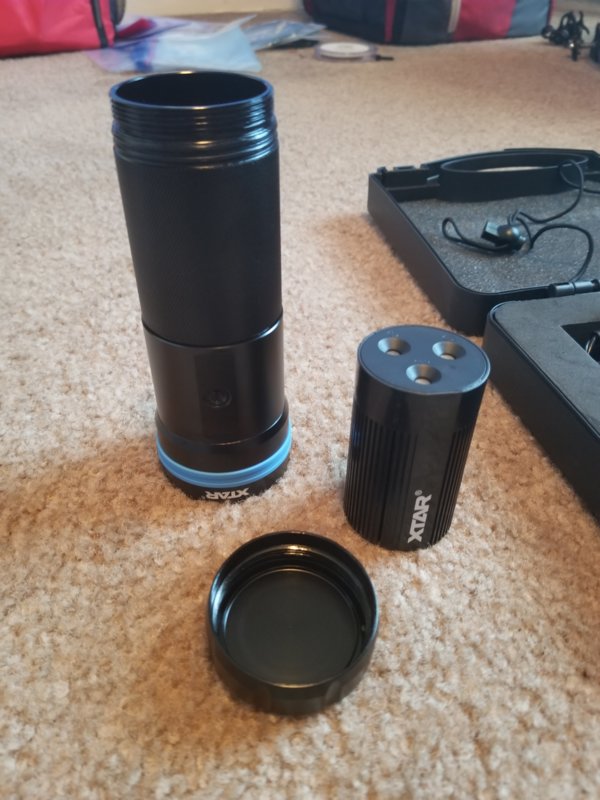 When the light is off, you can press the left button and hold it to see a status on the display. Here, it shows that it is unlocked and at 99% charge.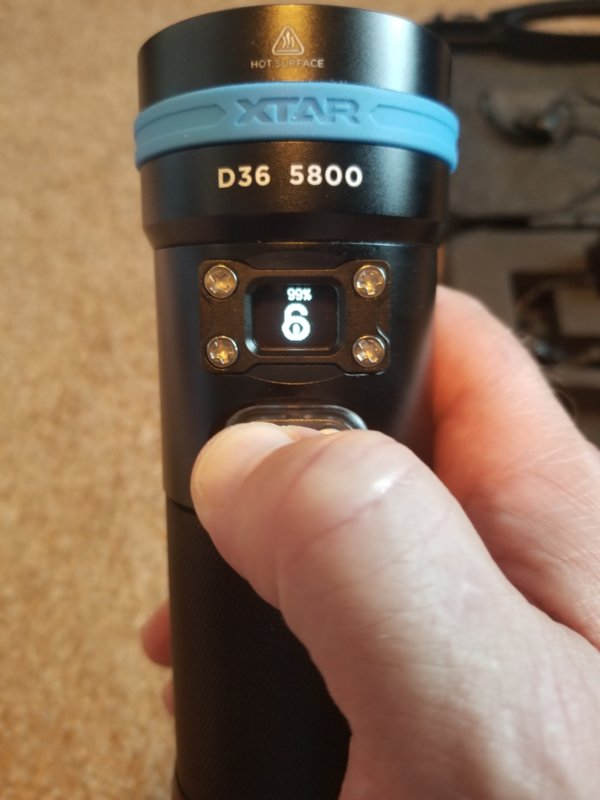 Pressing the right button one time turns it on in Flood mode, on High. Here it shows that it has an estimated 76 minutes left if it continues to run in Flood/High.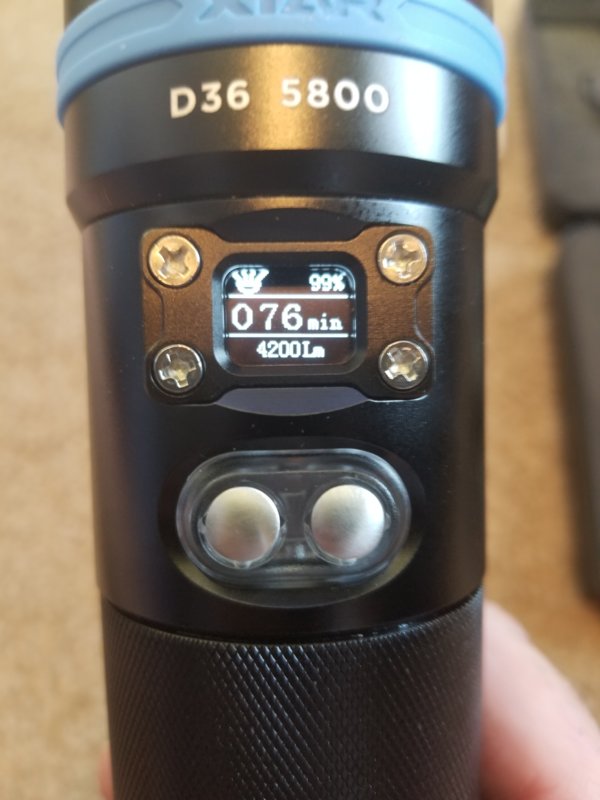 2 presses of the left button and it is in Flood/Low with an estimated 398 minutes of 1200 lumen output.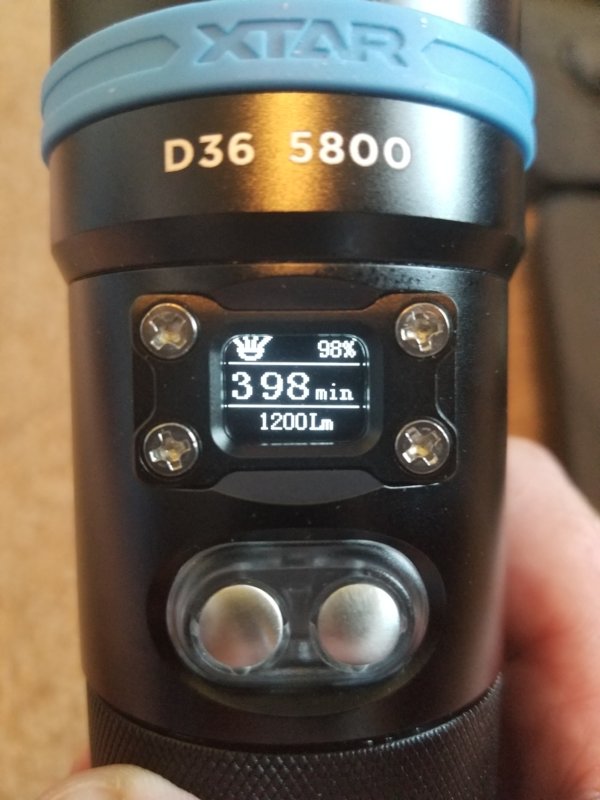 Another press of the Right button and it is in Spot mode, on High, with an estimated 197 minutes of 1600 lumen output.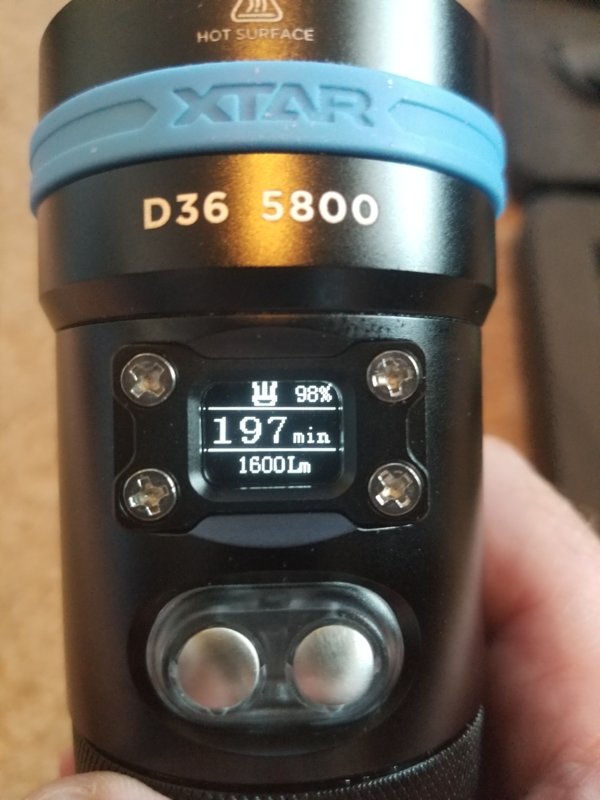 Another press of the left button and it is in Turbo mode (Flood + Spot) putting out 5800 lumens for 53 minutes.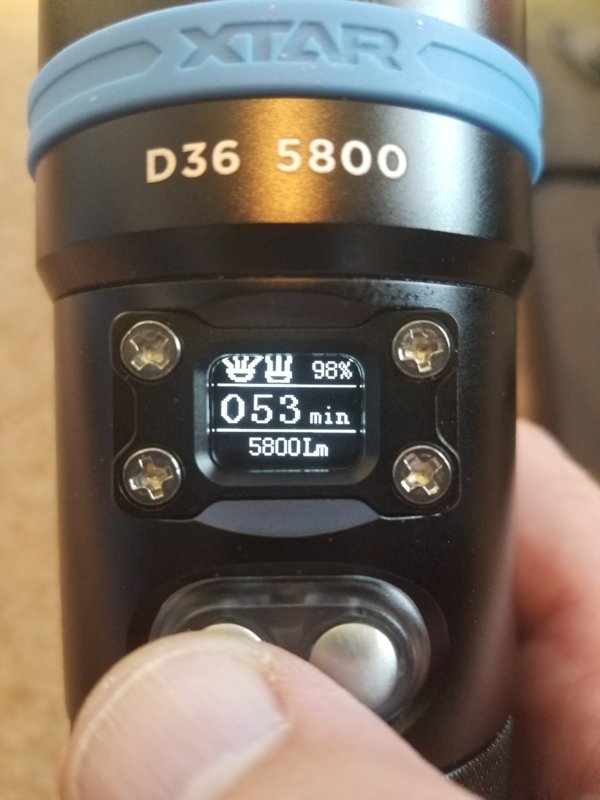 I'm not always the smartest and I forgot to take a picture of the front of the light showing the LED arrangement. However, more info on the light is on the Xtar website, and it has a picture of the front, so you can see the two LED emitters.
XTAR D36 5800 Diving Flashlight_ShenZhen XTAR Electronics Co., Ltd
(stand by for usage impressions)