Dive Travel Planning​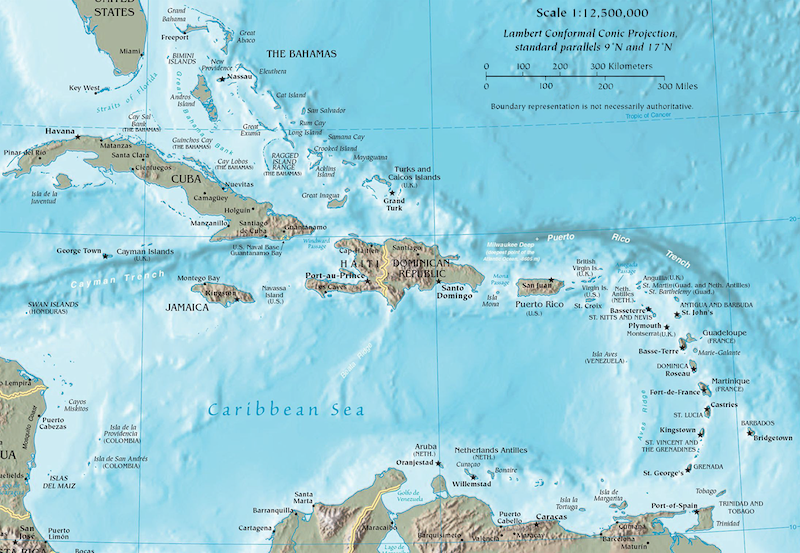 Map of the Caribbean by CIA World Factbook
(Public Domain)
​
Recreational divers enjoy a wide range of underwater environments; local flooded rock quarries to coral reefs, ship wreck diving in the
Great Lakes
or ocean, kelp forests to shark diving, cave exploration and onward. Many are blessed to live near quality diving, which by cost and convenience bear heavily on choice of site, but most engage in long-distance travel for at least some of their diving. That's what I'm writing to introduce newcomers to.
I'll write from the perspective of a U.S.-based diver who may not have traveled internationally before, focusing on the U.S./Bahamas/Caribbean region (what I'm most familiar with). Some aspects of trip planning (e.g.: passport specifics, airline baggage restrictions, expedited trusted flier programs) are nationally specific. Hopefully in time other contributors with regional knowledge of other nations can offer insights into specifics there.
The stereotypical diver fresh out of open water (OW) or advanced open water (AOW) certification traveling to dive seeks mainstream destinations for tropical oceanic coral reef diving with lush reefs, pretty fish and benign conditions (e.g.: warm, high viz., low current or modest drift diving). For the North America-based diver, that's usually southeast
Florida
's upper Keys (e.g.: Key Largo) or the Caribbean (e.g.:
Cozumel
,
Belize
,
Roatan
,
Bonaire
and the
Cayman Islands
). In time many desire large animal encounters (e.g.: reef sharks in the
Bahamas
or
Turks & Caicos
, sand tiger sharks on off-shore wrecks out of
North Carolina
, or goliath grouper and lemon sharks out of Jupiter,
FL
). The Caribbean is broadly dived into the
Greater Antilles
(largest islands) and
Lesser Antilles
(the rest); the most popular have named sub-forums and the rest share the
Lesser Antilles section
.
Western European divers often fly to dive the
Red Sea
, I'm told. Should you be ready to move on, there is so much more to diving! Wherever you're going, ScubaBoard has the
Regional Forums & Dive Clubs
section with regional forums to search out trip reports and consult fellow divers to find what you need (or use
New Posts
- ScubaBoard offers
different ways to view threads
). Some destinations offer diving within MPAs (marine protected areas) where the fight against over-fishing may offer greater numbers and sizes of the animals you wish to see (
international list
) - a practice worth supporting.
Once you narrow down roughly
where
you want to go, it's time to explore
how
to get there and
what
you need to know, what arrangements to make and assistance to get. There are questions to ask of specific accommodation and dive services providers. You can research a great deal yourself (e.g.: using
ScubaBoard
,
Undercurrent
(a paid subscription online magazine) and
Alert Diver online
(a magazine by
DAN
)). That's where this article comes in…helping newcomers understand the issues common to most dive travel so you know what to expect and are ready when you get there.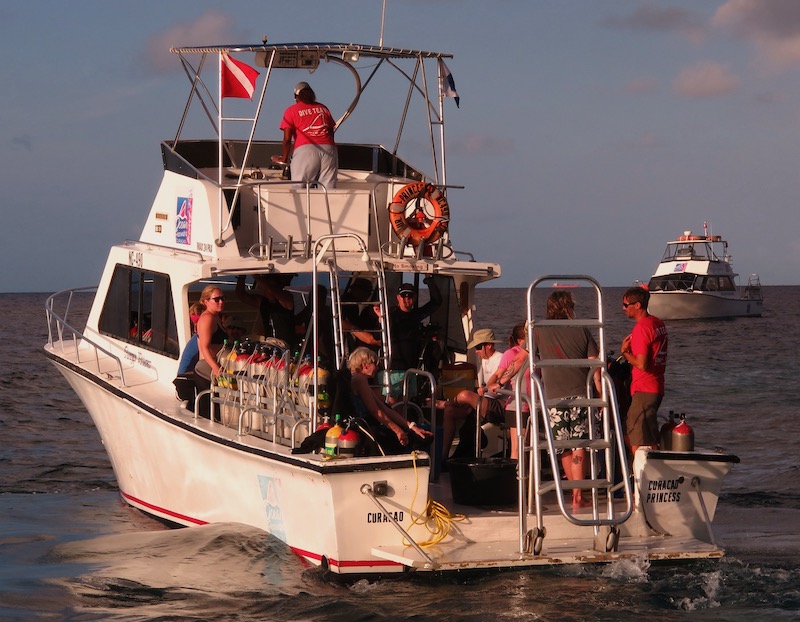 ​
Group Trip, Dive Travel Agent or Independent Travel​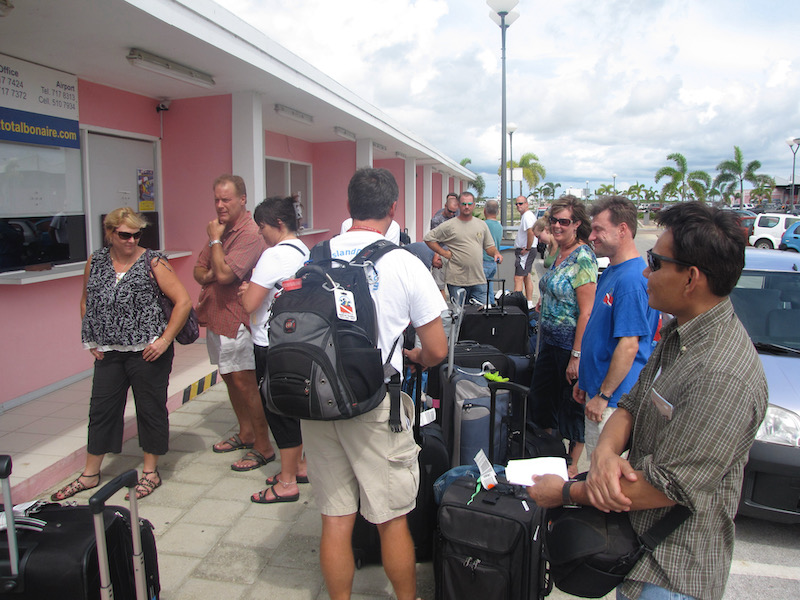 The main components to organizing a trip are determine what you want, research options, find the place with the best overall 'package,' book accommodations and diving (and possibly a rental vehicle), book airfare, be sure your passport will be active with at least 6-months left at trip's end and take care of any specific needs (e.g.: schedule COVID-19 testing or vaccination). Would you like help?
Group trips are organized by dive shop staff, dive clubs and such. They may reserve a number of slots at a dive resort, often with a free slot for 'x' number of filled slots. Some may keep the money and some may divide the savings amongst the divers. They may negotiate a lower price or extras. Such trips may or may not be a bit cheaper than you can arrange, but don't discount the value of 'Mother Hen.'
The trip organizer can answer logistical questions (e.g.: about flights, where to eat on island), act as ombudsman and deal with vendors when problems arise, lead group activities and help everyone have a good time (e.g.: for the ScubaBoard Curacao Surge in 2019, Roxanne posted
packing, travel, resort info. and diving tips
. My first 4 dive trips were group trips to Bonaire. ScubaBoard has medium (Surge) and large (Invasion) organized group trips (
see more on past trips
). Your local dive shop probably has a list of foreign and domestic offerings. You're not likely to pay much more if any, and might even save some money. If international travel is new to you, I recommend it.
Dive Travel Agents may work for you but get paid via the dive resorts/operators they book you at. In practical terms, it's likely free for you. Some, like
PadiTravel.com
and
LiveAboard.com
, serve as nice 'dive trip stores' to browse and price myriad offerings. Some are known for expertise and working with divers to customize trips, give logistics advice, etc… If you don't want to join a group but want professional guidance, ideally from an agent who's been where you want to go, this is a way. I use it for more complicated foreign trips – like the Galapagos, or planning a Raja Ampat trip. See
Undercurrent's
free access article
Those Internet-Based Dive Travel Websites
, and ScubaBoard's
Pros & Con.s of using a Dive Travel Agency vs. Booking Direct
.
For simple itineraries such as same-day flights to mainstream destinations to taxi or take a rental car to the resort or liveaboard boat, it's not that hard to make your own arrangements. Here are factors to consider for most any dive travel trip organized into sections so you can skip what you're already fluent in.
Contents​
---
Continued in the next post