Messages

8,706
Reaction score

6,498
Location
# of dives

1000 - 2499
After reading several divers lost at sea, I started to consider carrying several signaling devices, especially from the searcher's point of view. I found this great old thread,
Best signalling equipment from the searchers point of view
However, the thread is over 10 years old when it was initially posted by Navy OnStar, whom is no longer active in SB. I figure, it is time to update the list & share what I carry for ocean diving.
Portability (small & light) of the devices is an important form factor since I would mostly travel by air to the dive sites. Also I like to streamline my rig. So, those devices need to be small enough to fit in my BCD pockets, instead of hanging around my BCD, like those ornaments on Christmas tree, which increase the risk of entanglement when diving through narrow passages or overheads.
Based on those requirements, I came up with the following signaling devices, by the order of importance:
1. 6' DSMB with 100' line in spool
2. Dive Alert
3. Signal Mirror
4. Nautilus Marine Rescue GPS
5. PLB1
6. Dive light
7. Strobe
8. Glow stick with 6' string
9. Leash with carabiners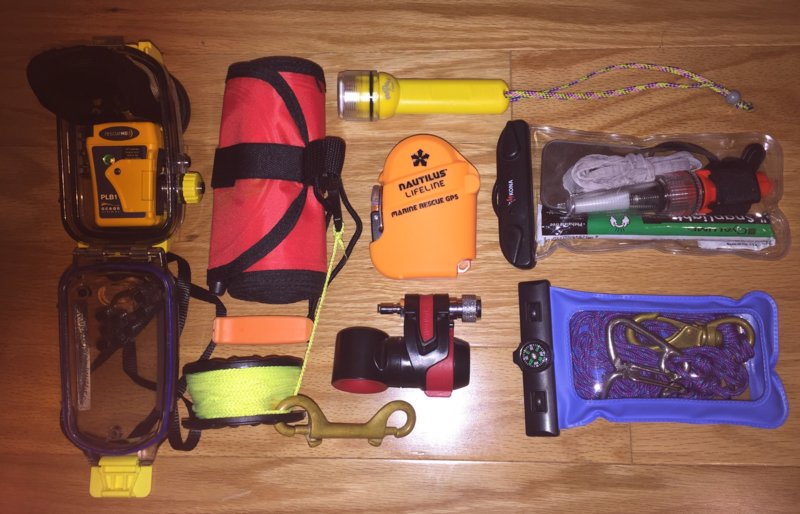 Except for the Dive Alert, they are all fit in my BCD pockets.
1. 6' DSMB with 100' string in spool
I think this is still the most important signaling device that all ocean diver should carry. I pick this closed bottom, nozzle inflated, 6" W x 6' L DSMB for stiffness when it is fully inflated.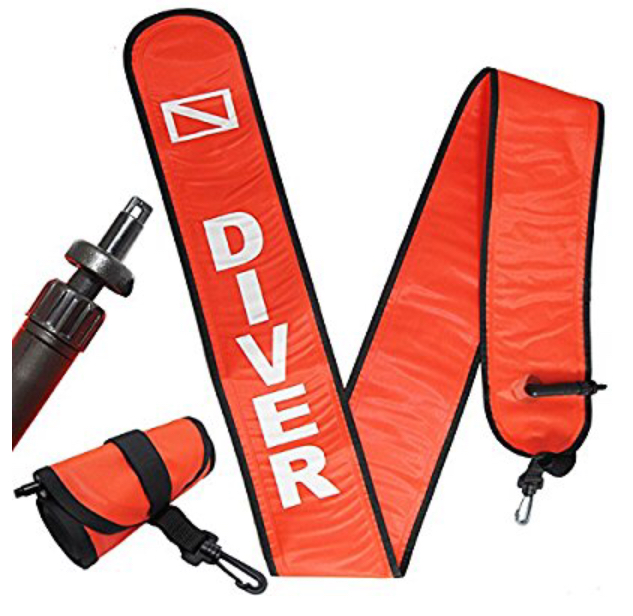 I want it to stick out like a sore thumb 6' above the surface to insure good visibility during high seas. As the night creeping in, the DSMB is stiff enough to strap a small strobe on top of it.
The 100' line spool is for launching the DSMB from depth to alert the boat crew early. Sometimes swift current may carry us into the blue water too far away from the boat crew to see by the time we surface.
2. Dive Alert
DiveAlert by Ideations
This air horn is very loud. The new version has lock to prevent false alarm. It also works underwater to alert my dive buddy when we get separated with poor visibility.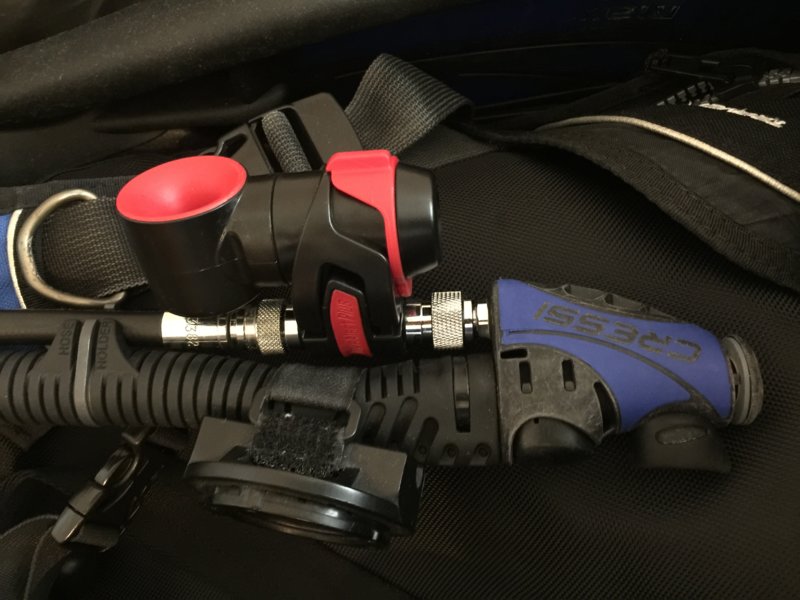 Since it is sandwiched between the LP hose & the BCD power inflator, it takes not much space on the BCD and no additional dangling thing.
3. Signal Mirror
It is very light & small. When the sun is bright, this device is very useful for reflecting the sun light to the searcher.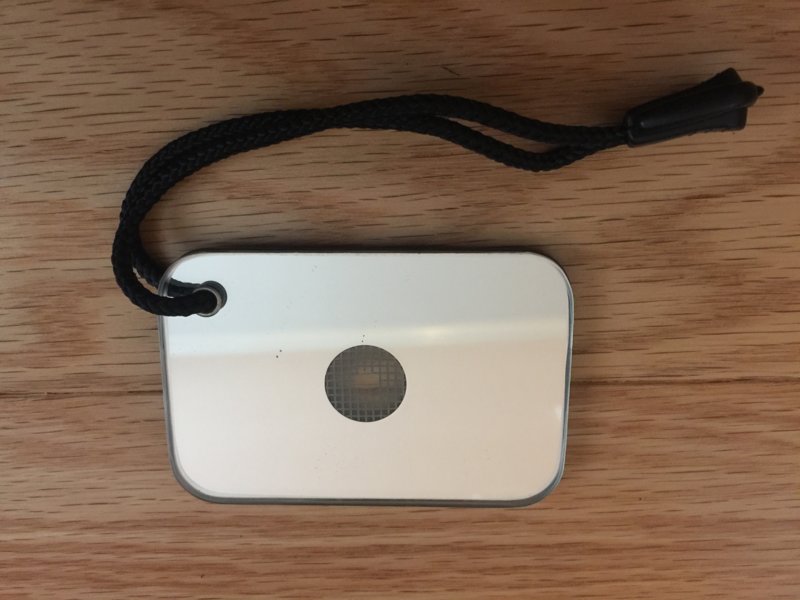 4. Nautilus Marine Rescue GPS (MRG)
Nautilus Marine Rescue GPS: Official Website
Most of my ocean dive trips are on liveaboards. Some of the liveaboards (Argo, Palau Aggressor II, Maldives Aggressor II, Nautilus Under Sea, Spoil Sport, etc.) are now provide MRG to their guests to carry during the trip at free of charge. If they do that, then I'll leave my MRG at home. For the liveaboards that don't, then, it is good to discuss diver lost at sea scenario with the boat captain & crew, show them my MRG, and load the boat MMSI into the MRG, so they will monitor their DSC /AIS for signal from my MRG in the event I were lost at sea.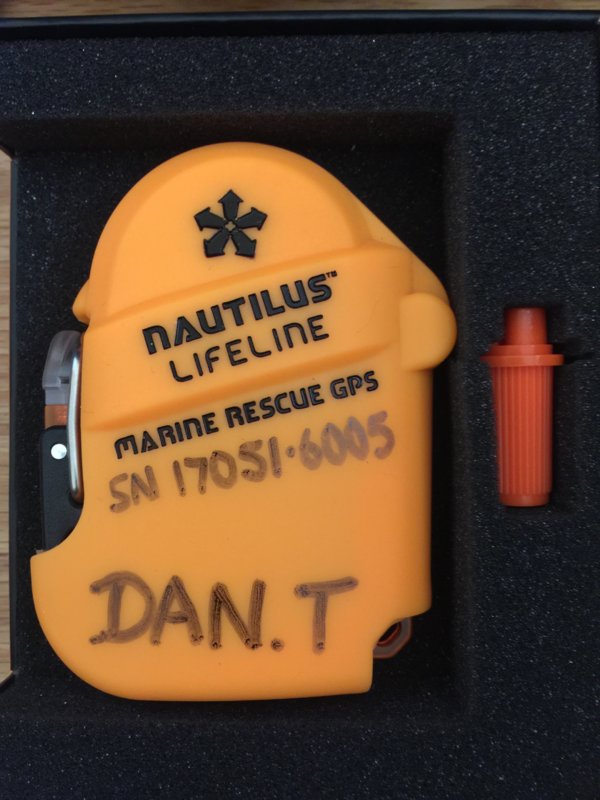 5. PLB1
PLB1 - Ocean Signal
This is my last resort signaling device after receiving no visible response for a couple hours from the MRG. Once no boat visible in the horizon, then I'll launch this PLB1.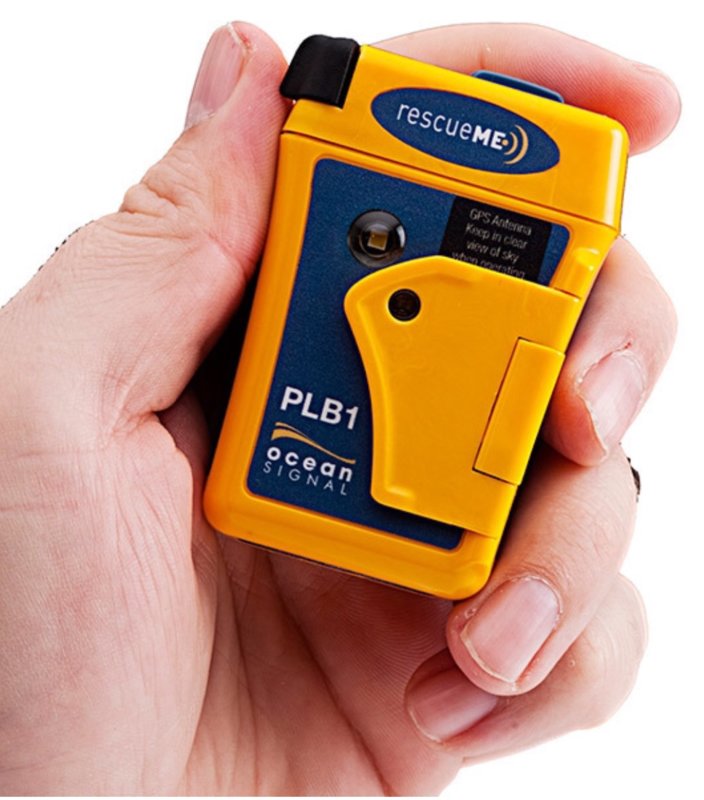 If a liveaboard issues her own PLB to her guests, like Ferox would,
Malpelo - Ferox new Colombian liveaboard
then I'll leave my PLB1 in the boat & carry her McMurdo S10.
6. Dive Light
Pretty obvious what this one is for.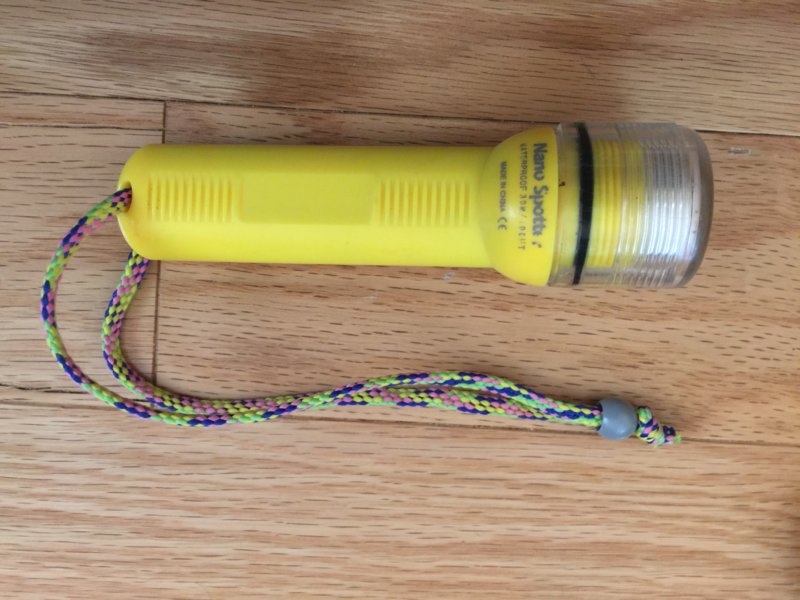 7. Strobe
As dark set in, I plan to strap this small TekTite Mark-Lite LED Strobe Light on top of the DSMB, as shown below.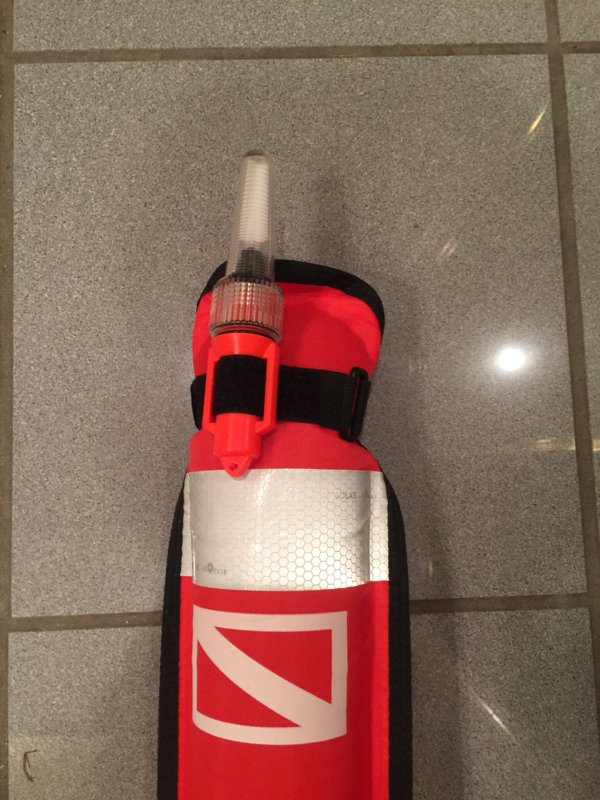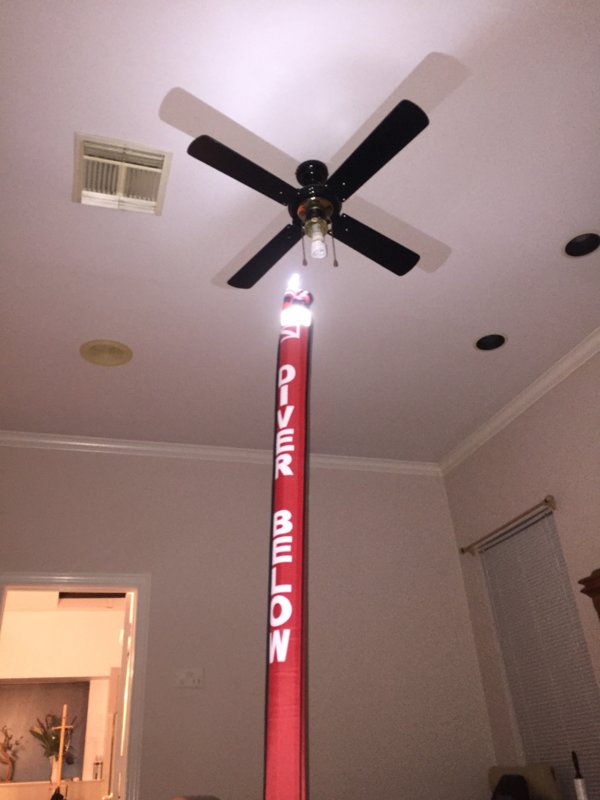 8. Glow stick with 6' string
As mentioned in the old thread, this glow stick is for alerting any search plane / boat at night. By bending the glow stick to light it up, tying it to a string & swirling around overhead, such signal would be clearly seen by the searcher with night vision.
9. Leash with carabiners
As mentioned in the old thread, the idea here is to tie everyone together as a group so we would be easier to be spotted from the distance. Also we have greater survivability in group than alone, as mentioned in these lost at sea incidents:
Missing Divers - Komodo National Park
7 divers missing off Indonesian island
What other signaling devices do you all carry nowadays?
Last edited: