Messages

24
Reaction score

5
Location
# of dives

50 - 99
I'm making this post to share my experience recently purchasing both an Alkin W31 (gasoline powered) and Bauer Oceanus E1 (single-phase electric) compressor, in addition to my initial impressions with each. This is going to be a long-winded post, but maybe if you're interested in either compressor you will find value in my shared experience.
TLDR - A costlier compressor is better built, has better support documentation, and can be trusted more to provide true EN12021-grade air. Who'da thought! But seriously, I have real concerns about Alkin's official documentation on compressor operation, their quality control, and their support philosophy. I explain more below.
Let's get started- First, I want to make it clear that I
understand
that I am comparing a ~$3750 compressor with one that is ~$6500+ – Not apples to apples, and I do feel that Alkin is doing their best to provide a good value compressor. Having said that, I my experience with the Alkin left a bad taste in my mouth (
almost
literally), and I don't trust them to provide the quality of air SCUBA warrants... at least with the gasoline powered W31. So, let's break this down:
Purchasing:

Alkin -
Buying both compressors was simple and straightforward. I purchased the Alkin W31 online. Shortly after ordering, I was contacted by the online retailer and asked a few questions- DIN or Yoke fill adapter (I told them DIN)? What pressure did I want my overpressure valve set to from the factory (I told them 3700 PSI)? Eventually the Alkin W31 was delivered to my home about a month later (delays were due to northeast freezing weather causing freight delays). Shipping was "free" (it's really built into the purchasing price…).
Bauer -
Purchasing the Bauer required me to call my nearest authorized Bauer distributor. They asked me the same questions. Yoke or DIN? What over pressure setting from the factory? I gave them the same answers. Shipping was going to be around $300 from Norfolk, VA- But in an act of madness, I opted to drive from central Texas to pick up the Oceanus E1 from Bauer directly, so that I could take a tour of their factory. The tour was amazing, since it was very cool to see the variety of machines and facilities that turn raw materials into seriously high-quality parts, and ultimately, compressors.
Some things to note on the Oceanus – Preparing the Oceanus' home required a good deal of homework and prep. You'll need a 240-volt, 30-amp capable power outlet to operate the compressor. I tested actual power draw during operation at 500PSI and at 3500 PSI. It is 4000 watts at the breaker @ 500 PSI, and 4200 watts at the breaker @ 3500 PSI. I had to run 8-gauge wire from a new breaker around to the back porch. From there I had to buy an 8-guage 'pigtail' (I went with 16' length for portability) and plumb it all together at the Oceanus' motor's power box. You'll also need a switch to turn it on and off unless you are content with simply plugging it in/unplugging it for operation- which I don't recommend. It does not include a switch. Bauer expects the customer to provide (and be knowledgeable of) the facilities necessary to operate high-end 'industrial' equipment. That or they expect you to hire an electrician to do all of the set-up work and thinking for you
------------------------------------------------------------------------------------------------------
Alkin W31 (gasoline powered) vs Oceanus E1 when dealing with carbon monoxide:
Alkin –
Sigh.
Here is where I started to have issues with this compressor. I read the manual thoroughly before use. I used their included 36" intake hose and took it upon myself to add a 6-ft 1.5" PVC extension to their included hose to help ensure that the intake port was not drawing in excess carbon monoxide from engine exhaust. I also (in hindsight, incorrectly) assumed that their filtration media included the necessary filtration media to remove carbon monoxide from the filtered air (just in case!). In my mind, "why wouldn't it?", it's a gasoline powered compressor. Wouldn't it be dangerous to ship a filter with the compressor that
didn't
filter carbon monoxide? I was wrong…
After multiple dives spanning a few weeks, my wife and I had been suffering from symptoms that indicate carbon monoxide poisoning since we started to use the compressor (severe headaches, cherry red lips, etc).
After noticing these repeated symptoms, I bit the bullet and purchased a CO gas analyzer to check for excess carbon monoxide buildup in our Alkin filled SCUBA cylinders. I tested ours and found that several cylinders were measuring 21+ PPM CO. When dealing with partial pressure increases during diving, CO is extremely dangerous stuff. I was astonished when I found this, not actually expecting to find such high levels of CO. So, I contacted Alkin via email. Instead of responding via email, they instead called me.
Over the phone, Alkin dismissed my concerns saying that the carbon monoxide issue was "user-error". They said that the included intake hose that comes with the compressor is "never intended to be used by itself, but that I should have added a longer 1.5 inch PVC extension
to
the included flexible hose to make sure the intake wouldn't draw in exhaust fumes from the engine" (which I had already done
on my own initiative
).
I'd like to mention that none of this is in their manual (or anywhere else)…
But totally, user error. Right.
Alkin said that if my compressor has a metal filter cartridge, then it does not include "hopcalite", the filtration media responsible for converting carbon monoxide into nominal levels of CO2. Alkin then said that only "the plastic, factory sealed filter cartridge (which they sell) includes hopcalite". I opened my compressor to find that it was shipped to me with the metal filtration cartridge.
They added that the use of the plastic, hopcalite-containing filter (which is designed to remove carbon monoxide) isn't included in the gas-powered compressor because "you don't need it if the compressor isn't drawing in exhaust fumes from the engine", lol.
In my opinion (given the severity of carbon monoxide poisoning in diving) this should
absolutely be included in any gas-powered compressor sold.
They told me that I "was the first customer to be having these issues". To which I responded if they knew "how many of their home-use customers are testing their gas-powered W31 compressors for carbon monoxide with a $400 CO gas analyzer"? To this they had no response.
Here's my point. Don't ship a gas-powered compressor without a CO capable filter. IT IS IRRESPONSIBLE. It is my understanding that Bauer simply WILL NOT sell you a gas powered (or even usually electric powered) compressor without hopcalite filled filtration cartridges.
------------------------------------------------------------------------------------------------------


Cheap quality engine substituted without any price decrease to accommodate the difference:

Alkin -
It says in the manual that the W31 (when equipped with a gasoline engine) is supposed to get a Honda GX-series 160 engine. This is a commercial-grade small engine. What came instead was an economy-grade Briggs and Stratton. This was frustrating to discover as the Honda is built with much higher quality internal components.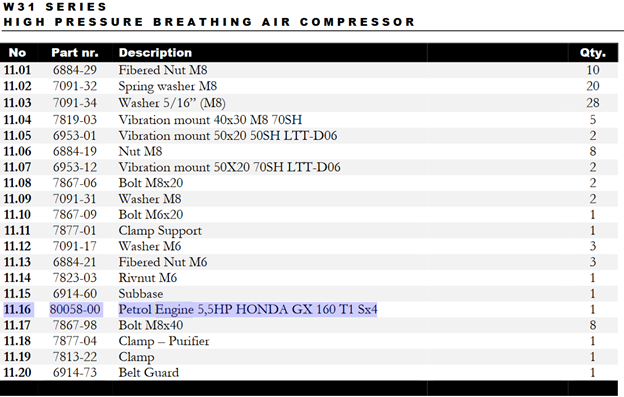 When I brought this issue up with Alkin, they said they had to switch to the Briggs engine "due to supply chain issues and unstable pricing with the Honda." Sure, okay, but sub the Honda for a commercial-grade Briggs, then- not their low-tier economy line. And update your manual!
------------------------------------------------------------------------------------------------------

Alkin gasoline splashing:
To illustrate this point on Briggs quality further, when I received the Alkin compressor brand-new, during my first use the compressor start splashing gasoline everywhere and the engine began 'bogging' under load. I thoroughly checked hose fittings and other places around the fuel tank to ensure that there was no leak. After not too long, I found that the compressor's carburetor bowl had been fastened to the carburetor at an angle, with the seal of the bowl not resting flush against the carburetor. When I brought this up with Alkin, they sent me a Youtube video, made by Alkin, on how to fix this issue. It was an extremely simple fix, but if it's such a known issue that you've gone out of your way to make a YouTube video for it, why isn't this
specific
issue being checked for, as quality assurance, before shipping to the customer?
Here is a picture of the problem. The slot that the bowl fits in to was misaligned. The bowl was tightened half-way onto this slot, causing the bowl to not seal properly, splashing gas:
------------------------------------------------------------------------------------------------------

Alkin No Hour Meter, despite the "Standard Features" list saying it included one:
Maybe I can't read properly, or my ADD makes me interpret things differently, but I took this to indicate that the Alkin should include an integrated hour-meter as a standard feature.
It doesn't.
This page was on their website (which they have since changed):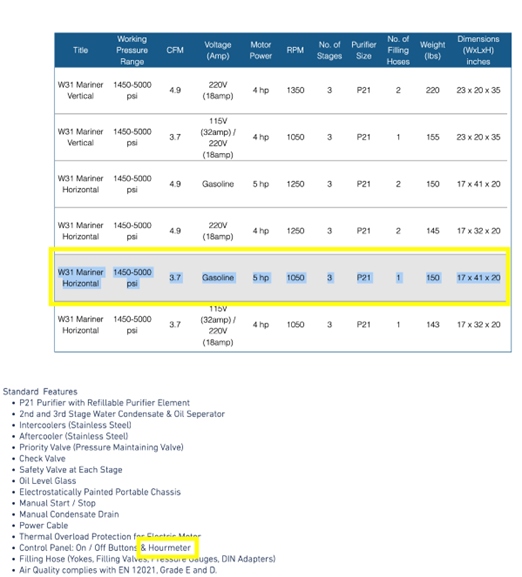 ------------------------------------------------------------------------------------------------------