Scuba Instructor, Tinkerer in Brass
Staff member
ScubaBoard Sponsor
Messages

8,045
Reaction score

11,882
Location
# of dives

500 - 999
So my friend brings his regs back after a year for a PreDive check before a trip to Polynesia.
Things are fine except for one crusty second stage, which I serviced with a new kit. Everything checks out, including a submerged check, and off he goes.
He comes back from the South Pacific saying his hose leaked and so he used his wife's set.
Man, did his hose leak!! The connection from his hose to his right angle connector (which I did not disassemble and service - it had just been a year) was fizzing like crazy.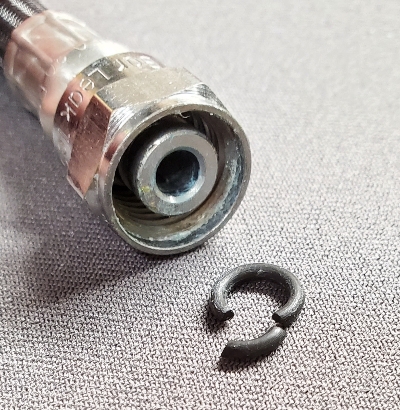 So there's the problem, obviously. And I've gotten him to promise to do a little "owner's course" with me this winter so he could do that 3-minute fix him himself from his Save-a-Dive kit.
But that's not the issue.
It's how did this happen!!?? And how do I prevent it?
He was only in for a quick check. I'd built the set from miscellaneous regs for him a couple of years ago, and had serviced everything last year.
So the then-new hose was at most 2 years old and had never seen any dynamic motion, since it was attached to the right angle connector. I didn't see a need to check that, which was obviously a mistake.
The o-ring looked like a dried-out cracked old o- ring from a twenty-year-old 109. Except that it was a new'ish hose. I put the fragments under the microscope, but couldn't really tell if it was Viton, EPDM or nitrile. The mold pattern under the microscope was uneven, so I don't think it was one of my shop o-rings after a comparison. I assumed therefore, that it was an original nitrile o-ring from the reputable (but Pacific) manufacturer. But it was only two years old!
When I looked at the pieces more carefully, it didn't look dried out or cracked. I was trying to decide if instead, there were maybe two little pinch marks next to each end of the fracture. Maybe I (or some subsequent "helper") pinched the o-ring attaching the hose to the connector during the last two years and it finally gave way.
I'm finally getting to the point...
Having decided it was cheap Chinese nitrile, I figured I'd replace it with a nice Viton o-ring.
But since it was maybe a pinch, something made me experiment.
I put a smooth round brass spade in the vise and slipped one each of new nitrile, EPDM and Viton oring over the shaft. Engaging the similarly smooth, round hook of my digital scale in the oring, I gently pulled until the o-ring broke. Here are the results:
Nitrile: 6.2#
EPDM: 6.1#
Viton: 3.1# !!!
Same results twice +/- 0.2#
Maybe I HAD put Viton on that hose when I built my buddy's set, and somewhere along the line that more fragile material had taken a hit...
All my enthusiasm for using Viton o-rings for their 20+ year shelf life has just gotten called into question. What use is a "permanent" and less flammable oring material if its malleabllility is that poor? Maybe there's a reason my JJ-CCR has nitrile o-rings, even if their shelf life is only 5 years...
Thoughts?