Messages

1,579
Reaction score

1,917
Location
# of dives

5000 - ∞
Want to travel??? Upcoming 2017 vacation trips:

• November 2-12 - Fiji (SE Viti Levu area near Suva) on the Fiji Aggressor [ SOLD OUT!!! ]
• March 24-31, 2018 - Bonaire (Buddy Dive)
• June 8-20 - Yap Immersion (same 10-day format we did this year)
• July 14-28 - Sulawesi, Indonesia with our friends at Murex (includes a day at Lembeh Straits)
• August 18-25 - Isla Mujeres (Whale Sharks, Cancun Underwater Museum, Cenotes)
• STILL WORKING ON A COUPLE OF OTHER DATES & DESTINATIONS
GET MORE INFO ON ALL OF OUR VACATION TRIPS HERE: www.reefseekers.com/foreign_trips.html
————————————————————————————————————————————
Upcoming local dives & classes:

• Thu., Oct. 12 - Night dive - Vets Park in Redondo (FREE!!!)
• Tues., Oct. 17 - Photo Workshop [PLEASE NOTE DATE CHANGE] - Westwood ($25)
• Sat., Oct. 28 - Catalina Express - Avalon Underwater Park ($150)
To sign up for any of these dives, either call us at 310/652-4990 or e-mail us at
kenkurtis@aol.com
————————————————————————————————————————————
Not dive-related but . . . GO DODGERS!!!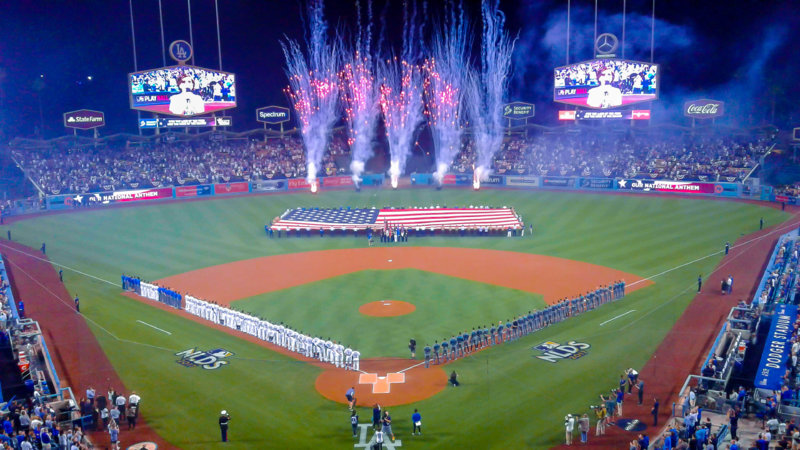 CHEAP WAY TO GET TO YAP
- If you're giving any thought to joining us for the fabulous Yap Immersion next year (June 8-20), we've got a way for you to save $1,300 on the overall cost of the trip. Normally, the airfare is $2,100-ish from LAX. If you try to do it on miles, it's a whopping 150,000 miles. However (and obviously they don't have many of these), if you do your mileage ticket from Honolulu to Yap and back, and pay for an LAX-HNL ticket, you'll spend about $800 on the LAX-HNL part, but by starting in Honolulu the mileage requirement is only 25,000 each way. So basically for an investment of 50,000 miles, you can save $1,300 on airfare. That's a pretty good deal. And one that won't last long. Even if you can't fully commit yet, you could lock in the mileage ticket and, if you can't go, what you risk is $100-150 that United will charge to put the miles back into your account. A gamble worth taking IMHO. But it also underscores that it pays to play around with things when you're looking for a mileage ticket.
UNITED GIVETH AND UNITED TAKETH AWAY
- Part and parcel with the fare manipulation above, I also discovered - sadly - that United is putting the screws to Yap starting January 8 next year. Normally, we fly to Guam, have a short layover, and then get on a 737 to Yap. That plane lands around 10PM, then continues on to Palau, turns around and returns to Yap a few hours later, and then heads back up to Guam. So it's always been very easy to go from Yap to Palau and from Palau to Yap. That means it was very easy to do time in Yap and then continue on to Palau or vice-versa. No more as of next year. Basically, United is eliminating the Yap-Palau-Yap portion. Getting to Yap's no problem. The plane will now leave Guam around 10:30PM and arrive in Yap at 1AM. Getting to Palau is no problem as there's an evening flight direct from Guam into Palau. But if you want to go from Yap to Palau, or from Palau to Yap, you can still do it, but now you'll have to fly up to Guam, endure a long (12-17 hours) layover, and then fly down to the other island. This will hurt Yap more than Palau as a lot of times, people (incorrectly and short-sightedly) view Yap as an add-on to Palau and when you make it tougher to transit between the two, you're likely going to lose business on the Yap end of it. Jeers and angry finger-wagging for United.
HURRICANE NATE AFTERMATH
- You know a storm is powerful when it moves a shipwreck. Nate didn't even directly hit the Caymans, but it apparently generated a strong enough swell that the Kittiwake was tipped over on it's port side. Here's the story along with a couple of pix:
Kittiwake Smashed by Tropical Storm | Cayman Islands Diving | iDive Blog
.
BLUE WHALE FEEDING
- This is a waaaay cool video (although you might need to be signed in to Facebook to see it). But it's a drone shot of a Blue Whale lunge-feeding into a krill patch. Really great perspective:
Watch Spectacular Drone Footage of a Massive Blue Whale Feeding off Australia
.
IMAGINATIVE KITES
- Who says kites are just for kids? The Holland Kite Team (yes, there really is such a thing) has gotten very creative and has made kites into octopi as well as kites into life-size Blue Whales. (I even Googled this and you can buy them on-line. Not cheap as kites go.) But they really look cool in the air and because they're so huge and heavy, then tend to move very much like the actual animals might do if they were able to fly. Here are two links (again, you might need to be signed in to FB). Whales:
. Octopi: .
DATE CHANGE ON PHOTO WORKSHOP
- I've got a schedule conflict so I'm moving the Photo Workshop next week up one day, to Tuesday evening instead of Wednesday. But other than that, same general idea: 3 hours or so, done here at Reef Seekers West in Westwood (aka my apartment), we can look at images you bring, as well as give you tips and tricks to make your shots come out better. $25 covers you. Call us at 310/652-4990 to get signed up.
DIVING THE DEAD SEA
- Not this is NOT a Reef Seekers trip for 2018. But if you ever wondered what it would be like, there's an article in Sport Diver on-line that you might want to read. The most amazing thing to me is that, because of the incredible salinity of the water, your buoyancy is tremendous. The author needed to wear 110 pounds to get down in a wetsuit. And they also dive it in full facemask because if you get some of the salt water in your eye, it burns caustically. Yup, sure sounds like a fun dive. Here's the link:
Diving in the Lifeless Sea
.
DON'T REMOVE TAGS ON TAGGED BLACK SEA BASS
- Researchers at Cal State Long Beach have tagged 34 Black Sea Bass over the summer and it's certainly possible that divers may come across them and mistake the tag for a float or something that shouldn't be there. We'd like to remind everyone not to try to remove the tags. The research is being done by Alyssa Clevenstine (aclevenstine@gmail.com) under the supervision of Dr. Chris Lowe (
Chris.Lowe@csulb.edu
). One of our divers saw a tagged BSB in the Underwater Park a week ago (didn't try to remove the tag but didn't know what it was) which is what got this conversation started. Here's the note from Alyssa: "I'm glad to hear no one attempted to remove the tag - it is darted into the animal so trying to take it out would have done far more harm than good. This is the method our lab uses for to tag a variety of large-bodied fish. The transmitters are quite small, about the size of an A23 battery with a small cap at one end to attach the transmitter to the rest of the tag. I completed tagging for my project in August, so I will have to hope any divers and anglers that encounter the 34 tagged animals will leave them be. If you or any members of the dive community have any questions or information, feel free to pass along my email - I'd love to hear from them!" Here's what a tagged BSB looks like (pix courtesy of Mike Couffer):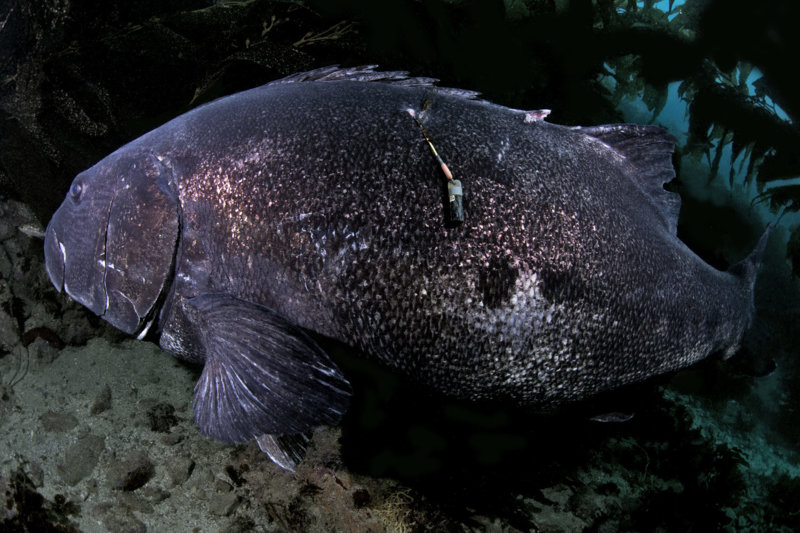 SPEAKING OF BSBs
- Don't forget we're going back over to Avalon to dive the UW Park on Saturday, October 28, and the BSBs will be our main quarry. Call us at 310/652-4990 to sign up.

CONGRATS LINDA WHITEHEAD
- Kudos for completing the Chicago Marathon Sunday in a time of 5:41:27, which was also good enough for 5th in her age group (which we'll keep secret if we know what's good for us). Congrats!!!
And that'll do it for now. Have a great week and let's go diving soon!!!
- Ken