Messages

1,681
Reaction score

2,124
Location
# of dives

5000 - ∞
Want to travel??? Upcoming 2019 vacation trips:

• Easter Island - January 5-13 (CONFIRMED - 6 PEOPLE SO FAR - GROUP LIMITED TO 10)
• Yap Immersion - March 11-24
• Bonaire - Late May (dates TBA)
• Indonesia - July 6-19 (Murex in Manado - TENTATIVE DATES)
• Whale Shark congregation at Isla Mujeres - August
• Maldives - October 12-25 (CONFIRMED - NOW TAKING DEPOSITS - ONLY 2 SPOTS LEFT)
• Sea of Cortez (Cabo Pulmo) - December 5-10 (SOLD OUT!!!)

GET MORE INFO ON ALL OF OUR VACATION TRIPS HERE: http://www.reefseekers.com/foreign_trips.html
———————————————————————
Upcoming local dives & classes:

• Sat., Dec. 1 - Redondo - Navigation Dive (FREE!!)
• Sat., Dec. 8 - Avalon Underwater Park ($150 - three dives)Catalina Express
• Thu., Dec. 13 - Redondo - Squid Night Dive (FREE!!)
• Thu., Dec. 20 - CLASS - Fish ID (Reef Seekers Westwood - $25)

To sign up for any of these dives, either call us at 310/652-4990 or e-mail us at kenkurtis@aol.com
———————————————————————
Whether a Trojan or a Bruin, you must have gone "WOW!!!" by the end of the game . . .
PIX FROM THE GAME
- There's actually a scuba connection, here, as you'll see in a moment. I was able to attend the game with fabulous seats (my sister's actually - she's a UCLA alum and supporter of the Wooden Athletic Fund) on the 45-yard line. I also took my trusty Nikon D610 with me with part of the plan being to shoot some action shots of the game. I've done stuff like this before and know what really helps, since everything is moving and sometimes rapidly so (sort of like underwater), is having a fast shutter speed to stop the action (critical) and having a decent f-stop to gain some depth-of-field is useful too. I'm also aware there's a third component in the equation to get a good exposure and that's ISO (or film speed to those of us who are dinosaurs and remember Kodachrome and Ektachrome). The three are inter-connected and you've got to keep them all balanced and in proportion to each other to get the right exposure. Since I knew I wanted fast shutter and small-ish f-stop, I chose to go with a very high ISO (3200) because I also know that my camera handles high ISO with minimal noise and acceptable pixelation. Top that off with a good zoom lens (Nikkor 70-300mmVR G lens) to get me close to the action, - plus a little (and truly minimal) cropping and tweaking in Lightroom - and I got what I think are some pretty good results. You can see all 39 shots here -
https://kenkurtis.smugmug.com/…/UCLAUSC-GAME-2018-AT-THE-R…/
- and here are three examples of what you'll see.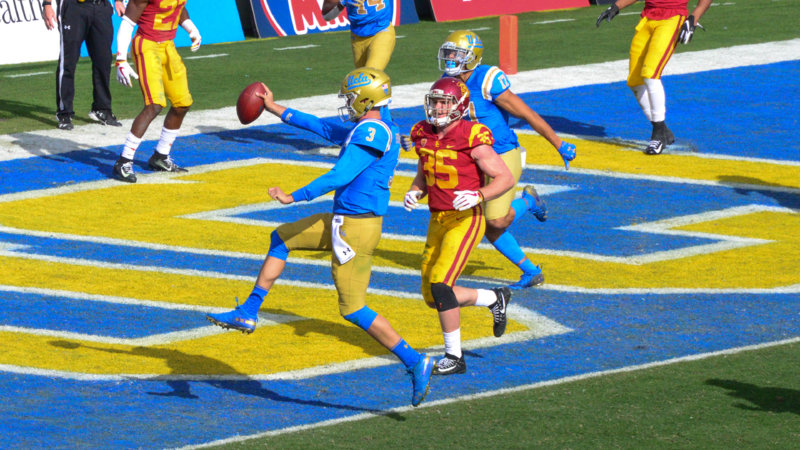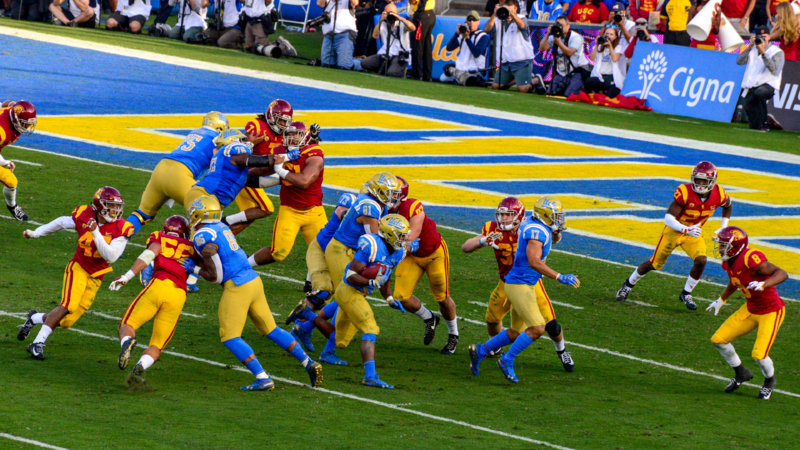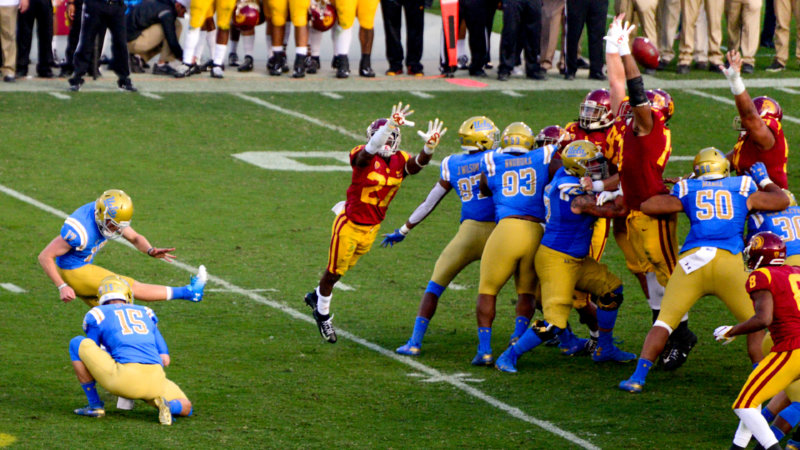 THE UNDERWATER CONNECTION
- The point of this is that the same general thinking that went into my choices for shooting the football game should go into your choices when you shoot underwater. A lot of times I see people - especially newer photogs - just stick the camera on AUTO and that's it. But you should really experiment and push your camera to it's limits to get the best possible results. One thing I think you should experiment with initially is higher ISOs. Purists preach that lower ISOs are the only way to go. Maybe, maybe not. A low ISO means a trade-off in shutter speed or aperture or both. So I'd suggest you experiment. Pick a subject that won't change (like a coral head or rock or starfish) and take a shot at various ISOs, including the lowest and highest your camera can tolerate. Then go home and look at them on your computer (a large screen lets you more easily see flaws) and decide what works and what doesn't work for your camera/lens combo. I'm also a big fan of high shutter speeds UW to eliminate buoyancy and surge issues that can affect camera movement which then affects sharpness of your focus. I try to always shoot at 1/200, which is the fastest my D750 will shoot when sync'd with my strobes. But on the Roatan trip, I experimented using Sola 2500s as my primary light source, which meant I didn't have to sync up with a flash speed, which gave me (in theory) a lot more leeway for shutter speed, both faster AND slower. (BTW, the results weren't all that great. But now I know and can tweak the approach.) But the general point of this suggestion is that if you're taking pictures over time and you feel your shots aren't getting any better, maybe it has nothing to do with your inherent photographic talent (or lack thereof) but because you never vary the way you shoot things. In our digital age, you've likely got 1,000 shots or more on your memory card so use some of that space to experiment and try out new ideas, including things that flow against what everyone "knows." You might be quite pleased with the results. And if you're not, that's why they made a DELETE key.
A TALE OF TWO CHAMBER VISITS
- I will write more extensively about one of these in the upcoming December newsletter but suffice it to say that I've heard of two divers needing recompression in the past week and for two very different reasons. One of them involves a dive in a "bottomless" area, using a DPV, some resulting entanglement allegedly somewhere around 150 feet (already too deep for my blood), one unverified report saying the diver sank even deeper while un-entangling, coming back up but running out of the air on the way up, finding someone to octo-breathe with and surfacing looking pale and shaken but with no obvious symptoms until he finally said he may have been feeling a little tingling. Off he goes to RecompressionLand. The second diver (the one I'll be writing about) dove what even he concedes was an aggressive profile over two days, but the conditions were spectacular and the diving was excellent. He was diving nitrox (no, that's not the culprit) to nitrox limits, didn't go into deco, didn't do any rapid ascents, did his safety stops after each dive, and had decent surface intervals (usually 90 minutes or so) between dives. He ended up with skin bends, which is considered a relatively minor form of DCI, which manifested itself in what appeared to be bruising on his shoulders and back and which he didn't even notice until 30 hours after his last dive ended. (It may have been there earlier but he didn't see it, and there were no other symptoms.) There was even some debate as to whether or not this was truly bends but, even if you're NOT bent, there's no harm in doing a Chamber treatment, as it's always better to err on the side of caution. (When I last talked to him, the bruising was almost fully resolved.) And the point of all of this is . . .
LESSONS TO BE LEARNED
- In the first case, you can make an argument that you've got a diver who's exceeding recreational limits (assuming the depths I was given are correct) and as such, is really minimizing his margin for error. In his case, the first thing that went wrong was some sort of entanglement, which caused the #2 problem which was going significantly deeper, which caused the #3 problem which was eventually running out of air, and he's really lucky this didn't have - as the saying goes - a negative outcome. The second diver pretty much did everything by the book. No obvious diving or deco violations or anything you could point to other than that his profiles were pushing limits of depth and time and, even though his computer said everything was hunky-dory, computers are mathematical models that may or may not pertain to your particular body physiology on that particular day. So the lesson in both of these is that every time we go underwater, we assume some risk and, depending on what we're doing and how we do it, we may be increasing that risk or changing our parameters of tolerance as the dive goes on. So just be aware of what you're doing and really try to do a risk management assessment of your dive BEFORE it begins and think of what could go wrong and what you'll have to do about it if it does. Live to dive another day.
AND IF THAT HASN'T SCARED YOU OFF OF DIVING . . .
- We've got some nice local dive opportunities coming up in December. On the 1st, we'll do a Navigation Dive at Redondo which will consist of teaching you some simple navigation techniques and then showing you how to put them to use on a dive so you can end up near the spot where you started. On the 8th, we've got our final day-trip for 2018 to the Avalon Underwater Park. On the 13th, it's our first official Squid Dive of the season. No guarantees they'll be there but you never know (and it's FREE!!!!). And on the 20th, we'll close out the year with our Fish ID class which is a dry session taught at Reef Seekers West(wood) and is the perfect thing to have completed if you hope to receive some Fish ID books for Christmas. You can sign up for any of these by calling us at 310/652-4990.
And that'll do it for now. Have a great week, a great Thanksgiving, and remember that diving is a wonderful way to burn off those extra calories from the Thursday mega-meal.
- Ken