Messages

1,663
Reaction score

2,081
Location
# of dives

5000 - ∞
SCUBA SHOW, HOLE-Y KELP SOLUTION, YAP IN 2017, & more (scroll down for details)
———————————————————————————————————————————
• • • REEF SEEKERS REPAIR DEPARTMENT • • •
Contact Robert Stark (our repair guru) directly at 310/947-8523 or
ReefSeekersRepair@gmail.com
SAVE 33% ON YOUR REPAIRS - CLICK HERE:
http://www.reefseekers.com/Repair%20Repeat%20Offender%20Program.html
———————————————————————————————————————————
Follow us on Facebook by clicking here and then choosing "LIKE":
www.facebook.com/reefseekers
———————————————————————————————————————————
Want to travel??? Upcoming 2016-2017 vacation trips:

• August 1-6 - Isla Guadalupe & Great White Sharks [ NOW $1,000 OFF - SOLD OUT!!! . . . although we may be able to get a couple more ]
• August 13-20 (WEEK 1) - Isla Mujeres & Whale Sharks, cenotes, and statues [
SOLD OUT!!!
]
• August 20-27 (WEEK 2) - Isla Mujeres & Whale Sharks, cenotes, and statues [ A FEW SPOTS LEFT ]
• November 3-16 - Maldives on the Manthiri
[ NOW ONLY 4 SPOTS STILL AVAILABLE ]
• 2017 - July 7-19 or July 21-August 2 - Yap Immersion (special 13-day trip featuring all that Yap has to offer - see below)
[ LIMITED TO 12 DIVERS BOTH WEEKS ]

GET MORE INFO ON ALL OF OUR VACATION TRIPS HERE
:
www.reefseekers.com/foreign_trips.html
———————————————————————————————————————————
It was a whirlwind weekend . . .
SCUBA SHOW REPORT
- I've just spent the last two days at the Long Beach Convention Center for the annual Scuba Show (if you heard the radio spots - yes, that's me voicing them) and saw many of you there. Although Reef Seekers doesn't have a booth, I'm usually giving a couple of presentations, wandering around the show floor, chatting with some of our travel partners, and socializing with those of you who I see there as well. I don't know that there was really much "new" this time around although one thing that got a lot of attention was the 360Hero booth (plus they had an enormous RV parked there as well). The 360Hero is essentially a contraption consisting of multiple GoPro Hero cams that allow you to shoot and produce virtual reality videos, either above or below the water. Interesting concept and I'll be curious to see if this has practical application down the road. Here's their website if you want to take a peek:
360Heros
.
We also spent some quality time with Mike Lever from Nautilus Explorer. As you likely know, we've got another Great White Shark trip coming up with them (on the
Belle Amie
) in two months. They somehow shipped to the show one of their actual underwater cages for people to see and climb in and out of. Bear on mind these things are about 20 feet high, 8 feet wide and 6 feet front-to-back, and are made out of stainless steel. I have no idea how they got the thing to Long Beach but it was impressive. We also were able to chat extensively with Moosa Hassan from
Manthiri
about our upcoming November trip with them (for which we still have 4 spots).
One of the highlights of the show for us was a joint seminar presentation we did with good friend Bill Acker from Manta Ray Bay in Yap which we called "Immerse Yourself in Yap." During this presentation, we outlined our plan for a Yap trip next year (2017) that will be our most ambitious and extensive yet. The general thought is that it's a 13-day trip with 10 days of diving in Yap. We call it "Yap Immersion" because we really want to immerse you in everything that makes Yap such a special place to dive and to visit. On the diving end, we will do up to 24 dives that will include manta dives at the cleaning stations, a shark feed, a Mandarinfish dive, macro dives, reef dives, and wall dives. We will also include a Manta ID program (you'll get a PADI specialty card) which will teach you the ins and outs of manta identification. We'll build on that with what I'm calling "The Manta Project" which is simply that we will track with photos all of the different mantas we see over the course of our time there. (Sometimes we have one at a cleaning station, but sometimes we get seven or eight or more. And without photos to document the different markings, they start to all look alike.) And because a lot of this ID-ing is enhanced by the photos, we also be including photo workshops and critiques throughout the week. The best plan is to do the dives on nitrox, which is included in the trip package, and for those of you who are NOT nitrox-certified, we'll include a NAUI Nitrox course at no extra charge (other than materials costs). On the non-diving side, we'll take one day off from diving to do a full island tour that will include delving into Yap's role in World War 2, and giving you a sense of the history of the people, which also includes the unique Stone Money that forms part of their culture. On our final day (non-diving to outgas before the plane ride home), there will be a morning kayak tour of the mangroves for those interested, followed by an afternoon visiting a local village. You probably all know by now how much I enjoy going to Yap, and I think this will be a fabulous trip. We're also scheduling this for July (usually we go in March) because the winds have died down then and that means that all the dives sites on both sides of the island should be accessible, as well as it should be the time of the calmest waters and the smoothest rides. Everyone will get a double-occupancy Ocean View room (single supplement available if desired), breakfast daily, all the stuff I just mentioned and more, airport transfers, and crew/staff tips. Not included are lunches and dinners (figure another couple of hundred bucks) and also not included is airfare (generally around $1800-2100). Cost of the "Immerse Yourself in Yap" package will be $2,995 which I think is a really good deal, especially when you consider everything you're getting. (Of course, I might be a bit prejudiced about this.) The other thing I like - and you will too - is that we're setting this up as a 12-divers max trip. So no big cattle calls to deal with. And even with 12, we'll likely do it as two boats of 6 most days, with me on one boat and Bill on the other. The goal is to give you a really great and unique experience and find the best diving possible on every given day. I'm taking the liberty of attaching a flyer to this TWARS. If this might be of interest to you, print it out and stick it on your refrigerator as a reminder. And if you have any questions about this (or want to sign up), feel free to contact me directly via e-mail or phone.
SECRETS OF FISH ID
- One of the seminars I always like giving is the one of how to become better at fish ID. And with all the various families of fish and specific species within a given family, it can at times seem like a daunting task. So hopefully, some useful information was imparted. But what was also exciting was being able to share the discovery of something new. Because it's only recently that an exciting new sub-species has been discovered in the trumpetfish family, as you can see from the pictures below: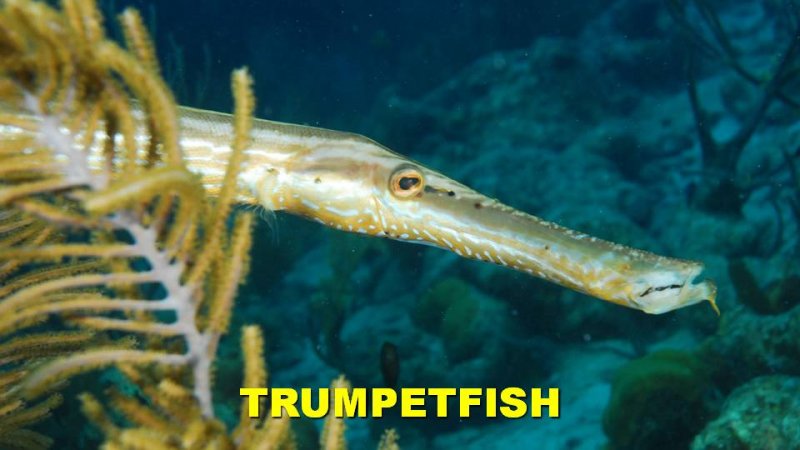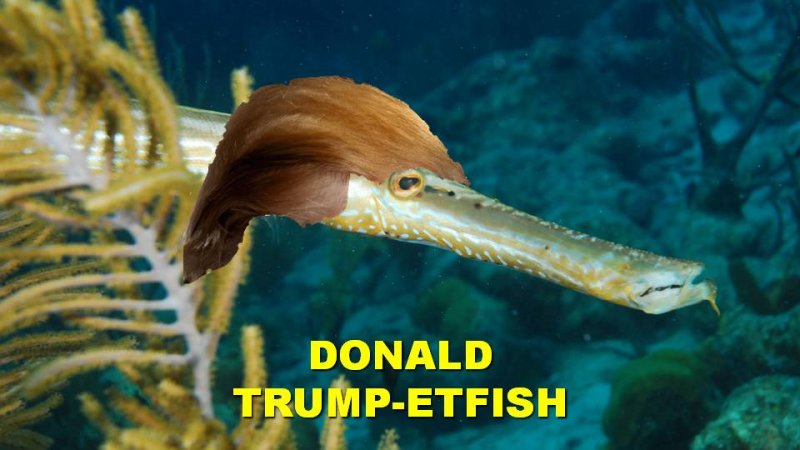 SHOW CHANGE FOR NEXT YEAR
- We also noticed when we were walking out, that the dates for next year's Scuba Show have been moved up a month to May 6 & 7. This means it will literally be three days after Chamber Day 2017 so it may offer us some interesting opportunities in terms of our Chamber Day/Eve event so put that in the back of your mind.
MYSTERY SOLVED??? -
I mentioned last week a mystery noticed by Dr. Bill Bushing of holes appearing in kelp leaves in the UW Park. A possible solution was offered by Karl Huggins who sent us a link to a website that talks about how to measure kelp growth using a hole puncher (
A Method to Algae Madness… How to Measure Miniscule Growth
). So it's possible the solution is as simple as that. But now the mystery becomes . . . WHO is punching holes to measure the kelp????
THAILAND CLOSES DIVE SITES
- We discussed before the problems Australia is having with bleaching on the Great Barrier Reef. Now comes word that there's bleaching going on in Thailand as well. Not sure if it's a separate outbreak or related to the Aussie one. But Thai authorities feel it's serious enough that they've closed off access to at least 10 dive sites that are located within marine parks, in the hopes of preventing further damage to them. Estimates are that anywhere from 40-80% of the Thai reefs (and granted, that's a pretty wide spread) may be affected. You can read more about it there:
Thailand closes dive sites over coral bleaching - CNN.com
.
And on that note, that'll do it for now. Have a great week and hope to see you underwater soon.
- Ken