ScubaBoard Business Sponsor
ScubaBoard Business Sponsor
Messages

567
Reaction score

16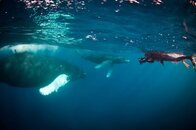 Water Temperature: 77 – 80 F
Air Temperature: High 70's, Low 80's
Exposure Suit Recommendation: 3mm
Greetings from Turks and Caicos Aggressor! Our guests this second week of whale charter season include: Diane & Seth Davidson, Florian Zappel, Barbara & Tim Blanton, Bonnie & Steve McNulty and Christian & Panadda Zappel. Guests arrived in the early evening to Ocean World Marina of the Dominican Republic. Snacks and drinks were served on the sundeck as we started to unpack our snorkeling equipment for the upcoming trip. After we all settled in, dinner was served – a fresh avocado salad to start, followed by Carne Brasado and crepes Aggressor to finish. Chef Jonathan once again wowed guests with this fantastic feast! We left port around 11:30 pm to make the crossing to Silver Banks.
As we arrived Sunday morning, the chase boats were lowered and the vessels readied for the afternoon charter. Captain Amanda gave a briefing on what to expect for the upcoming week just before we enjoyed our lunch. Shortly after, we made our first trip out to greet the whales and enjoy the open seas. We had several surface encounters, which really built up the excitement for what was surely to come. Whale cocktail hour was served when we got back to the mother ship. Dennis prepared his famous "painkillers", which set everyone off to dinner with relaxed smiles on their faces. Everyone retired early, recouping after a day of travel and getting for our first full day out with the whales.
Monday morning was full of surface encounters with groups of rowdies and other adults making their way about the banks. Breeches scattered the horizons as we came back in for a lunch of cottage pie, queeshes and broccoli and cheese soup. As we dined on the sundeck a pair of whales started breaching about 500 meters away. What a show of power and grace! Excited to get back in the water, we finished our meals quickly and jumped back into the chase boats. After not too long, we had our first in water encounter with a mother and calf. They were quite fantastic in all their splendor, slowing moving up to the surface for air with a tranquil dive back down to sleep some more. Brandi made some of her "Pink Juice" for the whale cocktail hour and dinner was served at 7 pm. The excitement of the day left everyone comfortably tired and ready to get some sleep in preparation for the next day.
We woke Tuesday to a beautiful breakfast – cereals, oatmeal, pancakes and eggs to order. Anticipation filled the air as we loaded into the chase boat at 8:30 am. It was a boisterous kind of day with several groups of rowdies moving through the banks. You could see their scarring and wounds from battling for the chance to mate with one of the females. Off in the distance you could see tail slapping in a big way. Taco Tuesday was again a crowd pleaser and the tortilla soup warmed us all as we ate our lunches. A large portion of the afternoon was spent following a mother and calf, although after two hours the calf was still rowdy – breeching and playing with mother as they made their little circle swim patterns. Cole prepared Passion Fruit mojitos for the sunset cocktail hour while everyone shopped the boutique. Chef Jonathan went above and beyond with a surf and turf dinner – lobster tails & beef tenderloin, accompanied by almond green beans and baked potatoes. For dessert we had home made banana bread topped with vanilla ice cream and caramel sauce. Simply decadent!
On Wednesday we woke to a mother and calf surfacing right next to the boat. We watched them throughout breakfast and headed out in the chase boat to see them. With an escort in tow, the mother wouldn't let us get close enough to get in the water, but we got to watch the baby come up every 3-4 minutes and play around the mother. We had more top side action all day Wednesday with several rowdy groups of males tail lobbing, tail slapping, and breaching in hopes of wowing the females. In the afternoon we had a mother humpback teaching her baby how to tail slap, she would slap her tail and the baby would follow her example over and over again. We also so the baby get a bit tired toward the end as the tail slaps got a little less energetic.
Thursday we were met with a beautiful sunrise, clear skies and calm seas. We set out for our last day and came across a group of sleeping adults as well as several pairs of mother's and calves. One mother had a very small baby who was still grayish in color that came up to breath about once every 2-3 minutes. While observing another mother and calf with an escort a challenger male appeared out of no where and tail lobbed at the escort. The escort and challenger tail slapped each other and the escort won, with the challenger leaving as quickly as he came.
At sun up on Friday, we let loose the mooring lines and bid farewell to the Silver Banks. As we left, whales breeched around us and seemed to follow the boat for quite a ways. With the seas at our back, we made good time back to Ocean World Marina. The rest of the day was spent relaxing. The cocktail reception was quite a treat with the glimmer and glamour of the marina setting. Afterwards, we ventured out for some dinner and dancing. It was a great send off for all our wonderful guests!
Your crew this week – Captain Amanda, Second Captain Dennis, Engineer Rob, Photo Pro Brandi, Guide Cole and Chef Jonathan.