Messages

437
Reaction score

49
Location
# of dives

500 - 999
Trip Report – Rangiroa & Fakarava – March 2015
2 Week vacation all organised by Travel Agent Etahititravel.
Flights – Tokyo – Papeete – Average flight. Poor food & limited entertainment on offer.
Papeete – Rangoria – Short 1 hr flight. No problems with luggage. My carry on is approx 11 Kgs.
Weather – Mixed but mostly fine, sunny, light winds. Calm seas.
Rangiroa

Accom- 6 nights Half board at Hotel Maitai. Nice hotel with pool, approx 5 mins drive to dive shop. Food was good. Would stay here again if I return visit.
Room was nice, clean and modern , air con ,TV, fan. No wifi. Accom was very reasonable priced.
By the pool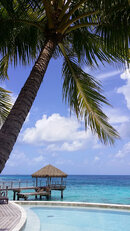 Dive – 4 days diving with Top dive, 2 dives per day. Free car pick up from hotel in mornings and return after dives. Free nitrox. 1 dive was approx 80 euros. Only dived 2 different dive sites. 1 site was approx 5 mins travel time the other was approx 20 mins travel time.
Top dive were ok. Average 8-10 divers on boat. Multiple guides over 4 days. 1 guide was very safety conscious always checking on me , asking me to stay close and checking air. Other guides were more relaxed. Various reports on this board do not recommend Top Dive but I did not have any problems and would happily dive with them in the future. As I was a rescue diver, we did one deep dive to 48 m.
The diving was very good. No need for wetsuit, water temp 28-29 C & excellent visibility. Average currents.
Highlights – Dolphins, 1 manta , 1 Great hammerhead , a few silvertips, marlin.
4-5 days diving was about right , a longer stay may get slightly repetitive.
Overall I was very happy with my visit to Rangiroa. I would definitely return , in Jan , peak season for Great Hammerheads or mid Sept , peak season for fish.
Fakarava
Quick 45 min flight to Fakarava. Boat transfer to South Fakarava, approx 1.5 hrs.
Accom – 3 nights at Pension Raimiti. This was truly an amazing place to stay. Tropical paradise. The resort was very basic, no electricity in the beach bungalows but the setting is amazing. The food, atmosphere and general setting made this one of the nicest places I have ever stayed. Do not expect luxury & make sure you get a "pacific side: bungalow for the ocean breeze. There is also a resident turtle that hangs around the lagoon side and several black tips hunting in the shallows in the mornings and evenings. Overall this was a great place.
Pacific side Beach Bungaow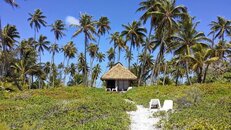 Diving
2 days diving South Pass with Top Dive. The downside of staying at Ramiti is it takes approx 40 mins transfer to get to Top Dive Shop. The Top Dive shop is located by the village close to the South Pass. If you stay in the village , the dive shop and dive site are next to each other.
The dive shop in the South Pass is very very basic. Most of the guides come down to the south for a week then move back to the North.
The diving was amazing. 4 dives at the South Pass. I have never seen so many sharks. Viss changed depending on whether tide was in-coming/out going. Hundreds and hundreds of reef sharks. Truly one of the best dives I have ever done.
A dozen black tips in the shallows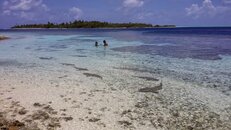 Transfer to North Fakarava.
Stayed at Pearl Havaiki resort. The resort was nice with a fantastic beach. 5-6 large nurse sharks were resident at the pier.
The food at the resort was really good.
Room had fan but no air con.
Diving
1 day diving North Pass with top dive. Unfortunately we did not dive the pass as the current was outgoing. We dived locations either side of the pass. No real current. Fantastic reef , but not many sharks. Note this was due to the 2 sites we dived. I am sure the North pass is similar to the south pass , but larger. We did not dive the pass where the sharks are.
Main highlight a 2.5-3 meter Tiger shark. We were all diving at approx 20 m on the slope , when I looked up there was a tiger cruising by in the shallows.
Conclusion

Overall it was an amazing trip. Tiger shark, great hammerhead and hundreds of reef sharks.
This was some of the best diving I have ever done. The sharkest place I have ever visited , including Galapagos, Cocos, Bahamas. I will definitely return. The South pass at Fakarava is unbelievable.
French Polynesia was not as expensive as I thought it would be. Hotel accom was reasonable priced. Some of the meals were a bit expensive, but based on quality and remote location it was acceptable.
Photography
I found there was no need for strobes as most of the sharks were distant. Fisheye was too wide. Hard to get good shots of sharks (tiger & hammerhead as they were distant, approx 10 m away)
Sunset Lagoon side @ Raimiti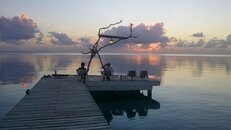 Last edited: