Just a diver
Staff member
ScubaBoard Supporter
Messages

11,453
Reaction score

9,818
Location
Scuba Cylinder Valve Installation
---
Very few subjects are more shrouded in diving mystique and folklore than installing Scuba cylinder valves. Casual recreational divers probably don't need to be concerned with this but advanced divers through professionals in the recreational Scuba and commercial diving industries can benefit from a working knowledge. Scuba industry pros might consider training and certificating from
Professional Scuba Inspectors
.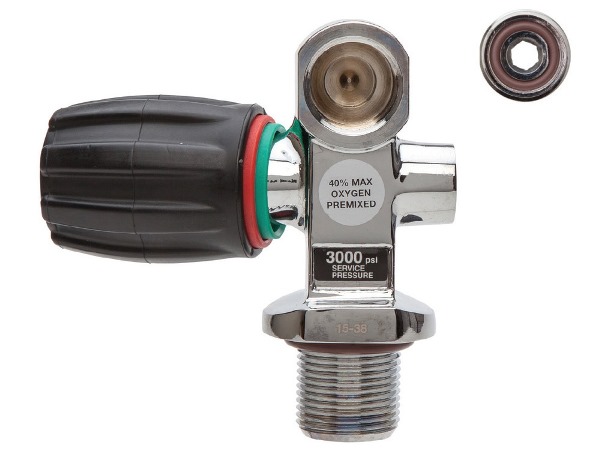 (Image Reprinted by permission from XS Scuba)
​
I find that the
XS Scuba PRO Valve
has a number of features that I value including:
Wrench flats
Easy conversion from Yoke to DIN
Minimal rotations between full-open and closed (1.5 rotations)
Clear working pressure labeling (technically the blow-out plug's working pressure rating)
Hand-friendly over-sized knob with On/Off color coding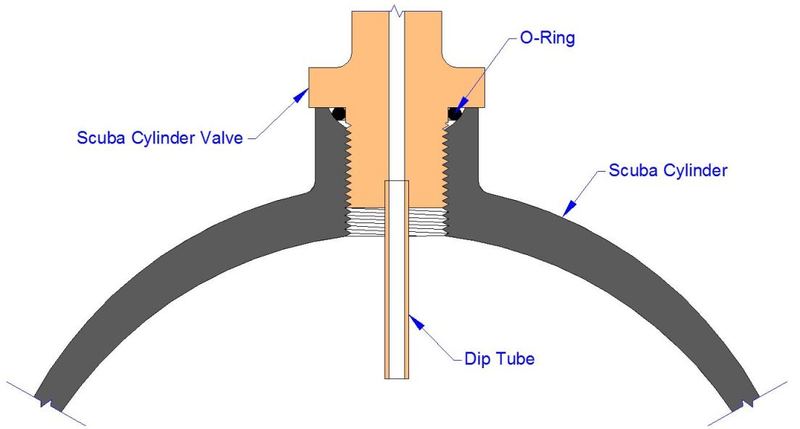 Installed Scuba valve cross section, unpressurized. Cylinder wall not to scale. The O-ring gland profile is typical of a steel cylinder. Aluminum cylinders use a flat bevel/chamfer.
​
I'll limit this post to installing
O-ring
sealed cylinder valves currently on the market, but we can investigate all the other varieties including tapered threads worldwide if readers are interested.
History in the US
Large high pressure industrial cylinders in the US use 3/4" NGT (National Gas Taper) threads. The NGT male thread has about two more threads at the large end than NPTs (National Pipe Thread) and can be very difficult to tell apart.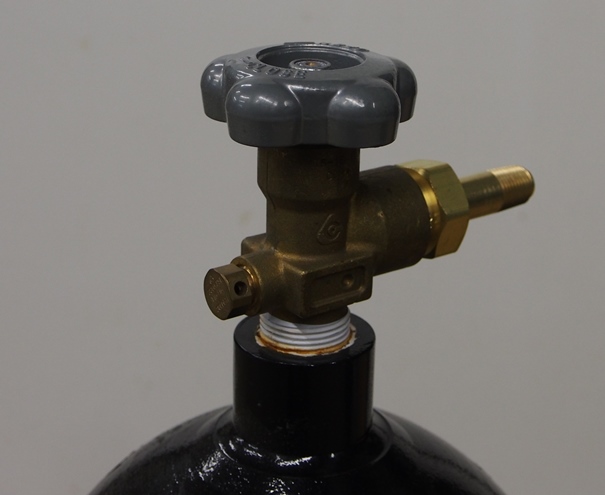 Typical industrial gas valve with a 3/4" NGT tapered thread
​
Technical Sidebar: NGT versus NPT
Specifications:​
NGT (National Gas Taper), ANSI CGA V-1​
NPT (National Pipe Taper), ANSI B1.20.1​
​
NGT and NPT are very similar, often confused, and share these dimensions:​
All Pitch Diameters, 1/2" pipe is 0.840" OD and 3/4" is 1.050" OD
Flank
Lead
Major Diameter Truncation
Minor Diameter Truncation
Pitch, 1/2 and 3/4 both have 14 TPI (threads/inch)
Taper Angle, 1:16 ratio total which equals 1°47' or 1.783° per side
The primary practical difference is NGT threads have 2-3 more threads at the large-end than NPT. When introduced, NGT was used for dangerous/toxic gasses and the specifications include higher precision than NPT, which was primarily for water. Modern manufacturing tolerances for high pressure fittings easily exceed both.​
René Bussoz
* chose to use 1/2" NGT threads used on smaller industrial cylinders when he ordered the first "Standard Tank" that met meet the ICC regulations in the US. Before that he was importing the cylinder sets sold by
La Spirotechnique
in France.
* René Bussoz imported the Aqua Lung into the US, founded US Divers (which is now the company
Aqua Lung
), and sold it to
L'Air Liquide
.​
Unlike industrial gas suppliers, Scuba air filling stations didn't have the ability to dry the gas to the same degree. As a result, internal corrosion became a problem and the small cylinder neck made it difficult to inspect and remove rust. They also used plumber's pipe dope to seal and lubricate the threads. US Divers introduced the current standard in the US in 1960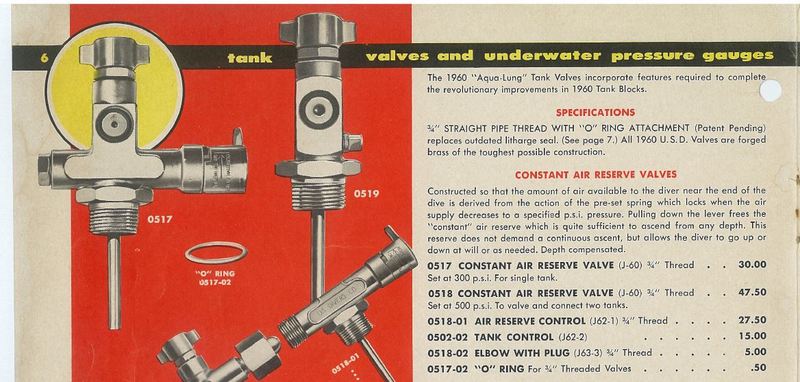 US Divers' 1960 Catalog, Page 6:
SPECIFICATIONS
​
3/4" STRAIGHT PIPE THREAD WITH "0" RING ATTACHMENT (Patent Pending) replaces outdated litharge seal*...​
*
litharge
is a lead monoxide dope (lubricant and sealant) that was used to seal tapered threads before PTFE tape was developed.
As near as I can determine, this O-ring sealed straight thread connection is unique and is not part of any industrial standard of the time. Only the thread portion meets a published standard but not the O-ring gland:
NPSM, National Pipe Straight Mechanical thread, current standard: ANSI B 1.20.1-1983 (R1992)
Size 12
3/4-14 for 3/4" pipe size that has an actual Outside Diameter of 1.034" or 26.26mm and 14 threads/inch
The design has some similarity to the SAE (Society of Automotive Engineers) Straight Thread Port J1926 and the Metric Straight Thread O-Ring Port ISO 6149-1, but is not compatible.
Diving Trivia, Where did "J" and "K" valve come from?
I know it is hard to believe but the names that stick with us today came from the item designations on Page 5 of the 1953 US Divers Catalog: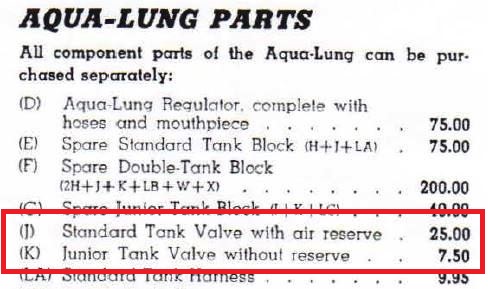 Yeah, it really is that simple
​
Sorry for the US-Centric perspective. Here is a more comprehensive discussion of all of the different Scuba cylinders, valves, and "neck threads":
Wikipedia: Diving cylinder
Installation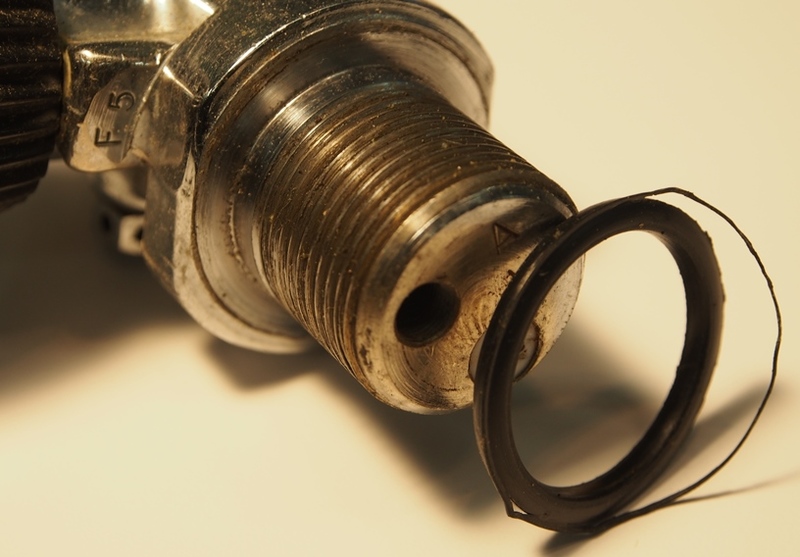 Many divers see O-Rings like this and believe that this damage is caused by incomplete extrusion
​
Failure Diagnosis and Misconceptions
There is a persistent and often repeated rumor on the Internet that states that Scuba cylinder O-rings should not be lubricated, probably because of O-rings like the one in the image above. Several things can cause O-ring failures like this.
Inadequate lubrication when tightening and removing the valve
Incorrect O-ring size, material, and/or durometer
Incompatible lubrication that causes swelling
Incomplete tightening leaving too large a gap between the valve flange and the cylinder. For all practical purposes the gap should be zero or metal to metal all the way around.
The O-ring was twisted/spiraled or scared during installation.
For perspective, consider these factors:
The majority of O-rings are used in hydraulic applications, which is a fluid with lubricating properties
Hydraulic O-rings are heavily greased on installation
Dynamic piston-seal O-rings have a relatively large gap where the O-ring could extrude.
Many hydraulic applications operate at higher pressures than Scuba cylinders, constantly cycle, and see higher temperatures.
Another factor that makes Scuba cylinder O-rings relatively unusual is they rarely move in the gland because they tend to stay pressurized during their operating life, typically between 300-500 PSI or 20-35 Bar and the cylinder operating pressure. This effectively eliminates wear from consideration and the zero-gap properly installed valves makes extrusion highly unlikely.
---
Continued in the next post​