Reinventor of Wheels
ScubaBoard Supporter
Messages

1,263
Reaction score

1,941
Location
# of dives

100 - 199
Simon ( Buddhasummer) is trapped with few options open to him, he has offered unlimited help to anyone who needs it here so I'm going to offer up my DIY Wing MK3 (estimated 15 to 20lb lift) suitable for short plates or double hose... following in
@lexvil
's pattern (
For Sale - SB celebrity sale
), if anyone is interested payment would go to Buddhasummer, and the wing would go in the mail.
Asking $80.00, or more if you want to help Simon.
Pool test and 2 Freshwater dives on it. Inner Bladder is an Intex swim ring, my prototype worked like a champ until I gave it a pinch flat (doh!), and my son is using MK2 of my DIY wing. Most hard components are 3d printed (flanges, elbows), shell is sewn 600d nylon, corrugated hose is stiff pond tubing (I've come to prefer it over "Scuba" corrugated hoses, it stays put right on my shoulder). Kidney dump is on right side, but I can add one on left if requested.
More pictures available on request, sale is for wing only (not plate or harness). Ignore the time stamps on the in water pictures (I always forget to set the date on the camera after battery changes).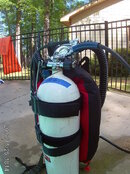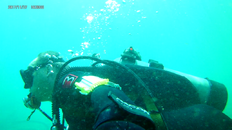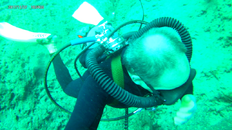 Respectfully,
James