Messages

469
Reaction score

799
Location
# of dives

2500 - 4999
We just got back from a week in Saint Croix and I thought I would share some impressions. This will not be an in-depth trip report as there have already been some great ones from the likes of
@drrich2
,
@devingordon
and
@baggins_69
. These are just thoughts that struck me as a first time visitor to the island.
The why is simple. Saint Croix was open and easy to get to from Florida. My wife wanted a break from the hospital where she works, my son wanted a trip somewhere before school started back and I just want to annoy a fish or two.
We got our Covid tests and filled out the paperwork with the USVI without issues although there was some question on my part about the CLIA requirement for the lab. Good timing/luck on our part as the local labs were beginning to backup with their testing due to demand. Flew with American Airlines out of Miami and didn't have any issues. Airport in STX was a snap not having to deal with the usual lines for immigration and customs and all luggage arrived. Rented an SUV from Centerline and would use them again. Driving on the left was not an issue if you have done it before.
However the roads are a troublesome for a few reasons the first being potholes. They are everywhere and some are quite big and deep. Second issue is the lack of road signs, maybe the back to back hurricanes blew them all away IDK. Google maps was very, very creative in how they got you around by using 10 different roads when you could have taken just two. The road also had a habit of going from a paved highway into a dirt goat trail and then back to being paved all within a few miles. But the island is not large and everything is within about a 45 minute drive even if you are a bit lost most of the time. Traffic was very light compared to say Bonaire or Grand Cayman.
Animals.... there are Horses everywhere, not sure why but it must be common as there are signs says No Horses or Dogs Allowed.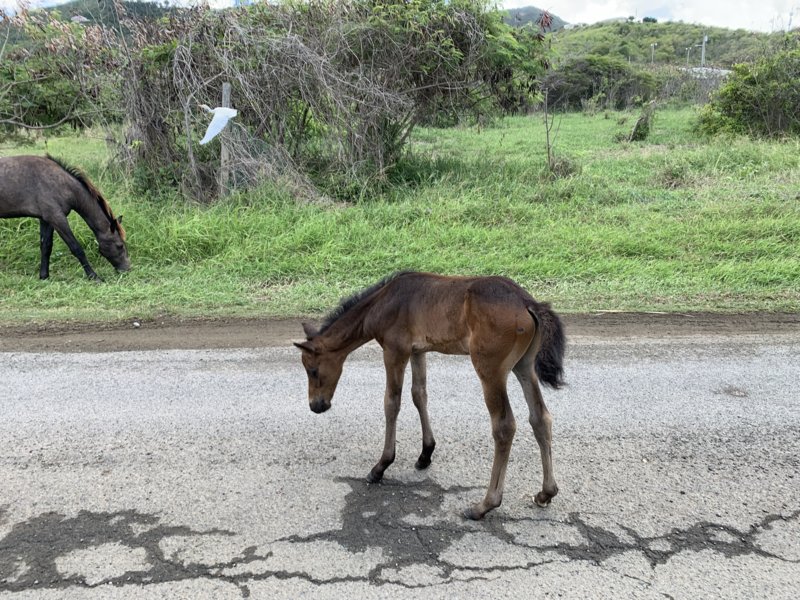 Not your usual road hazard
Mongoose. They are plentyful around the island. Someone described them as "low rider squirrels " so my son and I laughed like idiots every time we saw one.
Came out of the water at Cane Bay after a dive to the sound of screams. Turns out there was a flock of peacocks wandering around.
The two main towns of Frederiksted and Christiansted are very different. Christiansted has a uptown polished feel to it with casinos, restaurants and tourists shops. Frederiksted feels much more local and doesn't seems to have recovered from the hurricanes as well with boarded up building and torn up roofs. Actually I liked Frederiksted better and would stay there if we went back.
We stayed at Club St Croix which was just west of Christiansted and was a good place for a first timer as it is sort of in the middle of things. Is was sargassum season and the east and middle of the north side was pretty well covered with the stuff. Cane Bay and west to Frederiksted was mostly free of the stuff.
Mask were mandatory and almost everyone complied. Good thing as the vaccination rate is less that 20% and the island was moved from a level 3 to a level 4 during the week we were there.
Diving was good, but not up to a Bonaire standard. We used Sweet Bottom and Nep2une dive shop and both were good places. We did shore dives by choice, but the boats seems to be busy and full. The Pier is unbelievably fun if you like like that type of diving. Having no cruise ships for over a year seems to be really nice and I could have done that dive everyday. The only downside is that now I want to buy a decent camera, but I can't!!! Why you might ask? Easy, as it turns out the island makes a special bracelet called a Cruzan Hook and my wife found a nice gold one for her upcoming birthday. This caused my credit card to burst into flames.
Sorry for the long post, I was hoping that my son would finish sorting out the dive gear while I was doing this. Bottom line is we had a very nice time and will most likely go back.