ScubaBoard Supporter
ScubaBoard Supporter
Messages

10,252
Reaction score

8,765
Location
# of dives

500 - 999
Over the past year I faced the daunting task of making sense of the options for planning a 1st time out-of-state dive trip to California, from the perspective of an intermediate recreational diver, south-central U.S.-based (Kentucky), with mainly warm water prior experience (e.g.: Bonaire & other Caribbean, Key Largo, Jupiter, and an August trip to Morehead City, North Carolina). Many people helped me, so I wrote this up to help others who may be where I was. Thanks, all. I intend to post a trip report later in a separate thread.
Selecting a California Dive Tourist Destination​
Thanks in advance to forum members & other online sources who provided info. to research a dive trip to California, a large state with a long coast and varied sites and conditions much different from calm tropical locations. I hope to help dive tourists considering a California trip process this and decide where to go. Judgments are based mainly on other's experience, typical heading to a new destination. Ronald Reagan said "Trust, but verify." In that spirit, I'll cite sources and link you to threads with a post # or articles to get it direct. I recently got back from my trip and plan to post a trip report in a separate thread.
Why California?​
Like many divers, I sought 'other' destinations to explore, new conditions to broaden my experience.
I hit North Carolina to dive deep wrecks with sand tiger sharks
, then got curious about California. Cold water and rough sea conditions (vs. Caribbean) were off-putting, but the prospect of kelp, sea lions & other species (e.g.: giant sea bass, garibaldi, huge starfish, purple hydrocoral) appealed, as did a new ocean and the west coast.
As a 1st time tourist destination (not locals diving for budget & convenience), California's daunting. There's
so much
info. to take in, so many options, and not all in one place. I wrote to help 1st timers flying in for a multi-day dive trip, not the seasoned repeater or resident.
Note
: You can head south to Mexico, by land or boat (e.g.: out of San Diego). Below south California is a long strip of Mexican land called the
Baja California Peninsula
; between it and mainland Mexico is the Sea of Cortez. If you don't favor U.S. destinations, the promise of warmer water and other features may call. Do a search on Cabo Pulmo, or if a live-aboard with pelagic action appeals consider the
Socorro Islands
(~ 250 miles off the southern tip of the Baja Peninsula).
The State​
California is a very long, 'skinny' west coast state (with ~ 38 million people), 3rd largest after Alaska & Texas, with varied topography (e.g.: Sierra Nevada, redwood-Douglas fir forests, Mojave Desert & Death Valley) and climate ranging from subarctic to subtropical but mostly Mediterranean (all facts condensed from
the Wikipedia entry
). Plus it's got Disney Land (not Disney
World
).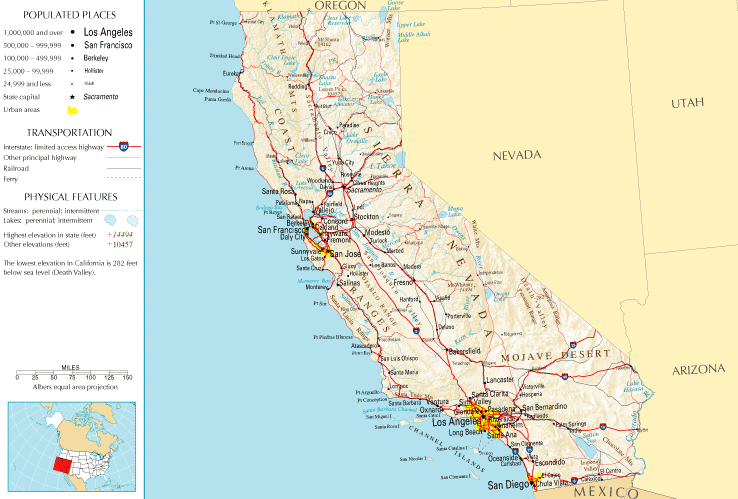 California Map
[Public domain], by National Atlas of the United States, from Wikimedia Commons
Curiously,
per Wikipedia
there are 2 references for California's coastline length – per a CRS report for Congress it's 840 miles based on nautical charts, but per another method (specifics unknown, but includes tidal areas) 3,427 miles. Eye-balling it on Google Maps, I favor the 840-mile version. That's mostly north-south (so temp.s vary) and there's a 'bight' (like a broad, enormous bite taken out) creating irregular coastline to the south.
Off the coast of Southern California are the famous Channel Islands; 4 Northern Channel Islands (Anacapa, Santa Cruz, Santa Rosa & San Miguel) and 4 Southern Channel Islands (Santa Catalina, Santa Barbara, San Nicolas & San Clemente). The Northern C.I.s + Santa Barbara make up the Channel Islands National Park. The Northern C.I.s tend to have colder water than the Southern. Smaller islands tend to offer less shelter, and those farther out from the coast rougher dive conditions. Some Channel
Island
names are also used for locations in
mainland
California (e.g.: Santa Barbara, Santa Cruz).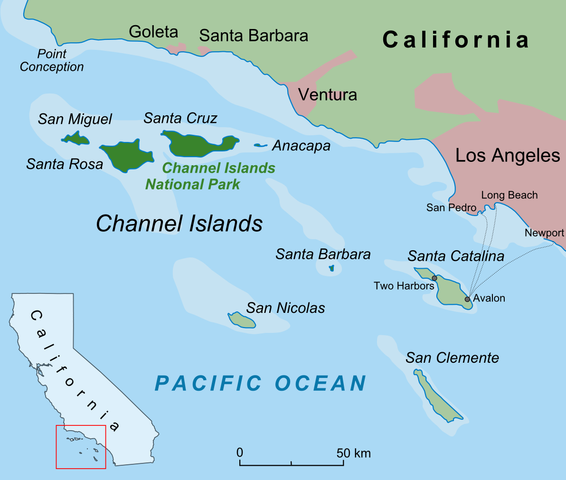 Lencer
- own work, used: Google Earth
USA California location map.svg
by
User:NordNordWest
for Minimap Idea:
Californian Channelislands.jpg
by National Oceanic and Atmospheric Administration
CC By-SA 3.0
Link to file page
at WikimediaCommons.org
California has a cold current coming down from the north & a warmer current rising from the south, impacting dive temp.s by region. The Catalina Island Conservancy has
a nice article by Alexa Johnson
explaining that from Point Conception southward, the cold California Current flows southward many miles offshore outside the California Bight; some warmer water swings back toward the coast headed north, creating a small whirlpool flow around the Channel Islands. She describes the effect of prevailing winds moving surface water away from the coast, causing cold deepwater upwellings that greatly enhance nutrient levels and productivity up the food chain. This supports more life, at the cost of colder water vs. similar latitude diving off the east coast.
Last edited: