My current setup is uses the standard
DIY bungee necklace
, with a slight modification so it breaks away.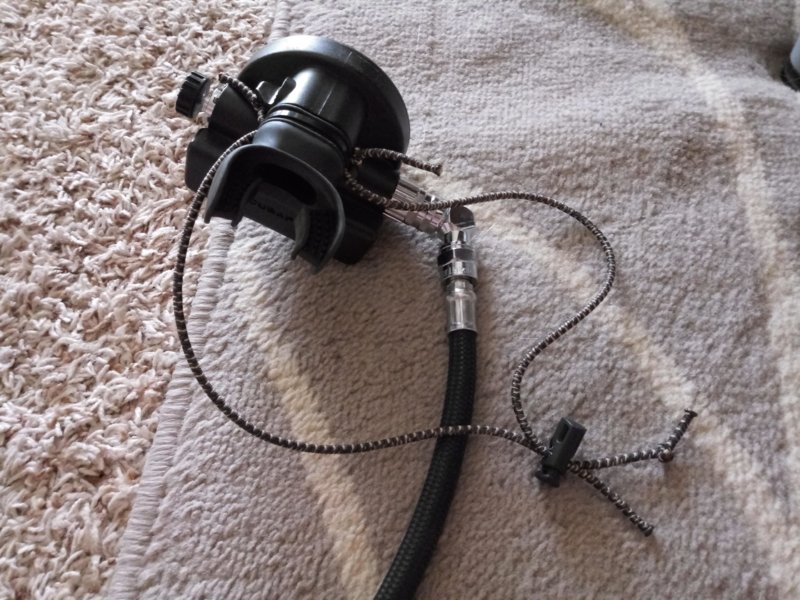 Steps:
You can tie & secure it as shown in fisheater's post.
Instead of being one piece, it's two pieces of bungee (or cut the bungee)
Insert the two ends through the "cord lock." You can buy them bulk for cheap, or steal one from a lanyard you're not using.
Tie only one end of the cord-lock.
When you pull hard enough, the non-tied end will slip through the cord-lock, while the knot on the other side prevents the cord-lock from being lost. The disadvantage of this setup is (1) that it's VERY difficult to reset underwater wearing gloves and (2) the cord-locks aren't 100% consistent with the amount of force required before it slips, meaning it occasionally slips too easily, or occasionally requires extra force to come free.
A better setup might involve magnets, but I need a decent source of inexpensive magnets, which can easily be tied to a cord. I've also considered velcro, but have noticed it's hard to get the right amount of velcro, and the amount of force is even more inconsistent (see #2) than the cord-lock.