ScubaBoard Supporter
ScubaBoard Supporter
Messages

5,378
Reaction score

3,632
Location
# of dives

500 - 999
Clearly Cayman Dive Resorts
Clearly Cayman Dive Resorts
September 18, 2018
Clearly Cayman
Jim Hellemn
Reef Divers and Clearly Cayman Dive Resorts are proud of the 25 years of diving excellence they've delivered to guests at their Cayman Islands' resorts. But in the spirit of their late founder and new International Scuba Hall of Fame honoree Dan Tibbetts, the family owners continue working to preserve this rich guest-focused heritage by looking to the future to ensure their services also meet the expectations and needs of tomorrow's divers.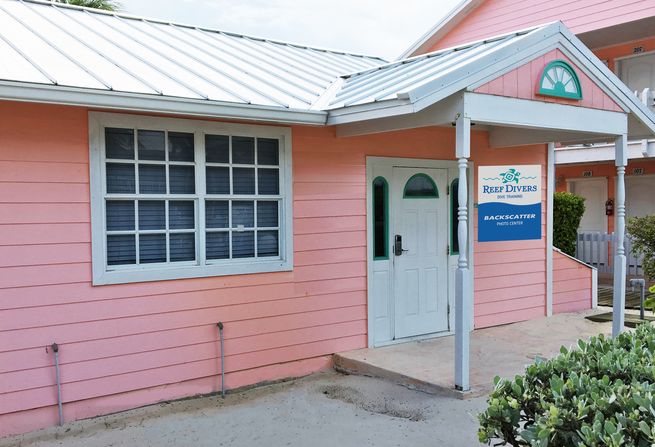 Underwater photo center opening soon
Clearly Cayman
Reef Divers Photo Center
Little Cayman Beach Resort has been the host property of Backscatter's "Digital Shoot Outs" and other underwater photo and video training workshops sponsored by well-known photographers. Beginners, pros, and everyone in between use the island's nearby Bloody Bay Wall Marine Park for beautiful backdrops to countless photos, including contest award winners.
By the end of 2018, all our divers will have a new resource for on-island support and training with the opening of the Reef Divers Photo Center at Little Cayman Beach Resort. In a unique partnership with Backscatter Underwater Video & Photo, Reef Divers staff will be trained and supported by this leading retailer's team of technicians, photographers, and knowledgeable specialists in all things underwater photography and videography.
In addition to stocking some of the most common parts and supplies to support photographers, the center will also provide rental gear and Macintosh Computers with editing software, which guest photographers can learn to use to work on their photos and videos with the assistance of a staff member if needed. The on-island expert will also help underwater photographers trouble-shoot equipment that may not be functioning as expected.
"With the introduction of smaller, affordable cameras capable of easily capturing good quality underwater photos and videos, these improvements have made underwater photography and videography easy for anyone who's interested in capturing beautiful images" according to Jason Belport, General Manager of Clearly Cayman Dive Resorts and notable underwater photographer.
"We want all divers to be able to return home with more than just great memories of their dive vacation. We want our divers to enjoy fabulous photos and videos they took themselves, too. So having a training and photo center feels like a great way to enhance the Reef Divers experience."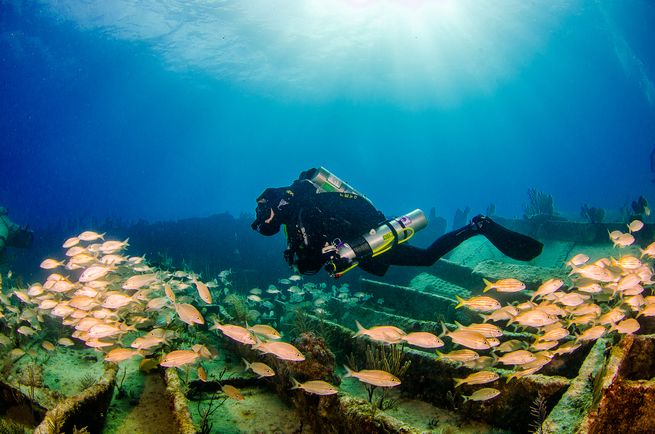 Rebreather
Dirk Peterson
Rebreather-Friendly Services Coming to Cayman Brac
Each year more divers opt to "trade in" their traditional, open circuit scuba gear and take the plunge into the world of rebreathers. Many state their reason as wanting to do fewer, longer, and sometimes deeper dives. Underwater photographers often feel they are less intrusive on the marine life they are trying to capture. And some just love the idea of trying the newest technology.
Beginning in 2019, Reef Divers at Cayman Brac Beach Resort will be "rebreather friendly," meaning that they will stock scrubber and oxygen plus have bailout bottles to support guests' use of their own personal rebreather gear.
"We are currently training selected staff members in the use of rebreathers," said Joe Kellogg, Reef Divers manager at the resort. "Although guests will be responsible for servicing their own equipment, it's important that we are familiar with rebreather technology in order to facilitate this and assist our guests."
Rebreather groups with dedicated boats will be able to use their equipment to its safe, maximum depth and time limitations. Individual divers who would like to bring and use their rebreathers will be accommodated on regular boats and will follow the same profiles set for divers using standard scuba equipment.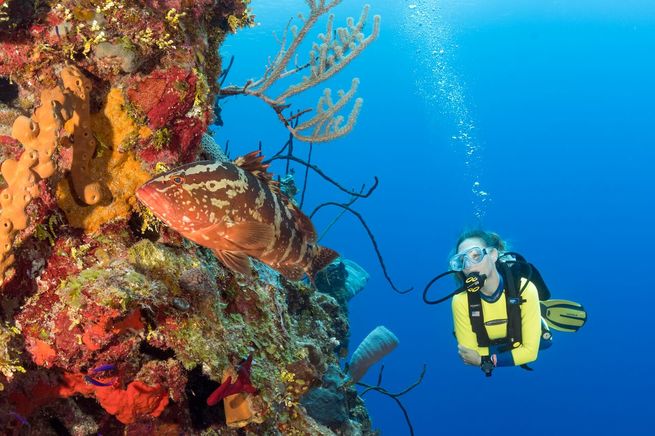 Clearly Cayman
Walter Stearns
Maximum Diving on a Land-Based Vacation
In 2018 Clearly Cayman Dive Resorts successfully tested a 14-day, 42-dive Cayman Expedition vacation that included a week each at Cayman Brac Beach Resort and Little Cayman Beach Resort. Participants were able to get in maximum diving without losing a day in the transition from island to island, because they "dove their way" between islands onboard a Reef Divers boat instead of flying. The company intends to offer these, again, in fall 2019 - a time of year when the seas are more predictably calm to enable this immersion experience.
The packages include accommodations, diving, nitrox, meals, adult beverages, ground transfers, boat transfer between the islands, and much more.
"The Cayman Expedition gives divers the ability to explore all the best dive sites of both islands, including the MV Captain Keith Tibbetts wreck and largely unexplored sites at the base of The Bluff on Cayman Brac to the entire Bloody Bay Wall Marine Park off Little Cayman," said Little Cayman Reef Divers manager Sharon Maher.
"It's a liveaboard dive experience with land-based operations."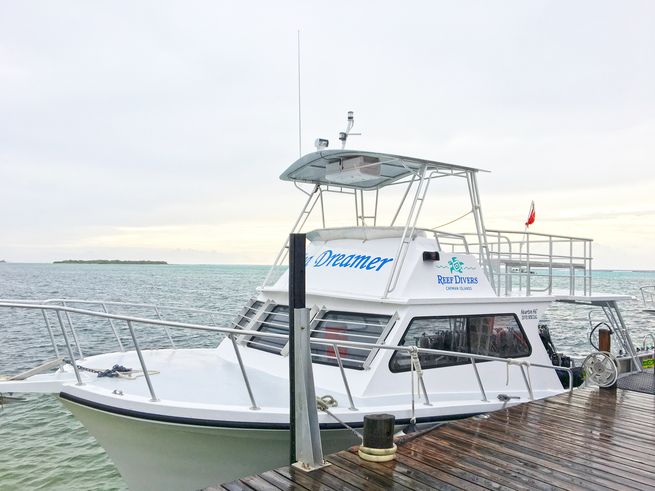 One of Clearly Cayman's newest dive boats
Clearly Cayman
World's Largest Fleet of Newton Dive Boats
With the addition of the Sea Dreamer in August and Island Dreamer in October, the world's largest fleet of Newton dive boats – Reef Divers at Clearly Cayman Dive Resorts - grows to 12 boats total across their three resorts: Little Cayman Beach Resort, Cayman Brac Beach Resort, and Cobalt Coast Resort on Grand Cayman.
These are custom boats designed by divers and built for diving comfort and safety. Eight of the fleet are 46-feet long and four are 42-long with less draft to enable them to navigate shallower reef openings that are especially common on Grand Cayman. All have 16' beams with onboard safety equipment including VHF radio, cell phone, diver emergency recall system, emergency oxygen, AED, first aid equipment, and U.S. Coast Guard approved boat safety equipment.
"One of our newest boats is staged at Little Cayman Beach Resort, where we have our highest occupancy and therefore the greatest need for enough dive seats to accommodate guests," according to Michael Tibbetts, the company's board chairman. "This also gives us the capacity to provide diving to families and small groups who choose to book dive packages at The Club at Little Cayman – 3-bedroom/3-bathroom condos just a 2-minute walk from our main resort."
"The other boat will make its home at Cayman Brac Beach Resort, but will rotate among all three resorts, allowing all dive operations to facilitate a robust preventive maintenance program."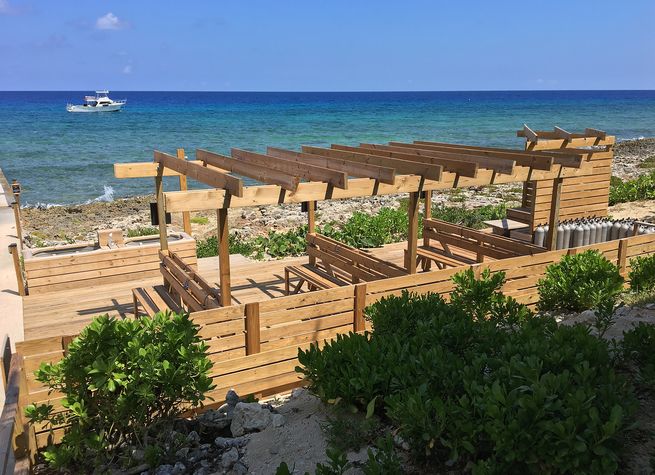 Shore Dive Station Cobalt Coast Resort on Grand Cayman
Clearly Cayman
Investing in the Resorts' Facilities
In 2018, the Little Cayman Beach Resort is celebrating its 25th anniversary. This fall they will be opening a new, larger reception area and beginning renovations on the existing dining room with a much needed expansion to include the existing reception/office area and screened porch. A new outdoor dining area will be constructed behind Beach Nuts Bar. They expect to complete the project by late 2018.
Cobalt Coast Resort on Grand Cayman has gone through extensive renovations in the past year with more to come. A large shore diving station with rinse tanks is now available at the same level as the dock with high benches to make putting together and donning gear easier. All the rooms in the main resort have new, individually-controlled air conditioning units. New, cooler decking has been added to the pool area and a jetted hot tub has been installed for after-diving relaxation. And by end of 2019, all the main resort rooms will have refreshed interiors including new bathrooms.
Check It Out Yourself
Accommodations, meals, and diving inclusive packages are available now for travel through December 2019. Options include choice of 2 or 3 meals per day and 2 or 3 boat dives per day. All packages also include ground transfers, resort fees, taxes, and gratuities (except dive gratuities which are extra and at your discretion). Contact your dive travel planner or Clearly Cayman Dive Resorts (
ClearlyCayman.com
) for information and to reserve your next dive vacation.