Scuba Instructor, Tinkerer in Brass
Staff member
ScubaBoard Sponsor
Messages

7,348
Reaction score

10,441
Location
# of dives

500 - 999
IP creep has been covered in multiple threads on Scubaboard.
How to restore a Piston Regulator that has IP creep
How to Restore a Knife Edge Piston
Usually, it's pistons that get the blame. Either a faulty seat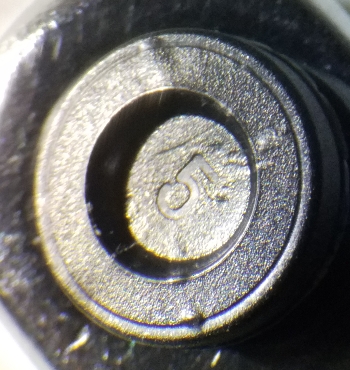 or a nick in the piston knife edge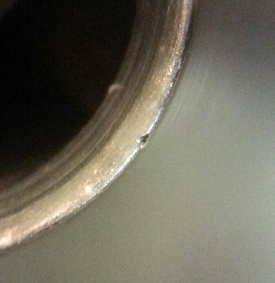 allows high pressure (tank) air to leak into the Intermediate Pressure compartment, and we see IP creep on the gauge.
But sometimes, even a diaphragm can be afflicted.
And usually, it's the same culprits: a scratch in the movable part, or a nick in the fixed part.
Some diaphragms (Mares, Poseidon) use a movable dome or cone-shaped poppet that mates with a fixed seat, while others (Scubapro, Aqualung) use a movable flat seat that mates to a volcano orifice.
Either way, if you can replace or polish the movable part that is flawed, problem solved.
Here, a Poseidon cone (which they call a valve piston) has a sandblasting groove from tank rust that slipped past the sintered metal filter, causing IP creep. A quick polish in a drill motor (as long as the drill chuck teeth don't put a nick in the shaft) and things seal right up.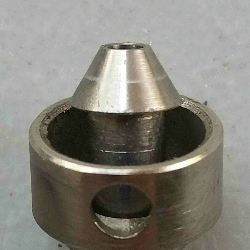 When the volcano is scratched by a ham-fisted technician, or becomes corroded, it can occasionally be a challenge to reach. The popular Conshelf first stage has its volcano buried deep in the bore of the reg body, and can be a challenge to polish. The volcano cannot be replaced.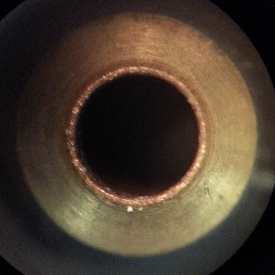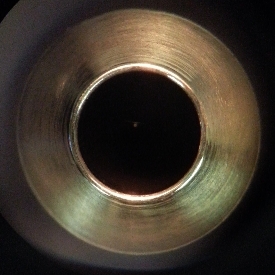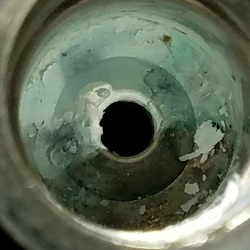 Other regs have a removable volcano orifice. Wrapping a pencil in Micromesh and buffing out a nick is a much simpler task when you can hold the volcano in your fingers.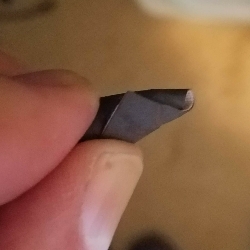 But what happens when you have IP creep and you replace the movable part; you polish the part that it mates with; you replace the orings...and it STILL creeps?
Well, let's look at where a diaphragm reg seals:
Courtesy of the Cressi website, here's a sealed diaphragm with a removable volcano.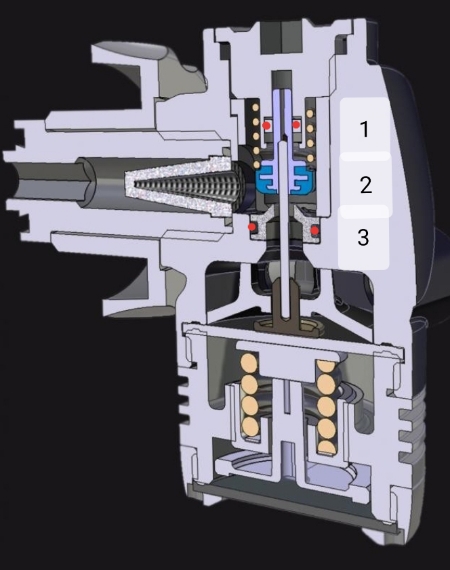 There are three areas where an IP creep problem might lie:
#2, we have just discussed: the seal between the seat and whatever component it mates with. Here, we see a seat (in blue) and a volcano orifice just below it. This valve is open.
#1 is the seal between the movable seat and the reg body, via the balance chamber. This seal only applies to a balanced diaphragm, with a hole in the middle of the poppet. A leak at this seal allows high pressure air to travel up the bore of the poppet, bypassing the seat, and leak into the Intermediate Pressure chamber. If your reg is unbalanced, there's no hole in the movable part, and this area can't leak. That applies to few regulators these days, like some old Dacors and the old Poseidon 300. Most diaphragm regs today
are
balanced, and this area is a potential leak point.
#3 is the removable seat or removable volcano, depending upon the brand. If you have a fixed volcano, then again there's no oring seal to leak at this level, either.
In other words, if you had an old Dacor unbalanced diaphragm with a fixed volcano, there was only one place to leak! You either replaced the seat or polished the volcano deep inside and fixed the problem, or you bought a new reg because you couldn't polish out a ding in the volcano.
But most high-end diaphragms have removable volcanoes, and a seal here is key.
As the technology got more sophisticated, regs've gotten more complex. The areas where problems arise have multiplied.
And that's what happened to me.
See next post...