How to Choose a Regulator

​

(an overview of features and their value)

One of the first pieces of equipment that every diver will acquire is a set of Regulators. This is one of the most critical pieces of your gear as it enables you to breathe underwater and are considered to be life safety equipment. A challenge for many divers is there are a huge variety of options to choose from. Beyond taking the advice of your dive shop's sales staff, how do you make an informed decision? Cost is one factor, but is expensive always better? How cheap is too cheap? What features matter the most?
The sales staff have a compelling argument that you should not be too thrifty when purchasing your "life safety equipment." This article will attempt to give you some more information about the different regulator designs and features you will encounter, and why those features may or may not have value. I won't suggest specific brands or models except as examples of the different designs. After you read this article, I hope that you will be better informed about your options and can make an informed choice the next time you need to buy or replace your regulators.

What does a Regulator do?​
A Scuba Regulator delivers air to the diver while underwater and allows them to breathe. What is happening in these devices to make that possible? Let's break down the components to highlight the requirements of a SCUBA (Self Contained Underwater Breather Apparatus) regulator system.

A scuba tank is a cylinder filled with compressed gas at far higher pressures than the 15 PSI (1 BAR) you breathe at sea level. A typical scuba tank will be filled to a pressure of between 2400 – 3500 PSI (165-240 BAR)
A 1st stage regulator connects directly to the tank, and its job is to reduce the pressure it contains down to approximately 135 PSI (9 bar) required to operate your 2nd stage regulator. It must dynamically adjust as the tank pressure drops from over 3000 PSI (200 BAR) all the down to just 200 PSI (14 BAR) or less. Once the tank pressure is below 100 PSI (6 BAR) it will be increasingly difficult to breathe, and maybe impossible unless you are near the surface.
A 2nd stage regulator connects to the 1st stage and delivers air directly to the diver. The 2nd stage input is at the ~135 PSI (9 bar) delivered by the 1st stage. It needs to further adjust the pressure of the air delivered to the dive to match the "ambient pressure" of the diver. At the surface this will be 15 PSI (1 BAR) and at 100 feet deep this will be 60 PSI (4 BAR), or 4 X sea level pressure. (100 ft / 33 ft) +1 ATM
Regulators need to provide breathing gas at a pressure that exactly and continuously matches the water pressure at your depth. At 100 feet you will have 60 PSI (4 BAR) of pressure squeezing on your chest and lungs. If you had a 100-foot-long snorkel you would not be able to breathe from it as your chest would be crushed and unable to pull in the air. If a regulator delivers more than the ambient pressure, then you would blow up like a puffer fish. Not good. The regulators must be precisely designed and tuned to deliver exactly the right pressure.

Full Regulator System​
A complete regulator system for standard open circuit recreational scuba diving consists of five essential components.

1st stage regulator
Primary 2nd stage regulator
Backup 2nd stage regulator
Submersible pressure gauge
Hoses for the SPG, 2nd stages, and BCD/Drysuit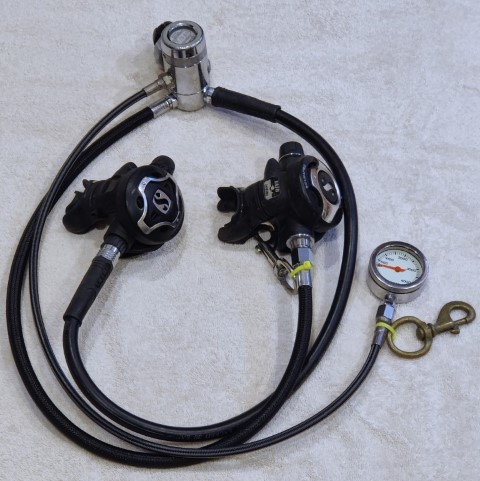 What Features are Important and Worth Paying Extra?​
There are so many brands with such a wide spread of prices. It can be confusing to know what brand is best and how much should you spend. Within a single brand there can be a spread of prices from hundreds to thousands of dollars.
The reality is that pretty much every regulator being sold by a legitimate dive shop is going to be safe and reliable for standard recreational diving. The most expensive regulator is not going to keep you more alive than the cheapest one. It also may not be more reliable than the cheapest one. It might even be the case that the cheaper one will be more reliable over time than the expensive one.
The same is true with brands. Very often dive shops will have a relationship with a particular brand and might sell that brand more than another, and they probably don't offer more than one or two of the top selling brands. In general, one brand is not better than another. Most brands have a range of models that vary from basic to fancy. As you scale up in price you get added features. Some are useful, some merely cosmetic, and some that aren't valuable to everyone. We will cover different options and features in the next section, and I'll call out some of the more important and useful features that you should look out for.

Serviceability is the #1 Feature ​
The only comment I will make about Brands in this article relates to serviceability of your regulators. Every single regulator from the least expensive to the most expensive will eventually need to be serviced. After one or two years of use your regulators need to be serviced. If you skip service for a year or two longer you might get away with it for a while. But eventually every regulator will fail and need service. Most brands & models have a 1-3 year recommended service interval. Get your regulators serviced before they fail and start to have problems.
A 1st stage regulator is typically made of a solid chunk of chromed brass and filled with stainless steel springs, synthetic or rubber o-rings, seats, diaphragms, and other plastic parts. Eventually the o-rings will wear out, lubrication needs to be reapplied, and corrosion or grit will build up until the regulator starts to have issues. A regulator needing service might leak, the Intermediate Pressure might no longer be to spec, or could even dramatically blow a seal.
The one feature that you absolutely need to prioritize is: Can I get this regulator serviced, not just from the shop you bought it from, but you get it serviced anywhere in the world?
For most of the top brands of scuba gear, the answer to this question will be Yes. Brands like ScubaPro, Aqualung, Apeks, Atomic, Mares, Poseidon, Oceanic, etc. have parts and service centers all over the world. There are other good brands that might only be serviceable in North America or Europe. Any of these might be great options. Just make sure that you understand how to get your gear serviced wherever you live.
I strongly recommend that you avoid any brands that don't have widely available service. I've seen many divers using regulators I could not identify. There are plenty of cheap regulators available online that are from unknown brands. Many of them are clones of more popular brands or model, and they might work just fine. But eventually they will need service, and if you can't find a convenient shop to service them you will likely need to buy brand new gear. When a regulator needs service, you need to buy a "Service Kit" from the maker of the regulator. The kit consists of a complete set of o-rings, diaphragms, seats, and seals that experience wear in the regulator. Sometimes other parts break or wear out that are not part of the service kit. If your Brand can't supply service kits and replacement parts, then no dive shop or service technician is going to touch it.


---
Continued in the next post