Directional Toast
ScubaBoard Supporter
Messages

11,518
Reaction score

1,731
Location
# of dives

2500 - 4999
Dive Xtras made an announcement about the BlackTip to it's dealers the day before DEMA and I was very excited but skeptical.
However, I got to see it at DEMA and speak at length with Peter Link, the engineer at Dive Xtras who did most of the design work. I absolutely hate the term "game changer" as it is so over used, but it's a term that really fits. This was the initial image sent by Dive Xtras, and I just want top point out it has some rendering issues as it looks like a black tube with a grey nose. That's not the case (see below).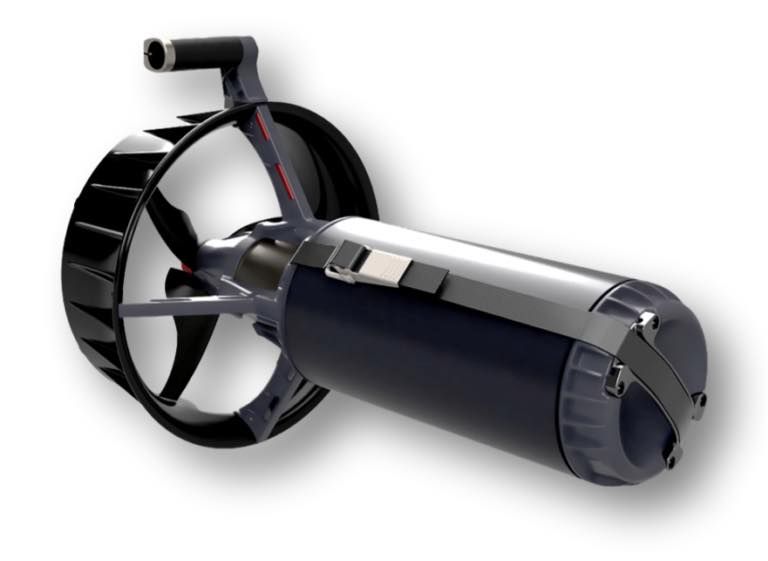 I was impressed enough to order three of them, one for a demo scooter and two to stock, and I've already sold one of them and I have a lot of potential interest in the second. I can order up to 5 out of the initial 250 production run and if I get firm orders before all the production slots are taken I'll order two more. They should be delivered by Christmas and I'm near the top of the order list.
With 63 pounds of thrust it has a maximum speed of about 210 fpm in a Tahoe Benchmark recreational configuration and should be in the 185-190 fpm range in a clean technical configuration. Burn time with a recreational diver at 150 fpm will be around 123 minutes, and for a technical diver at 150 fpm the burn time will be around 85 minutes (12,750 feet range). That's better than SS N19 performance, and at just 24 pounds it's half the weight of an N19.
Performance wise it blows the Sub Gravity Aquaprop L away and at $1499.99 it sells for a lot less than an Aquaprop L. That $1500 does not include batteries and charger but high end DeWalt 12 Ah batteries and a DCB 102 two bay charger plus shipping will bring the total to around $2060. That's $572 less than an AquaProp L with shipping.
BlackTip performance: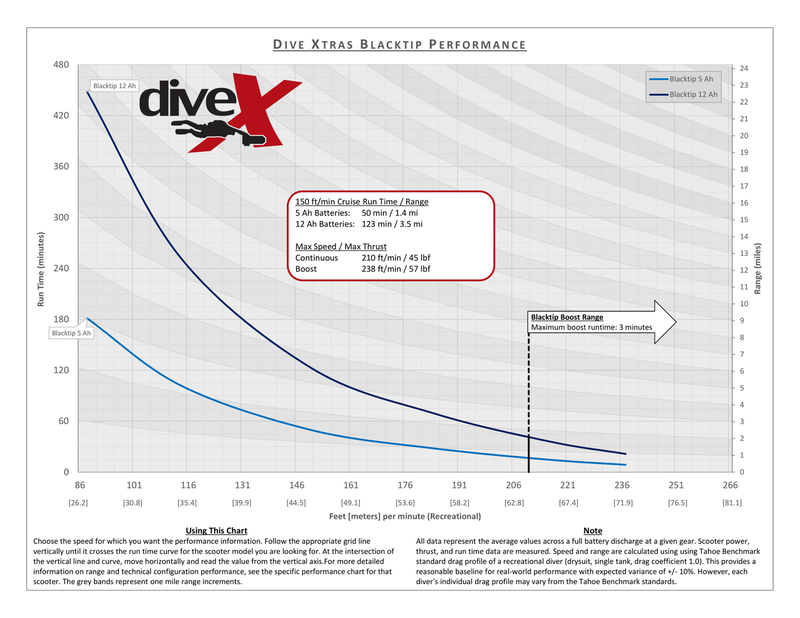 The BlackTip uses a pair of DeWalt power tool batteries and it can be ballasted to use any of them from 2 Ah to 12 Ah, although practically speaking no one is going to want to use one with less than 5Ah batteries.
The 12 Ah DeWalt option is right at $498, but you can reduce that to around $350 with 9Ah DeWalt batteries and and a DeWalt DCB-102 charger, and it'll provide a burn time of 93 minutes at 150 fpm and 13,950 ft range for a recreational diver and around 64 minutes and 9,500 ft at 150 fpm for a technical diver.
You can also go with Waitley 9Ah DeWalt Compatible batteries that sell for around $70 on Amazon along with a Pallwing branded version of the DeWalt DCB-102 charger (I suspect Pallwing is the OEM) that sells for around $50 on Amazon and be in business for under $200 with 90 minute recreational run times. $340 will get you in business with two sets of 9Ah batteries.
The actual BlackTip is grey with a black nose cone. Thus the name: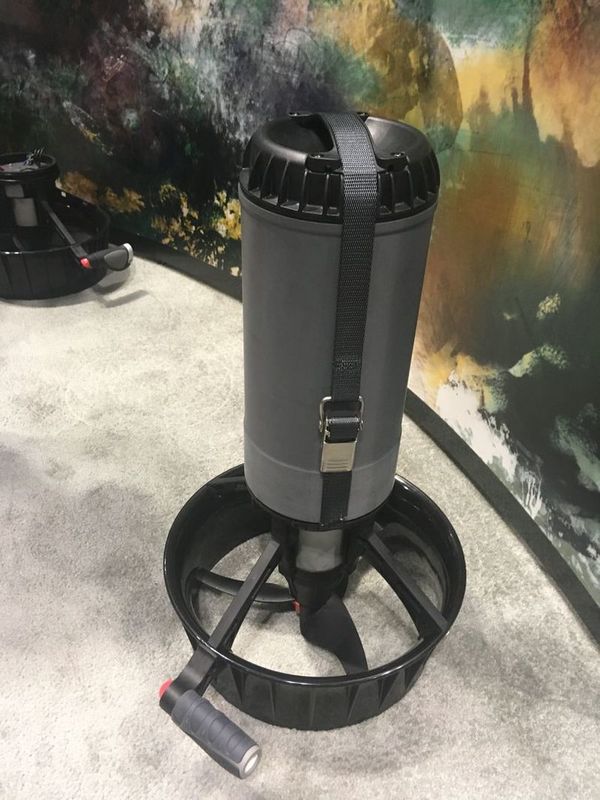 The BlackTip is rated to 300 meters / 330 ft, but Peter indicated that it's been tested to 600 ft. At that depth the tube (milled by Dive Xtras from PVC) collapses in a non catastrophic failure. That means that it crushed but did not flood (preserving the electronics) and when the pressure was reduced it returned to more or less its original shape. Now...once that has been done, it's been compromised and won't take that same level pf pressure again, so you'll still need a new tube, but the rest of the scooter will still be functional.
The BlackTip use a direct drive motor and is significantly quieter than the Piranha, especially at cruise speed. The tail cone and struts are injection molded polymer but should hold up to abuse even better than the aluminum struts on the Piranha. Peter indicates the polymer is very stable even under high heat conditions, so leaving it out in the sun will be a non problem.
The BlackTip does not have the user programmable speed control you get on the Piranha DPVs, but it has a battery indicator and an indicator that shows the current speed the scooter is in. It has 8 speeds, and starts in 3rd. Like the Piranha, a double click "shifts" it up to the next higher speed and a single click shifts it down. If you get off the trigger it will remember the current gear for five seconds, then step down one gear every five seconds until you get back on the trigger. The trigger itself is a thumb operated rocker switch on the end of the handle. As a safety feature it requires a double click to start to prevent accidental activation if the switch is bumped.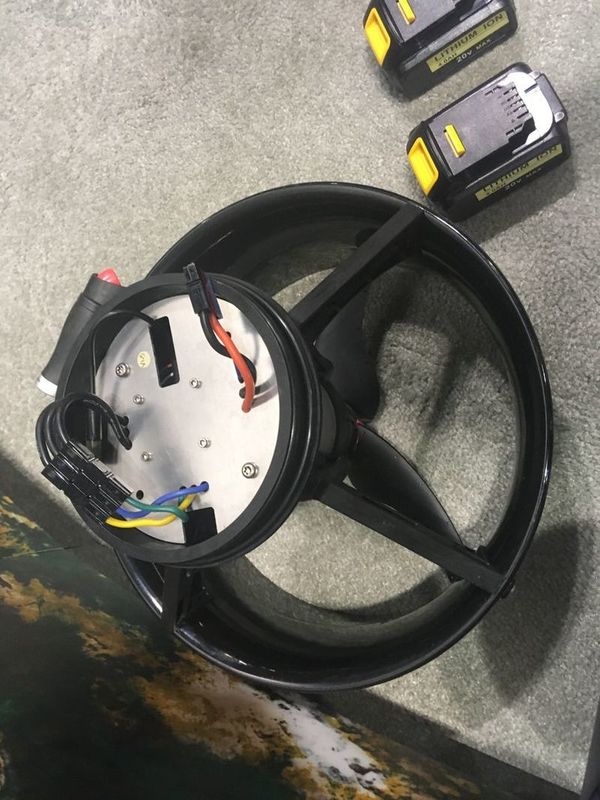 There is ample room inside the tube for all the battery options. Here is a 9ah /12 Ah format battery in the tube: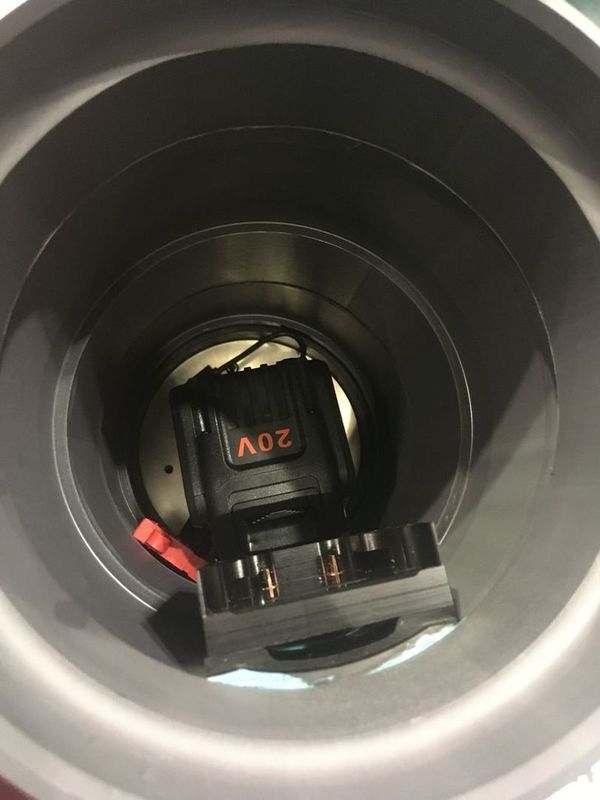 The ballast to weight the scooter for various batteries is accommodated in the nose cone.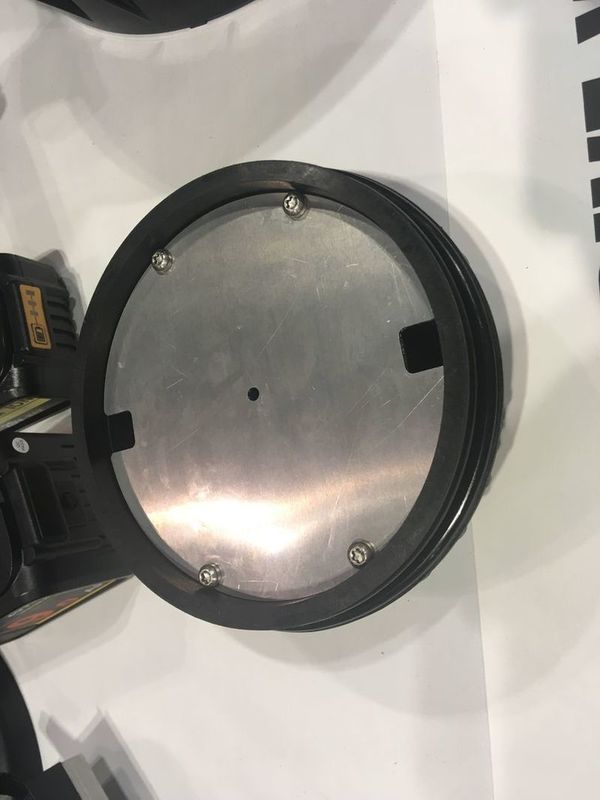 The BlackTip uses the same propeller shroud as the Piranha DPVs and it uses the same X Prop design. the propeller blades are exactly the same, the BlackTip just uses a polymer hub rather than the aluminum hub on the Piranha's X Prop. (Piranha X Prop shown):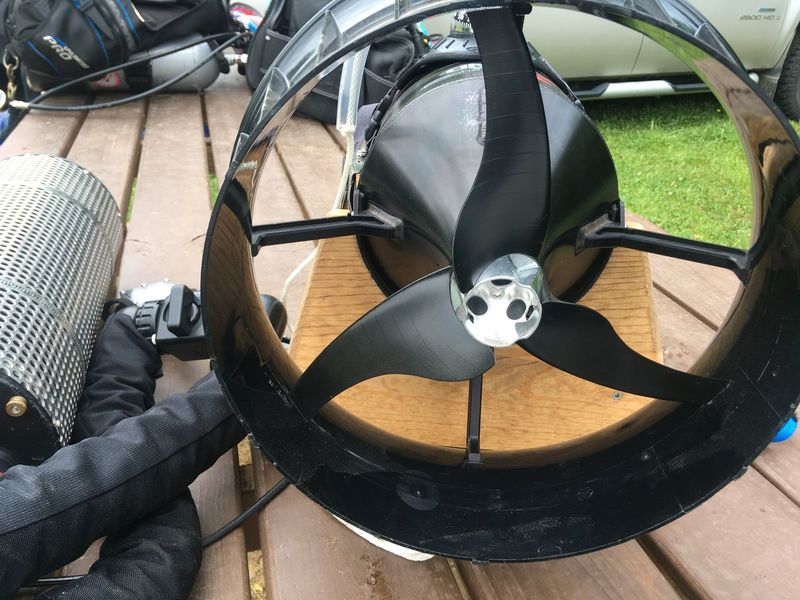 -----
Back to the impact on the DPV market, Dive Xtras has released an affordable (under $2000) recreational DPV with real performance that isn't far behind the performance of the P1. The combination of speed and burn time, cost, affordable battery replacement, low maintenance, light weight and travel friendly form factor and TSA approved batteries make it a near perfect recreational DPV. I anticipate I'm going to sell a lot of them to recreational divers who have been waiting for real DPV performance at an affordable price.
I also see a significant market for technical and cave divers, who want a DPV to do what DPVs were intended to do - get you to and from a wreck, or 30-40 minutes back in a cave to dive in an area where you want to or need to swim, then get you back out quickly to reduce your gas and deco requirements. If you want to run around Ginnie like you're in a Roman chariot race, then the BlackTip probably isn't for you.
However, it's also a very affordable back up DPV for a cave diver. I normally dive a P2 for cave use, but I'll be using a BlackTip as a tow behind reserve scooter. WIth a run time of about 85 minutes at 150 fpm in my cave configuration it pairs very well with my P2's burn time of 175 minutes at the same 150 fpm, given that I'm never going to plan to use more than about 1/3rd of my P2's capacity (60 minutes) for penetration. At under $2000, and at just 24 pounds there isn't really much of an excuse not to have a back up DPV and it can greatly simplify gas planning without reducing safety.
----
As noted above I have three on order, with one still available for purchase, and if I have firm orders I'll order another two for delivery by Christmas from the first production run.
I plan on being in north Florida around Christmas and I plan to demo the BlackTip (and P1 and P2) for interested potential customers, or even just potential DPV addicts since the first hit is free. I'll also be happy to arrange for a demo in the eastern NC area.