Messages

473
Reaction score

59
Location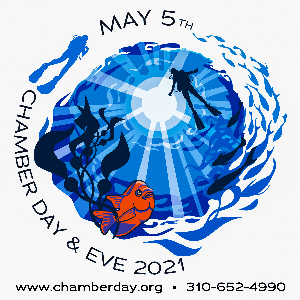 CHAMBER DAY 2021 – ALL VIRTUAL AGAIN THIS YEAR
The Catalina Hyperbaric Chamber is a strong proponent of safety, so it should come as no surprise to you that, given where we are in terms of the COVID-19 pandemic, we have again made the decision to be a 100% virtual event for 2021. But there are definitely some changes that we're putting in place compared to how we did things in 2020.
And we should start with this piece of information: Chamber Day 2021 is Wednesday, May 5.
One important thing to point out is that even though much of SoCal has been on lockdown for a year now, your Chamber has remained open and operational even through this pandemic. We haven't shut things down but have been standing at the ready should a diver need us (and some have in the last year). So while other operations may have saved money during the last 12 months because they've been closed, that's NOT the case with your Chamber. Our expenses generally stayed the same as they would have in a normal year. So YOUR support is still vital.
We know these are trying times for everyone and we hope you'll still give some thought to doing one or more of the aspects of the event, knowing that your donations will be put to good use. Here's what's going on:
CHAMBER DAY – NEW!!! - SIGN UP FOR A VIRTUAL BOAT (REAL BOATS – FAKE DIVE)
Even though SoCal dive boats have been running for a while now and the captains would love to be able to take you out on May 5 for two dives and a Chamber visit, USC COVID protocols prohibit us from having visitors to the Wrigley campus at the Isthmus, where the Chamber is located. Last year, we asked everyone to move to the original virtual boat, the
Flying Dutchman
. (More on that in a moment.) But this year, we've got another choice for you as we're creating "virtual" versions of each of the boats in the usual Chamber Day Fleet. To be clear: These are real boats, but these are fake dives.
When you register, sign up for one of the virtual versions of your favorite boat for $110. (Just remember, you're not really going to be diving on May 5 even if you sign up for a virtual boat.) We'll keep a roster for each virtual boat. Everyone who signs up for one of these boats will not only get a shot at some fabulous Daytime prizes, but you'll also receive a unique Chamber Day t-shirt.
This year, the Day shirt will have the Chamber Day 2021 logo on the front. But the back will list each of the virtual boats along with the names of each person who signed up for that boat. It will be a truly unique keepsake t-shirt that you will want to wear for years. But your name ONLY goes on the shirt when you sign up for a virtual boat. And there's more.
We'll have some special Daytime-only Blind Bids where you can hopefully submit the winning bid and get some cool stuff at a great price (plus help our Chamber). But you can ONLY bid on these items if you've signed up for one of our virtual boats. And there's still more.
Because our Evening live-stream was so successful last year, we're going to do a Daytime live-stream as well, which will be available ONLY to those who sign up for a virtual Daytime boat and those on the Flying Dutchman. Among our guests for this webcast will be the first responders who you would normally chat with out on the island. You'll be able to do a little Q&A with them, we'll award some prizes, and we have some other surprises planned as well.
THE FLYING DUTCHMAN
Nothing changes. Please sign up ($95 – the price hasn't changed), give us your "pirate" name, indicate your regular shop/club/affiliation (we'll post a running tally – there's also an "unaffiliated" option) and you're good to go. You'll get a unique Dutchman t-shirt with the "pirate" name in a mosaic on the front of the shirt, and you'll have a shot at some Dutchman-only prizes, and you'll be invited to watch the Daytime live-stream webcast mentioned above.
CHAMBER CHALLENGE
Same as always. Please contribute whatever you can. We absolutely appreciate – and need – the help.
CHAMBER EVENING
Same as we were last year. Virtual "tables" have been created for each store/club/group that would have had one at the Aquarium of the Pacific. Sign up on our website and choose where you want to be. "Seats" are still $120 each. Normally you would get a chance to explore the Aquarium and you'd get fed. This year, everyone who "attends" Chamber Eve will get a ticket for free admission to the Aquarium once it fully re-opens to the public . . . and we're working on a food option. Plus you'll also get a Chamber Eve short-sleeved t-shirt, have a shot at a bunch of prizes, and there may be some other add-ons as well. Sign up with the table sponsor of your choice (there's also an "unaffiliated" option). As we did last year, we will also have a live-stream webcast on May 5 from 8-9PM where we'll award raffle prizes, hear from some speakers, and have a great time.
For more information about these can't-miss events, visit our web site at
www.chamberday.org
. You can sign up there using our secure server, or you can call Chamber Day HQ at 310-652-4990.
Mark your calendar for Wednesday, May 5 and Chamber Day & Eve 2021.
Ken Kurtis (Chairman, Chamber Day/Eve 2021)
&
Karl Huggins (Director, USC Catalina Hyperbaric Chamber)