Messages

602
Reaction score

228
Location
# of dives

50 - 99
Prices Include Shipping!

1 Light + 2 batteries + 2 chargers: $150
2 Lights + 4 batteries + 2 chargers + : $280

BigBlue
Black Molly V: 2600-Lumen Video Lights

I have 2 of these lights. I am selling because I want to purchase the more powerful, more expensive BigBlue CB6500P lights. They have only been used once. They each sell new for $300.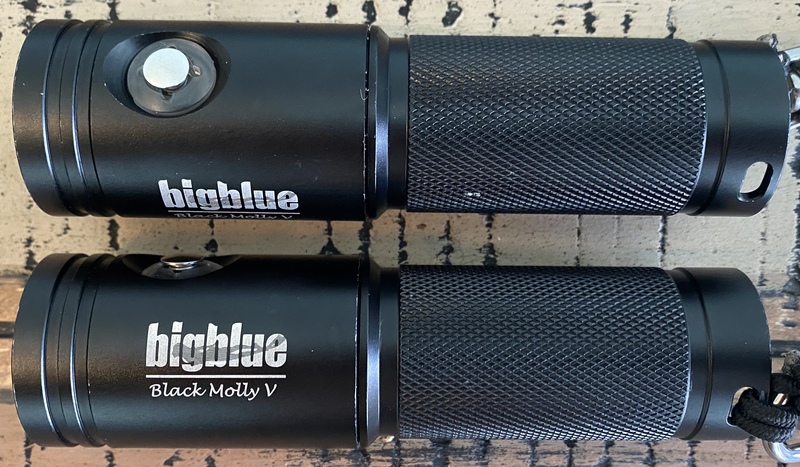 Black Molly V: 2600-Lumen Video LightSKU: AL2600XWP-II
This light is nicknamed the "Black Molly V" and is a perfect light for underwater photo/video divers. With a 120-degree beam and an illuminated power switch/battery indicator, this light boasts awesome lumen strength and increased efficiency. The Black Molly V comes standard with built-in red LEDs for enhanced focusing and night video work.
2600 Lumens at 6500K color temperature
The rechargeable Li-ion 26650 battery gives you two hours on the highest setting
Four power settings to reduce the intensity and increase battery life
Comes in black or orange/silver
United States customer service from our office in Clearwater, FL
Lumens
2600
Beam Angle
120°
Burn Time
2 hrs (level IV), 4 hrs (level III), 8 hrs (level II), 20 hrs (level I)
Light Source
4 x XML LED + 2 x XPE Red LED
Power Source
Rechargeable Li-Ion 26650 Battery
Color Temperature
6500K (Cool White)
Weight
218 g (including battery)
Buoyancy
-105g (including battery)
Size
Dia. 35.5 x L. 126.8 mm
Maximum Depth
100 Meters Tested
Housing Material
Anodized Aluminum Alloy
Color
Black, Orange/Silver