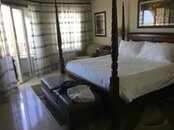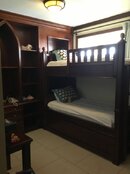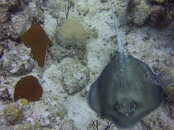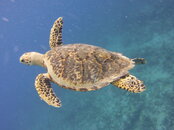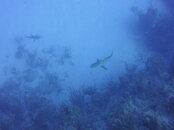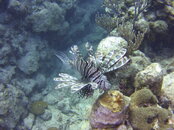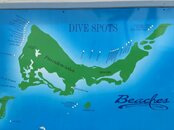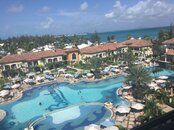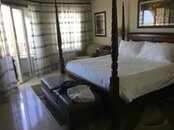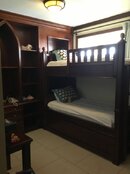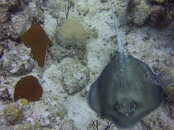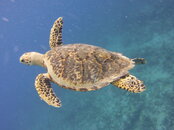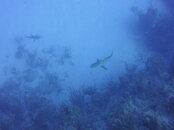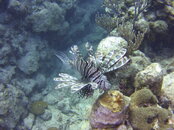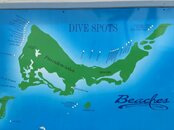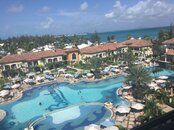 Recently went on a family vacation to the Beaches Resort in the Turks and Caicos. Thought I would post a review for anyone considering a similar trip.
My family has two divers (me and daughter) and one non-diver (wife) so we chose the Beaches resort because it 1. Was a family resort, 2. Had diving included, 3. was no hassle all inclusive resort. All-Inclusives tend to be a little more expensive but are sometimes very much worth it, and others not so much.
Arrival
- took non-stop flight to the Providenciales, uneventful flight. Checked in at the Airport for a transfer to the Beaches resort, was there maybe 10-15 minutes and then moved onto the resort. Upon arrival at the resort we were greeted and escorted through the check-in process. (We chose a Concierge level room). Overall the experience was efficient, although poorly executed. The escort gave us a quick tour of the property and led us to our room.
Room
- Room was very nicely apportioned. (Pics attached). We chose a room that had separate master and kids rooms. You entered through the kids room and then there was a sliding door to block off the master. Not the most efficient layout but it worked. Beds, linens etc were very nice.
Food
- There were 17 restaurants on the resort and at least as many bars. Overall the food was good but there were certainty high points and low points. Many of the restaurants were excellent, great food and great service. Several of them has passable food and their service was best described as apathetic.
Activities
- there is lots to do, lots of water sports (paddle boards, kayaks, glass bottom boats, hobie cats, etc). Beaches were pristine and the pools were marvelous. Scuba Diving was included (up to a point).
Diving
- Upon arrival we checked in at the on-property dive operation. Had to fill out a quick PADI release form and show our dive logs (if you have not dived in 6 months they make you do an in-pool skills orientation). We were good to go and scheduled trips for the next several days. The dive shop has 3 dedicated dive boats, each carrying up to 25 divers. The dive boats are nice and very fast. They schedule a 2-tank dive each day that you check in at 0800 and departs about 0820 and a 1 tank afternoon dive that departs about 1400. You are allowed only 2-tanks a day included in the resort fee, although you can pay extra for more if you want to, they also have night dives ($100US) that go from 1900-2100 at night. On M-W-F they go out to the more far flung locations to the East and West of the Providenciales. On T-Th-Sa they stay closer into Grace Bay. The farther out locations have much healthier reefs and more abundant sealife but take about 30-45 minutes to travel to vice the 5-10 min ride into locations in Grace Bay. Grace Bay has a lot of dead coral but there is still a good deal of sea life there. I attached a photo of the map outside the dive shop for the locations they can go to.
You don't get much of a choice in where you go, you show up and they assign you to a boat and a DM. If you need gear (included) you step over to another window and pick up what you need. (rental gear was SP Pilot BCDs, MK2/R195/S280 level gear and full foot fins). All tanks and weights are on the boat. From there you head to the boat grab a couple of tanks and check pressures to make sure you are good (they consider 2700 full but almost all my tanks were ~3000-3100). Weights and weight belts are on the boat; weights are covered lead and they have a few 2lb weights but mostly 3-5 lbs. Most (90%) of the guests used the shops rental gear and fair amount were taking resort classes there. From there out to the sites.
On site you would get a briefing from your Dive Guide (DM) and everyone would get in and move out. DMs moved at very slow pace but, as is typical for larger boats, groups can get a little close together and getting kicked in the head is not an uncommon occurrence. I tended to stay on the outskirts of the groups to avoid. If you are into UW photography you will be able to get some shots but the pace of the group movement will probably not be to your liking in getting set up for good shots. They did keep igloo on boat for camera rinsing.
After return of the boat they have good rinse bins for gear and storage for gear if you brought your own, large closet with hangers, but no individual lockers or security.
During visit I was able to hit (from most to least favorite): Football Field (very majestic), Eagle Ray Pass, Shark Hotel, Eel Garden (great wall dive), Aquarium, Grouper Hole, Pinnacle, Shark Alley. Attached a few (unedited pictures of sea life). Lots of smaller fish (parrot etc), a few lionfish, eels, lobsters, nurse sharks, reef sharks, sting rays, and turtles. The reefs on the east and west side of the island are still in good shape, but the reefs in Grace bay are very troubled.
Overall it was a good choice for a family of non-diver, new-diver, and non-diver. "Cattle boat" operation was acceptable as a way to get my relatively recently certified daughter exposed to ocean diving. If you prefer to have more choice or control in your diving this is probably not the best option for you, but if you want a non-thinking vacation and are willing to pay a little more for it this works just fine.