Messages

1,608
Reaction score

257
Location
# of dives

1000 - 2499
My most recent finds while diving local waters are for sale . . . here on SB first, then Craigslist when the boating season re-starts.
Two anchors, a mushroom and a Danforth. $35 each.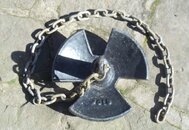 These are at my shop in Medford, OR (I don't think shipping would be cost-effective). Post here or PM me for details or to ask questions.
The mushroom/fluke anchor is a thirty-pounder, black vinyl coating, with five feet of chain, in excellent shape. (Well, okay, there's some light corrosion on the chain, which I'm too lazy to clean off). $35.
The Danforth is a Seachoice Utility 7-pound model, suitable for boats up to 20 feet. Pivoting flukes, slip-ring shank attachment for easy retrieval (yeah, tell that to whoever cut it free when it locked itself under some big boulders). Includes 6' of clean galvanized chain with good shackles, and 12' of nylon line with spliced eye (abraded at bitter end where cut). Anchor measures 12.75" tall overall, 9" flukes, 14.5" wide overall. It's so new, the manufacturer's label is still attached and readable! $35.
-Bryan