I have a 5 year old Greenforce light with a 10 Watt Welch Allyn Solarc HID bulb, the kind commonly used in 10 Watt dive lights from a few years back before Welch Allyn stopped making HID bulbs in the MR11 format.
The light is rather quite anemic compared to pretty much anything any of my dive buddies use, so I've decided to swap out the HID bulb for a Cree XM-L2 U2 LED bulb. I'm documenting the process on my blog (
GreenForce HID Upgrade | dive.roko.ca
), including very non-scientific tests of various collimators to see which gets the nicest beam. It's still a work in progress...
Although I'm converting a GreenForce HID, this should be applicable to any 10W HID can light using the Welch Allyn Solarc HID bulbs.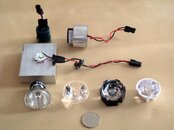 A busy photo showing the old HID components and new LED components (including the three different collimators I'm testing)
Edit: As a teaser, here is the performance upgrade I'm expecting with this swap (Photos taken with the camera in manual mode with the same settings and test setup (shining a the ceiling in a dark room)
5-year old 10W HID bulb: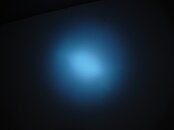 Cree XM-L T6 with one of the collimators I'm testing: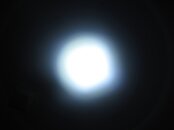 Last edited: