Messages

1,619
Reaction score

1,998
Location
# of dives

5000 - ∞
Giant Sea Bass, Lobsters, and more
(please scroll down for details)
Oh the pain and disappointment . . .
I WAS AT THE UCLA/FRESNO STATE GAME UNTIL THE BITTER END
- Talk about "The Agony of Defeat." 'Nuff said. (But congrats to the Bulldogs as they deserved the win.)
LOTS OF GSBs AT THE PARK
- Angelina Komatovich reports many, many, many Giant Sea Bass at the Avalon Underwater Park over the weekend. "We lost track after nine individuals," she said in a FB post. Angelina says they were mostly out in their "usual" spot which is more or less straight out from the stairs in about 60-70 feet of water. If you approach them slowly, calmly, and quietly (at least as quiet as bubble-blowers can be), they'll tolerate your presence for quite some time and will even become curious about you. I can't emphasize enough the "slowly" and "calmly" parts. Despite the fact that we tell you perfect buoyancy is hovering off the bottom (which it is), this is one time where it's good to find a clear spot in the sand, kneel down, and just watch. Keeping hand movements to a minimum is also key. People with lousy buoyancy usually flail their hands a lot to try to stay off the bottom.
WE'RE GOING BACK ON MONDAY, THE 27TH
- If you'd like a shot at seeing these guys ("guys" in the generic sense - there are females in the group as well), we're going back over to Avalon for one of our Reef Seekers day excursions on Monday, September 27. We'll use the 8:45AM boat out of San Pedro and will leave Avalon at 6:00PM. Plenty of time for three dives as well as a break for lunch. $160 covers boat, taxi, tank/airfills, and fun, as well as all the Giant Sea Bass we can find. Call us at 310/652-4990 if you're interested in going. Water temps are near their seasonal peak, visibility's been pretty good, and it's a really fun day.
SAVE THE DATE
- We had our first committee meeting for the Avalon Underwater Cleanup last week. The date for the 40th Annual Cleanup is Saturday, February 26, 2022. As things stand now - and obviously it can change - we will once again be able to do this as an in-person event, subject to compliance with the relevant COVID mitigation policies in effect at that time. The Cleanup website should go live next month and Reef Seekers will once again plan on taking a group over, as well as being involved in other aspects of the event.
SCUBABOARD ON ZOOM SEEKERS
- We were pleased to have Pete Murray, owner and head honcho at ScubaBoard, as our Zoom Seekers speaker this past week. If you didn't get a chance to watch (or want to watch again), here's the link to the full talk:
SEPTEMBER ZOOM SEEKERS: PETE MURRAY - SECRETS OF SCUBABOARD
.
LOOKING AHEAD TO CALIFORNIA LOBSTER SEASON
- It commences at 6:00AM on Saturday, October 2, and - because people get so excited about catching the crustaceans (it's called "Bug fever" for a reason) - we usually end up with a fatality or two the first week and a number of close calls. Our industry trade group DEMA, has put together a poster for California to remind us to dive even more safely during this time and I'm happy to share that with you. (I love the tag line: "Safety first, lobsters second.")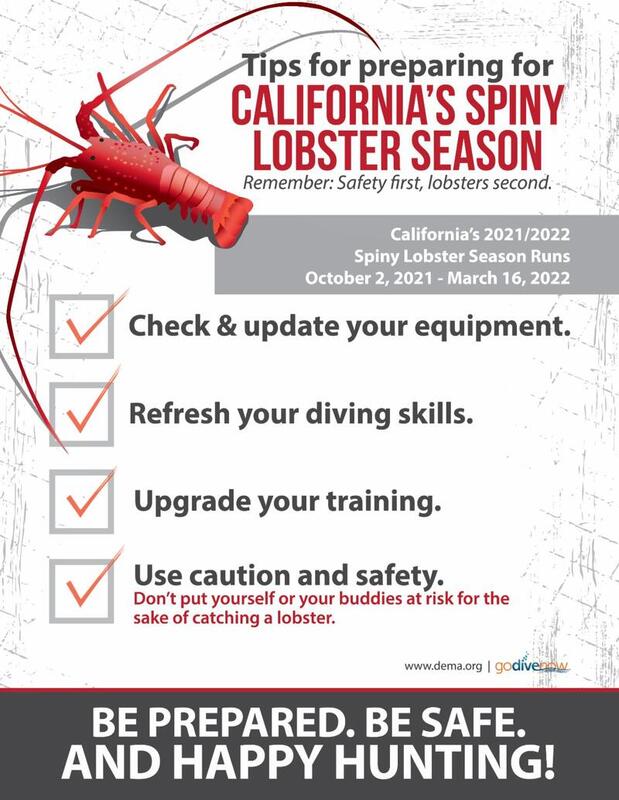 And that'll do it for now. Hope you have a great week, and let's go diving soon!!!
(Like maybe on the 27th.)
- Ken