Messages

1,687
Reaction score

2,129
Location
# of dives

5000 - ∞
Old guys, Socorro, Darwin's Arch, and more
(please scroll down for details)
Hard to realize that next weekend is Memorial Day Weekend . . .
OLD GUYS RULE
- Congrats to Phil Mickelson on winning the PGA Championship and becoming the oldest winner of a golf major, and all on the same weekend that we completed celebrating my 70th (YIKES!!!) birthday, so I guess I can sort of consider the thrilling final round as a gift from Phil to me.
MY SISTER THREW ME A LOVELY PARTY
- Had a few friends over for some good food, good fun, good cake and - highlight of the night - watching the premiere screening of "Aquarium of the Dead." Sister Susie even had my cake done up in an "Aquarium of the Dead" motif and had her whole backyard festooned with sharks (because she thought the piranha on the movie poster was a shark). Cool cake from Hansen's, as you can see.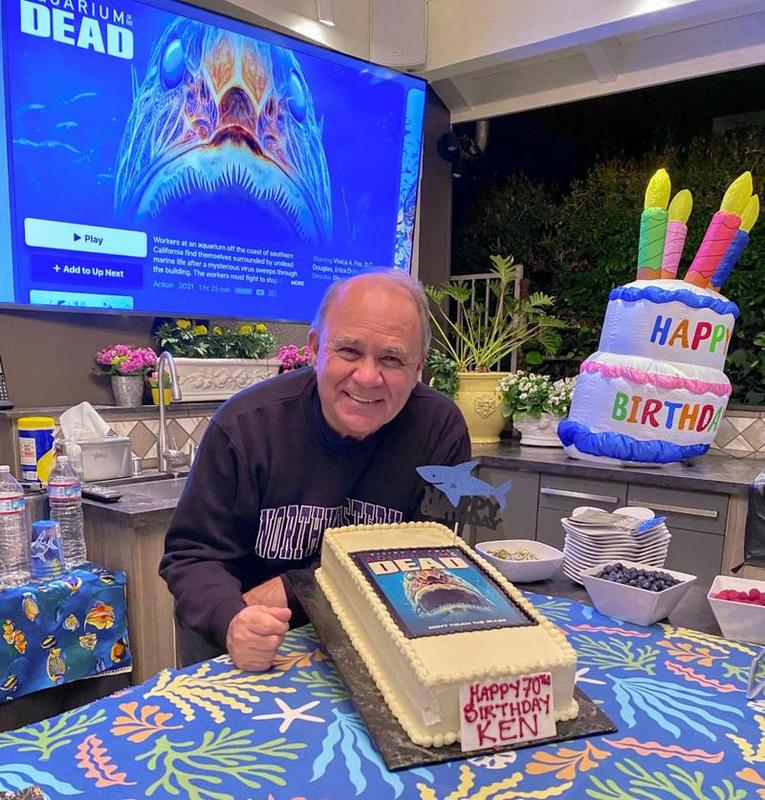 MOVIE REVIEW
- If I had to chose one word to describe "Aquarium of the Dead," it would have to be . . . bad. Thin plot, sort of disjointed in spots, and not the greatest performances in the world. Lots of little continuity issues too, like wounds that either healed between shots or moved from one side of someone's face to another. However, I enjoyed it immensely because we KNEW it wasn't going to be great going in and since we were live-streaming it over AppleTV, we could hoot and holler and heckle all we wanted, sort of like a home-grown Mystery Science Theater 2000. Best of all, because I knew all the locations (most of it was shot inside the Aquarium of the Pacific), we could laugh at the inconsistencies. Like the part where one of the people trapped inside with the deadly animals calls 9-1-1 and it goes to two fire guys who respond with, "Yeah, it'll take us about 30 minutes to get there." And we screamed "You're standing 30 feet away!!!" Because they shot the scene on the harbor walkway that rims the Aquarium building. So it was fun to make fun of it and that was most of the fun. Thankfully, the movie's only 86 minutes long, and we had the promise of cake afterwards, so that made it all the more tolerable. But it likely won't be on the short list of Oscar contenders for next year.
WHO'S READY FOR A VACATION???
- I'm going to send this as a separate e-mail in a day or two but we're starting to nail down our planned trip back to Socorro March 12-20 of next year. We had a fabulous trip this year and are looking to repeat that level of underwater success. We've got the entire (19 spots) Nautilus Under Sea booked. Love to have you join us.
DARWIN'S ARCH COLLAPSES
- You may have heard this already, but we're very sorry to report that Darwin's Arch, which lies just off of Darwin Island in the Galapagos and is not only the actual dive site for the island but also an iconic image for the Galapagos, has seen it's middle section collapse, leaving the two ends standing. It seems it was natural, due to erosion over the thousands of years it has stood. Their was an Aggressor boat on site doing a surface interval and they saw (and heard) the collapse in real-time. The arch sat atop a fairly large flat area so all the rock debris collapsed into this area rather than falling into the ocean, so the dive site itself didn't suffer any damage. People are now suggesting the area being referred to as "Pillars of Evolution." You can see before and after pix as well as read more about this here:
DARWIN'S ARCH COLLAPSES
.
JUNE ZOOM SEEKERS
- I made a mistake in last weeks TWARS when I said our next Zoom Seekers session would be on a Wednesday. I read my calendar wrong. It will indeed be on a Tuesday (as always), but for June only, it's the THIRD Tuesday of the month rather than the second, which is June 15. Our speaker will be renowned photographer Marty Snyderman and his topic is "Finding & Photographing Fish and Their Behaviors."
"WHY DIVERS DIE" SCUBA SHOW SEMINAR
- Many thanks to the 631 of you (as of 8PM Sunday) who viewed all or part of our annual seminar at the Scuba Show, virtual again this year. We were able to offer our traditional info on fatalities the previous calendar year. For those who may have missed it, this covers the four L.A. County fatalities of 2020. You may recall that 2019 was the first year we have ZERO fatalities. Interestingly, and some of this may have been due to COVID restrictions limiting people diving, we didn't have our first 2020 death until August. If you missed the talk but would like to still see it, I think it's up on the Scuba Show Facebook page, but I've also got it up on my YouTube page as well:
WHY DIVERS DIE - FATALITIES OF 2020
.
CELEBRATION OF LIFE FOR ROD FRANCIS
- This has nothing to do with the scuba fatalities, but as I told you a while back, longtime Reef Seekers instructor and repair guy Rod Francis died. His celebration of life will be held on August 1 in Granada Hills. I'll give you more specific info as we get closer.
And that'll do it for now. Have a great week, get your vaccine if you haven't already, and let's go diving soon!!!
- Ken