Messages

1,584
Reaction score

1,929
Location
# of dives

5000 - ∞
Zoom Seekers, Chamber face-covering, and more
(please scroll down for details)
A busy week lies ahead . . .
ZOOM SEEKERS LAST WEEK
- It was a delight to be able to hear from Bill Acker, founder/owner of Manta Ray Bay Resort & Yap Divers last week. In addition to rhapsodizing about the wonderful diving and animal encounters there, Bill also brought us up to speed on the COVID situation. Fortunately Yap hasn't seen any cases but that's also because they're on a total border lockdown, with no one being allowed into the country, regardless of whether you live there or not. (You can leave. You just can't yet come back.) So a number of Yapese - including Bill's son Opi - are unable to return home right now, although there's hope that situation will change in the coming months. But it might be a while until tourism returns to Yap, partly because, even tourism is 100% of Manta Ray Bay's economy, it's a very small percentage of the overall Yap economy, so there's no urgent economic impetus to start inviting tourists back. On top of that, you have to factor in the airline schedule. When I first went to Yap 20-some years ago, there were four flights a week from Guam to Yap. Then they cut that back to two flights per week. Now it's one flight . . . per month!!! Obviously, COVID concerns factor into that but it's important to remember how dependent all of these island diving destinations we like to frequent, not just Yap, are on airplanes coming in and out of their airports. We at Reef Seekers are eager to go back to Yap and will schedule a visit as soon as we can, but that may be further down the road than we'd previously thought.
I SCREWED UP . . . TIMES 3
- Normally if you miss Zoom Seekers, we invite you to view the recording. Well, I was enjoying talking with Bill so much last week that I first (1) Didn't record the FB Live session, because I also (2) Forgot to start the FB Live session, and then top it all off (3) Forgot to record the Zoom session. But at least when I mess things up, I do it to the max. So I'm sorry to say that if you missed it, you missed it.
NEXT MONTH
- Our guest speaker in September (and hopefully I'll remember to hit "record") will be Pete "NetDoc" Murray, owner and guru at ScubaBoard, to tell you all the ins and outs of that place for divers to gather electronically. Pete will be speaking on September 14 @ 7:30PM.
OCEAN CURRENT COLLAPSING
-There's a very serious concern among climate scientists that a major Atlantic ocean current could be on the verge of collapse, which also could possibly cause major weather changes around the world. You can see a short video about it here:
ATLANTIC OCEAN CURRENT COLLAPSING
.
SURPRISE FIND ON A DIVE
- We've all probably found something lost on a dive. Like a light or sunglasses or something like that. Anyone ever come across a car? With a body inside? New Hampshire Fish & Game divers were able to confirm the vehicle was that of a woman who's been missing since 1978. Read more about it here:
MISSING CAR FOUND
.
STYLISH FACE-COVERING
- We had our post-mortem Chamber Day Committee gathering over the weekend and Karl Huggins surprised everyone with Catalina Hyperbaric Chamber face-coverings. I think they're rather stylish and the dark blue really looks great. I am encouraging Karl to think about getting more and making them available to divers who would like to purchase them. If you're interested and would like to get on a waiting list (so he can gauge if it's worthwhile ordering more), drop him a note at
chamber@usc.edu
. Here's what they look like: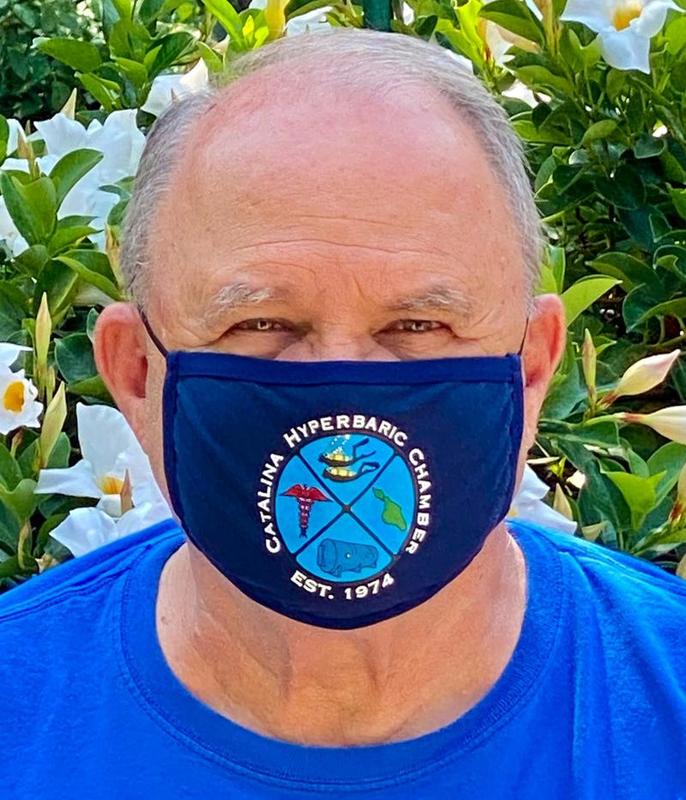 AVALON ON MONDAY
- We'll be up at the crack of dawn tomorrow to head over to Avalon with a small group on the Catalina Express so that we can dive the Avalon Underwater Park. We've been enjoying going over outside of the weekend as we really avoid the crowds. This not only makes sense from a COVID perspective (masks are still required for both the Express and the taxis that take us to the Park) but it's just a more pleasant experience when there are fewer divers there as there's less congestion on the steps and you're less likely to run into other divers underwater. We'll give you a report next week or how things were.
And that'll do it for now. Hope you have a great week, and let's go diving soon!!!
- Ken