Messages

13
Reaction score

37
Location
# of dives

500 - 999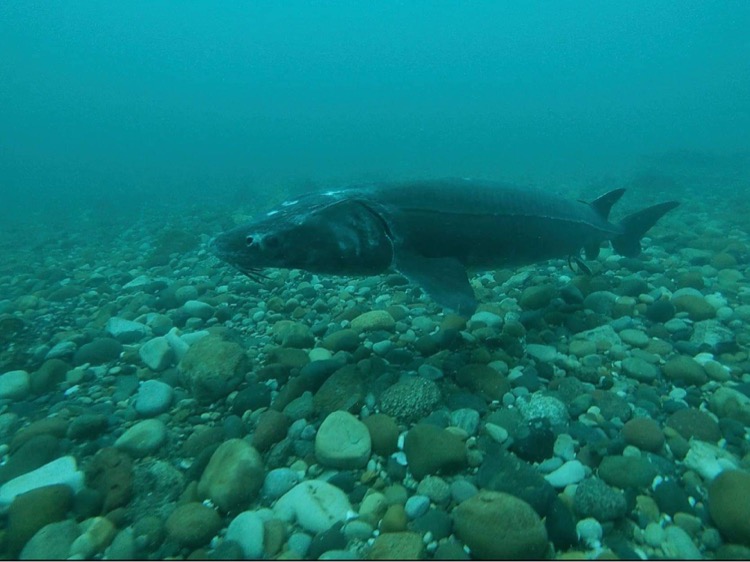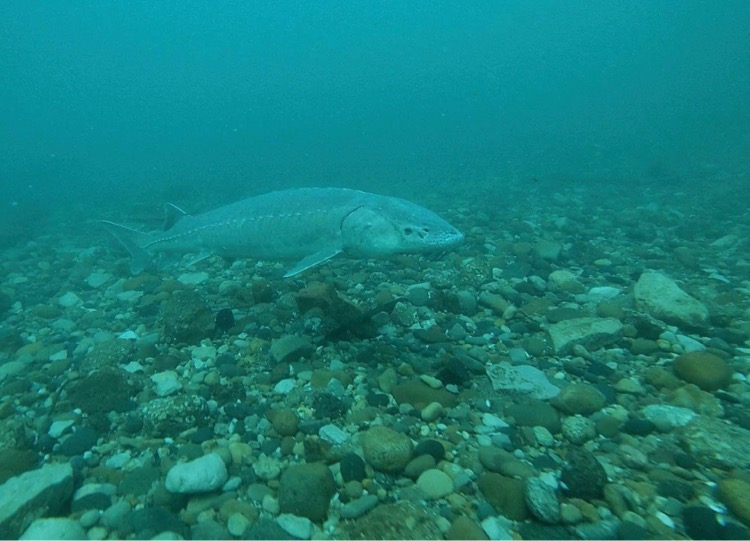 Diving in the upper St Clair river can have many challenges, but not without great rewards. One of the Crown Jewels of any river diving experience is an up close encounter with the giant lake sturgeon. Unfortunately that's a task easier said than done!
after diving the entire winter in the river, I was looking forward to spring for its warmer waters, more fish, and above all the brief return of the lake sturgeon. Lake sturgeon are only reliably seen in the river during their spawning which is roughly May to June every year. The primary factor determining their arrival and exit is the water temperature. The magic numbers appear to be 55-60 degrees but this isn't totally set in stone.
mindful of this number on May 24th with a water temp of 54, I ventured out into deep water looking around when I had an early surprise. As I drifted down river a lone lake sturgeon came up river. It came right up for a close look and quickly swam off into the blue, it was incredible! But my head mounted GoPro sure failed me in the moment. The camera was pointed too far down and thus only *half* a sturgeon ended up in frame. A quick desperate follow up dive to the same spot yielded no further sightings.
the following weeks dive on the 31st was a little colder at 53 but also failed to gain any more sightings of lake sturgeon.
but at last, on June 6, the moment I was looking for finally arrived. Blessed with clear water and slower currents the water temp was 57, right in the middle of the predicted time to see sturgeon. Within a few minutes of drifting one went by, and then another, and then pairs, slowly but surely adding up as the dive went along. Entering a small 80" deep hole yielded the best group, 13 of them in under 30 seconds. There were a few more stragglers behind them but it didn't matter much. 36 lake sturgeon in a dive is a great day!
If I thought the 6th was good I sure wasn't prepared for what the 7th had to offered. Diving in the same spot as my sighting on the 24th I was immediately greeted with a group of 10 at the same spot, further beyond them a group of 15. When clearing the wreckage of the tremble I buzzed past a monster 7 footer and once in cover behind the wreck sturgeon were everywhere. Many wonderful photo opportunities were presented (and taken). There were so many lake sturgeon you couldn't help but bump into them or they crash into you as you all struggle against the current together. Sadly that same current as always cuts into my air fast and I had to turn back far sooner than I would have preferred. I lost track how many sturgeon I saw in that 25 minute dive, but reviewing my footage after I counted at least 75.
sadly all good things come to an end and just a week later on the 13th the water had climbed to 66 degrees. Almost 10 in a week, and despite an intensive search high and low, it was over. The river Giants were gone as quick as they showed up. while frustrating with the short and often unpredictable windows you get to see them, the lake sturgeon are worth the hassle to see them.