ScubaBoard Supporter
ScubaBoard Supporter
Messages

8,184
Reaction score

5,730
Location
# of dives

1000 - 2499
Summary
This is a nine-day (March 20-28, 2021) liveaboard trip around central Maldives, named "The Best of the Maldives" route, with Emperor Voyager (20-21 March) and Emperor Leo (21-28 March). The itinerary, as shown in Table 1, includes 7 days of diving, 3 dives / day + 1 night dives, to a total of 20 dives. Figure 1 shows the Emperor Leo cruising routes (marked by red arrows). We did check dive in Kurumba Housereef, several dives around Rasdhoo Atoll, Ari Atoll, Vaavu Atoll, South Male Atoll, and return to North Male Atoll. Some of new fishes I saw for the first time were Guitar Shark in Fish Factory dive site, Widemouth Mackerel during Manta night diving in Maaya Lagoon and diving with schooling nurse sharks in Alimathaa Housereef, during day time instead of night time during my first trip to Maldives in 2018.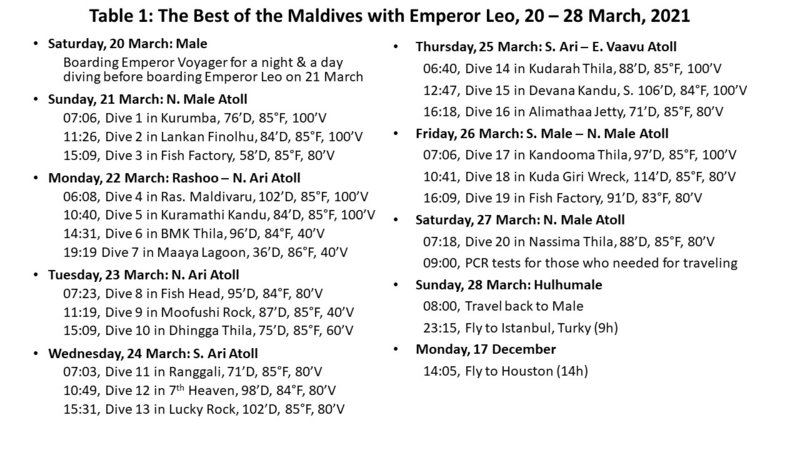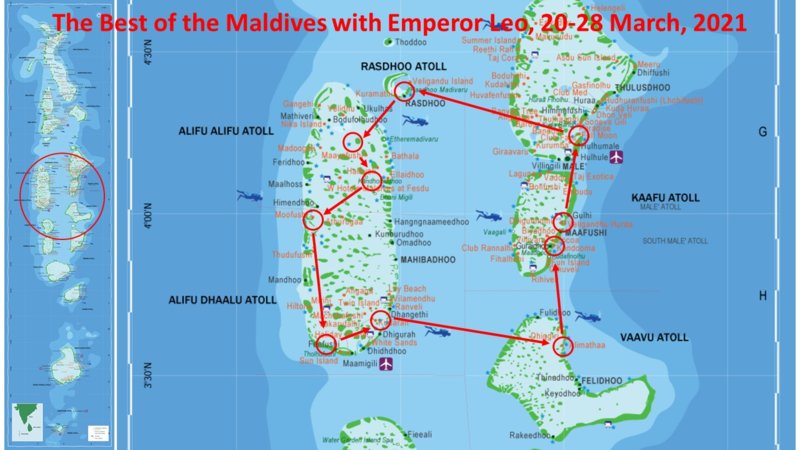 Figure 1: Emperor Leo Cruising Routes (Maldives map is courtesy of mymaldives.com)
Here is a short video of the highlight of what I saw during the 6 days of diving in Maldives:
Background
A quick browse of Maldives location, it is about 1300 miles (2100 km) from South India coast. It took me 20 hour flight time from Houston to Male. The best flight option was with Turkish Air with a 9 hour layover in Istanbul on the outbound flights. The inbound flight was about 1.5 hour longer due to head wind (also, could it be due to going against earth rotation?).
Male, the capital city of Maldives (4.17°N and 73.51° E), is only about 4°N from the equator, so the water temperature in Maldives would be about 82-84 °F (28-29 °C) all year around. I brought a 3mm full wetsuit.
This is my second visit to Maldives. The first one was in December 2018, as reported here:
Trip Report - Maldives 9 - 16 December 2018 TripReport | ScubaBoard
For this second visit, I was invited to join some friends from
South Florida Divers Inc - Dive Club (sfdi.com)
. We went on 2 back-to-back liveaboard trips to Deep South route on Carpe Vita and The Best of the Maldives, as posted earlier, below:
Carpe Vita Real Time Review: March 7-18, 2021 Trip to Maldives Deep South | ScubaBoard
Emperor Leo Real Time Review, March 21-28, 2021, The Best of Maldives | ScubaBoard
The Real Time Reviews (RTR) were made to take advantage of the low cost on-board wifi service available ($30 for 5 GB), while on the boat and the local simcard ($30 for 16GB data) that we purchased in the Male airport for additional wifi access. I had an old unlocked iPhone 6+ where I installed the local simcard and used it as my personal hotspot for my currently use iPhone 11PM that is locked on at&t simcard. Luckily I did this "Plan B" option as my at&t International data access (called "Passport"), which costed me $70 for a mere 3GB data, did not work in Maldives.
The cell tower 4G signal was not strong enough for streaming or downloading / uploading pictures. However, it's good enough for texting or doing the online RTR, which is a good way of capturing what was happening then. Later on, those volatile memories may not be retained in my old brain.
This trip report is to present and discuss the second half of this recent trip, The Best of the Maldives with Emperor Leo, including posting trip videos and photos, which I won't have time to do them then as we would be busy doing the dive, eat, sleep and repeat with a bit of writing RTR while sipping warm coffee before the morning dive or cold beer after dinner. The Deep South trip with Carpe Vita trip report would be posted later, as I still have a lot of videos / photos from that trip that I need to edit.
The Liveaboard
Emperor Leo, as shown in Figure 2, is 115-foot (35 m) long luxury yacht with 12 ensuite cabins to accommodate up to 24 divers, along with its dhoni, Sirina, a 65-foot (20 m) long skiff, as shown in Figure 3, for bringing divers to dive sites. It runs by 16 crews (2 captains, a dhoni captain, a cruise director, an assistant cruise director, 3 engineers, 2 stewarts, 2 chefs, a deckhand, and 3 divemasters).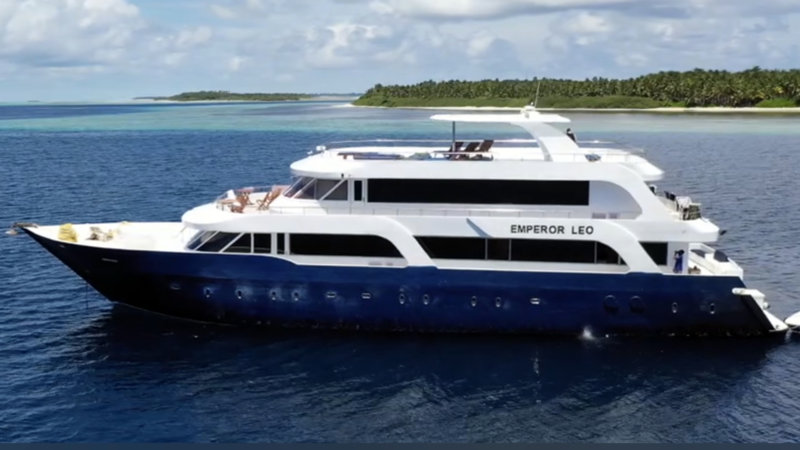 Figure 2: Emperor Leo (courtesy of Emperor Divers)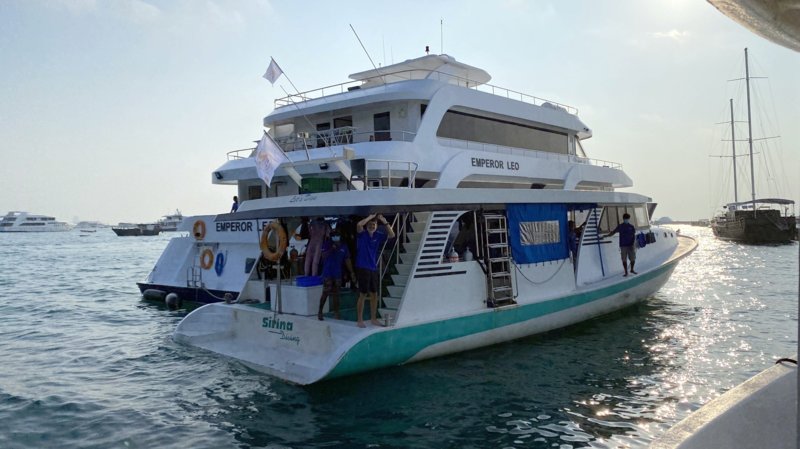 Figure 3: Emperor Leo's dhoni, Sirina
The boat layout is very functional for divers. Galley, dinning, and entertainment areas are on the main deck. Camera station is inside in front bench on either side of briefing monitor of the main deck, as shown in Figure 4. Eight cabins are in lower deck, four cabins are on the upper deck. The roof of the upper deck is a sundeck with open air sitting area for people to relax in between diving.

Figure 4: Emperor Leo's galley, dinning, and entertainment areas on the main deck
The lower-deck cabin, where I stayed, has 2 single beds, private head and shower, plenty of closet space for 2 divers, as shown in Figure 5. The housekeeping crew did a great job of keeping our cabin cleaned and orderly.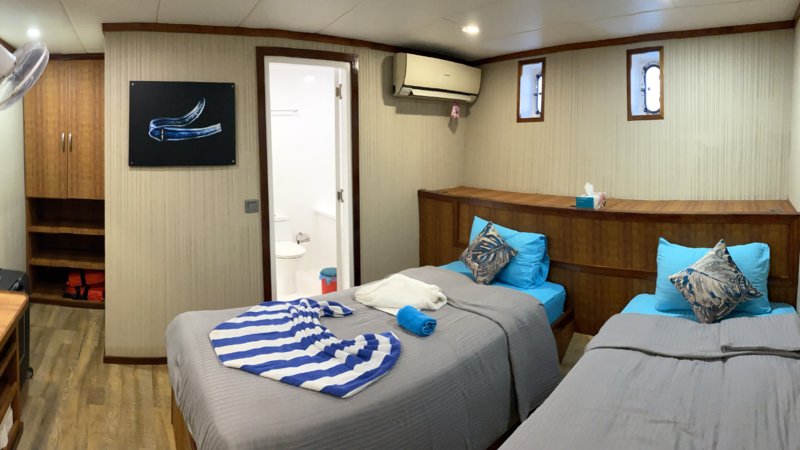 Figure 5: Lower deck cabin, where I stayed.
On this trip, there were 18 guests (6 couples and 6 singles). Each single persons got lucky to be able to stay in double occupancy cabin for himself / herself, including me.
Setting up our dive gears and handling them were easy. Once we kit up our dive gears at our assigned stations in the dhoni, the dive gears would stay there for the whole trip. The dhoni has air compressors on site. The crew would refill the air or nitrox directly into our tanks after each dives, right on our stations. There were shelves, next to the tank stations to store our mask, fins, etc. When we were ready to go diving, we would meet at the entertainment area, listen to the dive briefing and walk to the dhoni, as everything else was already set up and ready to go at the dhoni, including our wetsuit. No need to haul our gear in / out the skiff before and after each dives. We put on our wetsuit in the dhoni as it was heading to the dive site.
For water entry, the divers were divided into 3 groups, each group led by a divemaster (DM). A DM would check the water condition (current and visibility) before we entered the water. When the water condition were diveable, then the DM would put his dive gear on and do a giant stride off the side of the dhoni, followed by each diver of the group, one at a time. Each group would descend together and following the DM.
The meal (breakfast, lunch & dinner) were buffet type in most of the days. Full course of dinners were served during special day (e.g., Welcome dinner). The food were excellent. Special dietary meal were served to those who asked for it.
More detail info about the yacht can be found here:
Maldives Liveaboard MV Emperor Leo - Emperor Divers (emperormaldives.com)
The diving
We did 3 dives in most of 7 diving days to a total of 20 dives, with a night dives and two dives on the last diving day. The diving schedule would be posted on the main deck in the main deck next to entrance door and divemaster would ring a bell 5 minutes before the scheduled dive briefing. Typical 3-dives / day schedule was as follows:
06:00 – cold breakfast
07:00 – dive 1
09:00 – hot breakfast
10:30 – dive 2
13:00 – lunch
15:30 – dive 3
19:00 – dinner
After each dive, when we were back on the liveaboard, we would be provided with some water, fruit juice, fruit bits (pineapple, watermelon, orange, cantaloupe, etc.) for hydration.
More detail of what we saw and experience, such as diving conditions (sunny or cloudy, calm or current), type of diving (channel or drift or wreck) during each dives are provided in RTR, link above. As far as dive sight location, starting time, water temperature, depth (D) and visibility (V) in feet (') are shown in Table 1, above.
We saw lots of fish and critters while diving in Maldives. I highlighted what we saw, when and where chronologically in the trip video, link above.
Some interesting dive sites, I made short videos, below, as compliment the above trip video.
Conclusions
My impression of the diving and the trip are very positive. It's good to be back, diving in Maldives after 2+ years since the last visit, especially when Indonesia is still closed.
There are tons of fish there in Maldives. The liveaboard is well organized and has well planned itinerary to keep all of the guests wanting not to miss the dives.