ScubaBoard Sponsor
ScubaBoard Sponsor
Messages

1,662
Reaction score

2,416
Location
# of dives

200 - 499
​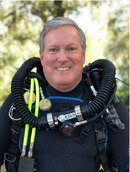 ​


WHO: @Dr. Doug Ebersole (detailed bio below)

WHAT: Professional dive seminar to learn about how aging affects your body and what precautions you should take depending on your age, health and other factors.

WHEN: 6:00pm-7:00pm, Thursday, 13 January 2022

WHERE: Off The Wall Adventures, 2055 Shepherd Rd, Lakeland, FL 33811

WHY: To be an informed diver.

DETAILED BIOGRAPHY: Dr. Douglas Ebersole, MD is an interventional cardiologist at the Watson Clinic LLP in Lakeland, Florida and is the Director of the Structural Heart Program at Lakeland Regional Health, an 850-bed tertiary referral hospital in Lakeland.

He has been diving since 1974 and is an avid recreational diver, technical diver, rebreather diver, and cave diver.

He is also a recreational, technical, and rebreather instructor for several training agencies, is a cardiology consultant to Divers Alert Network, RAID medical advisor, and is the Florida Sales agent for KISS Rebreathers.