Reinventor of Wheels
ScubaBoard Supporter
Messages

1,422
Reaction score

2,391
Location
# of dives

100 - 199
Well, attempt 2 at this thread... Let's all hope the servers don't crash again! lol
Long story short, between kids that dive with me and friends borrowing gear, I often find myself cleaning up multiple sets of gear at a time. To save space soaking regs, I now put one reg on my pony bottle, put the other regs dust caps (the good ones with an O-ring) on, and attach them together with their inflator hoses through a DIY mainifold. So one gets pressurized by the pony, and the rest get pressurized by the that one at 145ish psi... and the dust caps hold it just fine. This way they all fit in one rubbermaid tub for soaking at one time.
I used a few of these:
DGX Adapter: 1/4-Inch NPT Male = BC Inflator QD Post
one of these:
https://www.walmart.com/ip/Hyper-Tough-3-Way-1-4-Air-Manifold-with-Quick-Connect-Couplers/348745610
and some miscellaneous fittings to make this: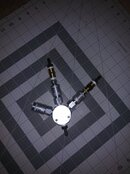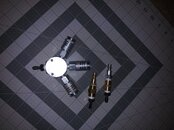 I removed the Male air compressor fitting from the manifold and replaced it with a BCD fitting. The Female compressor disconnects are self sealing, so this can be used for as few as 2 regs and up to four. And if you don't have a pony, you could use this without moving the Male fitting to pressurize your regs off a household air compressor for soaking (just make sure its oil free or has a good oil separator before the outlet).
Respectfully,
James